The following post is sponsored by FitFluential LLC on behalf of Verizon Wireless.
I've had Verizon Wireless as my service provider since I first got a cell phone – and that was a very conscious decision. While growing up in Albany, my parents made the choice for me, once I graduated college, the choice was up to me. However, with all of my business and leisure travels, I quickly learned that Verizon had the best service coverage of all – and that was absolutely critical to me. When I'm traveling for work, staying connected to my phone/email is crucial. And when I'm traveling for leisure and am in an unfamiliar place, I rely on my phone to help me know where I'm going and keep me safe.
What's been a less conscious decision, however, is the fact that I have an Android phone. When smartphones first started coming out, the iPhone wasn't available for Verizon – and there was no way I was going to switch from Verizon to a different carrier. So I got an Android phone, and I got pretty used to the operating system. By the time that Verizon did get an iPhone, I had already been using the Android operating system long enough that I didn't want to go to the trouble of switching. But when Verizon debuted their Nokia Lumia Icon phone on the Windows Mobile operating system, and offered me a chance to try it and review it, I was excited. Time to shake it up a little bit!
First Impressions of the Look
I pulled it out of the box – and my first impression was just… wow. This phone is gorgeous! The 5 inch screen is big, but the phone itself is incredibly thin and very light. The casing is a sleek matte black finish, and the 1080p screen is super glossy – but I later found that the gloss is still highly functional. When I walked outside with my phone, I noticed that I could read everything on my phone without any issues! That is awesome. The touchscreen is also more sensitive than is typical, and Nokia touts that you can use it with gloves on, which is especially nice in the winter. Ski slopes with phone, here I come!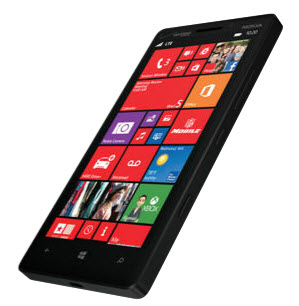 Initial Setup
After getting it activated with Verizon (and deactivating my old phone, so there was no turning back), I was off and running. My first step was getting all my email accounts set up. Gmail is always easy to install, but I usually have a bit of trouble getting my client's Outlook account set up. Not so on a Windows phone! Even with all the extra security requirements my client has, I was able to get my work email and calendar going instantly. This was how I first started to see the big advantage of having the same mobile operating system as my desktop operating system. (I also didn't have any problems installing Good, the mobile email application that accesses my firm's Lotus Notes email setup.)
When I added my Gmail accounts, the phone synced my Gmail contacts pretty quickly. However, it didn't seem to do a great job with that, and I noticed a lot of contacts missing. (Um, what's my boyfriend's phone number? That is important!) One thing I didn't find out about until after I had already been using the Icon for a few days is that there is a "Switch to Windows Phone" app for Android – it scans your phone for apps and tells you how many are on Windows Phone or have a close match available. If you log into your Microsoft account from that phone, it can even save that app list so that it automatically downloads on your new Icon. I wish I had figured that out before doing it all manually! But I did have a little bit of trouble getting all my Google contacts to sync correctly, so I was psyched to learn about the Nokia Transfer My Data app that uses Bluetooth to help me get my contacts and copies of all my old text messages.
Apps
So speaking of apps – that was by far the biggest thing I was worried about when switching to the Windows Mobile OS. All of the apps  that you can use are Microsoft-certified, which is nice – nothing buggy. But with that said, the selection can be limiting, and I was really worried about what would be missing. It wasn't quite as dire as I thought; for example, Twilight is a pretty small/less popular app, so I was pleasantly surprised to find it. There were a few apps that I couldn't find that I really missed – like MightyText, SMS Backup, PocketCasts, and MySleepbot (an alarm clock sleep tracker that I need to write an "apps I love" post about). I've been logging into MySleepbot via the website to continue tracking my sleep, so that's a workaround – though not a very convenient one. PocketCasts isn't available, but there seem to be a lot of alternative podcast catchers; I just need to figure out which one I like best. As for SMS Backup, the Icon automatically backs up a lot of stuff to the Microsoft SkyDrive cloud if you turn that feature on, which is nice, and text messages can be included in that. If you prefer to keep things in Dropbox or Google Drive, you can always use IFTTT to auto-copy things there, so you don't even have to change cloud providers. Convenient! MightyText, though, is a huge loss for me, and is honestly the biggest thing that doesn't work for me about this phone. I hate texting when I have to do it from my phone instead of my computer. Whyyyyyy can't people just send emails instead of text messages, so I can reply from either my phone or computer? If it's something super urgent, you really ought to be calling me anyway.
But I digress. As far as RSS feed readers go, my favorite, Feedly, doesn't have an official app available. However, there are tons of alternative readers that use the Feedly engine. I tried Phonly first – it was rated pretty highly, and it was free. At first, I thought that the interface was not good, since it didn't allow me to read in list view. But when I tried the other popular free alternative, Modern Reader, I was horrified by that interface – the colors were red text on a black background and it was terribly hard to read! I went back to Phonly, thinking I'd just deal with it, and then I found some settings that allowed me to change it to list view and only unread categories. Sweet! I've been really likely Phonly ever since.
Note that Twitter, Facebook, Pinterest, and Instagram don't come pre-installed – you'll need to add them yourself. While this may seem like a negative, I actually thought it was great – it meant that there's a lot less bloatware pre-installed when I got the phone! This may be why it seems to run at lightning speed, since I don't have it bogged down with apps. But honestly, it probably has a lot more to do with the 2GB of RAM, which is double the amount in my Samsung Galaxy S3. Looking at tech specs, the Snapdragon 800 quad-core processor is among the best there is on the market these days. I cannot say enough about how fast this phone does everything… it makes it really fun to use.
There were also some apps for which I've always used the phone default, but that the Windows Phone did nicely. For example, instead of Google Maps, the Windows Mobile OS has "Here Maps", powered by Bing. There were a few places I wanted to go that weren't found by place name (e.g., "CitySurf Dallas"), but I could get to them by keying in the address from the website instead. And once I had the address in, I found the GPS was so much better than my old phone. It would lock my location down pretty much instantly, and very accurately – I noticed that my Foursquare checkins were usually something like "7 meters away," whereas my Samsung phone would frequently tell me I was half a mile down the road (while I was at the place). Here Maps also has offline maps for 94 countries, which is awesome. I could have used this in France when I was navigating by taking a screenshot of the Google map when I was at my hotel with wifi, and then trying to use that screenshot as a map while walking around! According to Nokia, this is the widest offline map coverage of any mobile platform. Also, to help you stay safe while driving, "driving mode" can be activated to send automatic replies to people who call or text you while driving. I could really use that!
Live Tiles
The one area that was incredibly different from the Android operating system is the concept of live tiles. At first I didn't get what the big deal was about. Aren't these just the equivalent of icons? But what I like about the Windows Mobile OS is that you have unlimited space in which to put your tiles – the scrolling up or down gets longer, but you don't have a pre-set number of spaces on the page. You can also set the titles to take up a 1×1 square, a 2×1 rectangle, or choose four tiles to shrink down and be 0.25×0.25. (This worked out great for my favorite contacts, who now occupy just one row with all their little faces looking at me.) Apps either have a default tile or a custom-made one that's set by the app designer – and if there's a custom-made tile, chances are it does something cool. For example, the text message tile shows a smiley face emoticon when you get text messages, and if you have more than four, it winks at you. If there's an error on one of your sent messages, it frowns at you. Cute!
One thing I didn't like about the tiles: the app profile sets it to either default (which is your theme color) or an icon of the app designer'ir choice. Since a lot of the apps I use used the default theme color, this meant that my front page of the phone was filled with a lot of purple! However, you can install additional apps (like Wiztiles) that create custom tiles for a lot of apps. I haven't done this yet, since I'm still in the initial stages of exploring the phone, but definitely plan to do so once I get everything else taken care of.
Hardware
I already mentioned the really fast speed, but there are a few other things built into the phone that make it really great. I was initially dismayed that the back of the phone is not removable, so you can't use either a removable SD card or change out the battery when it gets low, which is something I really like about my Samsung Galaxy S3. However, the Icon comes with 32GB of built-in storage, which is way more than even my removable SD card on my old phone. And while I was really concerned about running low on battery, I've found that the Icon is much less of a battery hog than my old phone, and I can easily make it through a day without charging. (Not an easy feat given what a power user I tend to be.) There is a pretty neat "battery saver" option in the settings, if you are going to be away from power for an extended period of time, which basically stops auto-updating accounts until you manually sync them. And, if you want to be able to easily power up while at home or at the office, you can get a special mat that allows you to charge the device wirelessly – just throw it on top of the pad and it will charge just like that!
But the hardware on this that really knocks it out of the park is the camera, microphones (yes, plural), and speakers. The camera is 20 megapixels (WOW), and the quality is seriously amazing. The camera has a cool "one finger zoom", which makes it easy to use even if you're taking a selfie, and because the quality is so high, you can actually resize the shot after you've taken it and it re-zooms in without any loss in picture quality.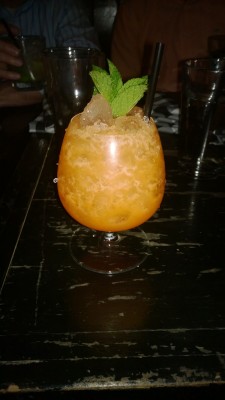 The camera also takes beautifully clear videos, which brings me to the sound. Superb. There is not just one but four microphones on this, which means that if you're in a loud place, you can actually tweak it to pick up the specific audio that you want and eliminate the sound from the other mics. How cool is that?! The speakers are also crystal clear – I found that when I was on the phone and putting it into speaker phone mode, the quality was much more crisp than any other phone I've tried (and louder too); it felt like I was right in the room with the person I was calling.
Overall
So that brings me to my overall impressions: am I going to keep using this phone? Well, my verdict after trying this out is rather surprising, at least to me. I honestly thought I would try this out just to see what the Windows phone platform is like, then immediately switch back to my Galaxy S3 and its Android operating system. But I am finding myself really liking this phone. It's super speedy, which makes it really fun to use, and the sound and image quality is far superior to other phones I've seen.
I think the real question is going to be whether the phone makes me more productive… which I think it might just do. It's so much faster than my old phone! My only real complaint is the apps (or lack thereof), but when I think about the apps that I miss, most of them are ones that I don't use that much anyway, or that are more distractions than anything else. I really, really, really do miss MightyText, though, and I can't seem to find any kind of alternative that lets me respond to text messages from my computer. (If you're a Windows Mobile user and know of one, please tell me in the comments.) But perhaps that's just something I need to get used to not having anymore.
So, I'm going to keep trying it out for another month and we'll see. I did buy a case for it, which I think is the phone equivalent of "let's date for a while before I decide if I want to marry you". And it's mint green! Fun color for spring, and by summer, I hope to have come to a final conclusion. Am I a Windows Mobile early adopter, or an Android girl at heart? Time will tell.
Note: Verizon Wireless provided me with a free phone to try, but the service plan was not included and I am still paying for every bit and byte sent. I was also compensated for writing a review. However, all opinions expressed in this review are my own, and I was not pressured to give this phone a positive review.