Recap of the weekend of December 14-16
This much-anticipated weekend had several big things going on that I'd been excited about for weeks!
Friday kicked off with a very special occasion: I had tickets to see White Christmas at the Denver Center. I don't go to shows at the Denver Center nearly as much as I'd like (maybe that's the start of a 2019 new year's resolution?), but a few weeks earlier, I had gotten an email about the show… and saw my childhood friend Kerry smiling at me in the cover image. Kerry has been playing the lead, Betty, in White Christmas for four years on the national tour, and I was so excited that the tour was coming to Denver so I could see her!
I had snagged second row seats to the show, and it was amazing to be so close and get to see all the actors' facial expressions. Kerry was perfect in the role, and it was so cool to see how well she's done in the capricious world of musical theater! Meanwhile, I've loved the music of Irving Berlin ever since I performed in The Melody Lingers On at a local theater when I was in high school. White Christmas had a few of the same songs (like "Blue Skies") and it brought back a lot of memories to see them performed by an amazingly talented cast of dancers!
The next morning, I was up early for another big event: the pool party birthday bash for my neighbors Dylan and Jackson! I had told their mom Chris I'd drive her over and help set up, and it was great to catch up with her while we did so. But the kids and their dad made record time getting over to Apex Rec Center, where the party was being held, so we weren't quite ready when they walked in… oops! But between the three of us (plus the kids running around excited), we got it all set before the first guests arrived.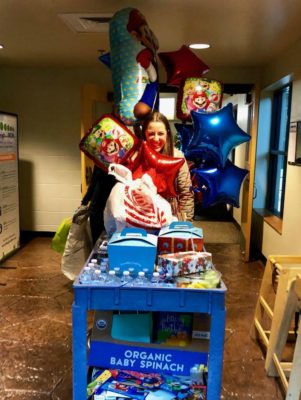 From then on, the party was in full swing, with kids running around all over the place and adults catching up over coffee and bagels. Although I don't have kids, it turns out that a lot of people I know are parents of first graders, so I had plenty of people to catch up with. And once the crowd moved from the party room to the pool, I had a ton of waterslides to hit with the birthday boys! I had no idea such an awesome indoor waterpark was so close to home, and I may need to come back on my own sometime 🙂
The other highlight of my weekend was Sunday morning, when I ran in my town's annual Superior Stocking Run 5K. I wasn't expecting to do well – I remembered from the year before that it was brutally hilly, and I didn't help matters by going for giant margaritas with friends the night before to get over a stressful situation.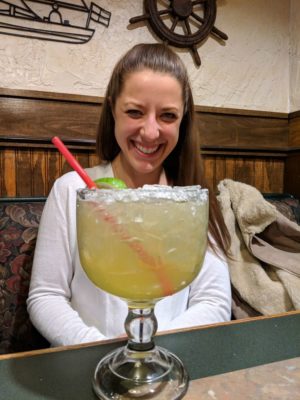 I headed home super early, thinking I'd get a good night's sleep. Especially after that margarita! But instead, I found myself with total insomnia and up till 3am… yuck! 🙁 That was not the solid night's sleep I wanted.
But I still woke up well before my alarm, and the sun was shining – so it was time to give this race a shot! I did chores for a while to kill time, then grabbed a cup of coffee and headed out the door about 30 minutes before the race start. I do love neighborhood races for getting to leave so last minute 🙂
At the race start, I was checking in to get my bib when a woman I didn't know came up to me and said that she was so happy I got elected. While this was a neighborhood race, it hadn't occurred to me that people might know me as a Trustee, so this was another reminder that I'm no longer anonymous. Guess I'd better run well in the race!
I also bumped into my friend Chris at the start – I hadn't gotten to hang out with him since before I started campaigning, so it was nice to be able to catch up for a bit! (But not too long, since I hadn't gotten there that early and it was just about time to start.) I headed close to the front, but not too close, as I knew that there might be a lot of real pros doing the race.
The race started, and I took off fast, passing a lot of people as I did so. I was surprised by that, since it had looked like a lot of the people in the front were really fast, and I was worried I had started too far forward for this speedy crowd. We began on a big downhill – the same downhill that is part of our 4th of July Superior Mile that I love – and I nearly matched my pace for that mile, clocking the first half mile at a 5:30 pace. Whoops! Way too fast for a 5K.
But just before we hit that half mile mark, we turned right onto Coal Creek Drive, and a quick left onto Eldorado – and while the course still headed downhill another 1/4 mile, it was a much more gradual downhill, and I dropped my pace to 6:00. (Still too fast, but better.) Finally, at 0.8 miles, we hit the bottom of the hill… and I knew it was pretty much all uphill from here. I hit the first mile mark in 5:55 – way way way too fast, but I also knew it was probably a good thing that I had a bit of time banked for what lay ahead!
Eldorado felt like it was flat once we got to the bottom, but Strava told me after that it was actually a slight uphill… which explains why I was feeling more tired than I thought I should given the 7:30 pace I was now keeping. I turned from Eldorado onto Imperial, which was a quite noticeable uphill, and then we U-turned onto Jarosa and back down to Eldorado – the downhill not seeming to give as much relief as the uphill. Once back on Eldorado, though, it was time for the big steady uphill to Superior Elementary – climbing 200 feet in a mile. We hit the two mile mark just before Eldorado crossed Indiana (split time: 7:55, a full two minutes per mile slower than my first mile), and I was wiped out. I grabbed water from the aid station and slowed to a walk for a few seconds to drink it. I knew my time wasn't great, but I still wanted to give it a solid effort for the last mile.
Eldorado up to Pitkin was still a lot of climb, but we turned right onto Heartstrong almost exactly at 2.5 miles, and I was thrilled for the downhill relief… even though I knew it would be followed by an uphill to the finish. But with only a half mile left, I didn't care; this race was going to be over in just one more song! I tried to make sure I didn't take it easy on the Heartstrong downhill, though I did pull my focus away long enough to change the music on my phone so I could have a good finish song: "This Is Me," from the Greatest Showman on Earth. (The 2018 ExCamp theme song.)
When I got back out to Indiana and then took the left onto Rock Creek Parkway, I knew the final uphill wouldn't be easy, but I also knew the finish was close enough for me to grit it out. My pace slowed a little bit when I first turned onto Rock Creek Parkway and got used to the incline, but I kept picking it up faster and faster on this last little tenth of a mile stretch, until Strava clocked me at a 6:40 pace for the final sprint – not bad on an uphill! Meanwhile, I heard the announcer call out my name and say that I was a Trustee for the Town of Superior – which made me feel really proud to cross the line 🙂 I may not have won this race, but I'm so proud I won the election this fall.
As it turns out, though, I didn't do too badly in this race either – I took 7th woman overall, and 2nd in my age group! For that, I was rewarded with a beautiful medal ornament that I immediately put on my tree when I got home. And while I hadn't achieved my goal of running sub-22 minutes, I finished in 22:30 – which was a 32 second improvement over last year's 23:02. I would take it!
And I was rewarded for my efforts with one of my favorite post-race spreads ever: banana bread, hot chocolate, and ramen soup. All things I crave after a cold winter race! 🙂 Love my town.
Race stats:
Distance: 3.1 miles
Time: 22:30
Pace: 7:15/mile
Overall place: 29/365
Gender place: 7/207
Age group place: 2/24