I've been struggling all week to explain to coworkers, friends, and family where I was last week. I spent the week volunteering at California Experience Camp (#CalEx), a free summer sleepaway camp for children who have lost a parent, sibling, or primary caregiver. And while it's easy to state the facts like that, it's not at all easy to describe what it felt like to be there.
I heard about camp through a former coworker, who includes Experience Camp every year in her holiday letter and describes it as one of the best weeks of her year. I signed up in December 2017 shortly after receiving her letter, but I honestly did so not really knowing what to expect, or if I was definitely going to do it. I read that there was an interview process, and part of me thought I might not be selected. But even after I was accepted as a counselor, I still had a doubtful feeling in the back of my mind of, "is this really happening?" After going through multiple training webinars throughout the year, summer was finally upon me, and I realized I was definitely doing it. Here goes nothing!
So last Saturday morning, I packed up my stuff and flew to San Diego. Although there was a packing list provided, I didn't even know if I was really bringing the right clothes! I mostly packed gym clothes, since the instructions said to bring stuff that you were ready to get really sweaty and really dirty.
There was a staff get-to-know-you dinner when I got in on Saturday night, and then I tucked into my bunk for one of my last nights of good sleep. Although each cabin had two counselors who would sleep in the bunk, my co-counselor wasn't arriving until Monday, when she'd be busing in with the kids, so I spent Saturday and Sunday nights in the bunk alone. The cabin was pretty rustic, but reasonably comfortable! And after a long run on Sunday morning to shake out my nerves, I was in for a full day of training.
A lot of the training was really repetitive with what I had heard in webinars ahead of time, but it was nice to be able to ask questions, and also hear the questions other people asked that I might not have thought of. And it definitely bonded us to all sit through it together! I felt better when I talked to other first-year counselors and realized that all of us were unsure together
Even after all that training, I still felt pretty unprepared on Monday, when it was time for the kids to arrive. In fact, on Sunday night, I had a nightmare that the camp bugler who plays reveille and taps had gotten sick, and that I needed to quickly learn how to play the bugle and cover for her! That nightmare showed me that I was definitely nervous, even as I was equal parts excited for the kids to arrive.
The days were all a little bit different, but they were a mix of grief activities and regular summer camp activities. I got to help teach archery, which turned out to be a lot of fun even though I was scared of it at first. I learned pretty quickly, though – my main job in that one was making sure none of the kids shot each other while the experienced archery lead was helping others 🙂 I also really loved helping with cooking, and I'm hoping that next year, when I come back as a veteran, that will be the activity that I get to lead.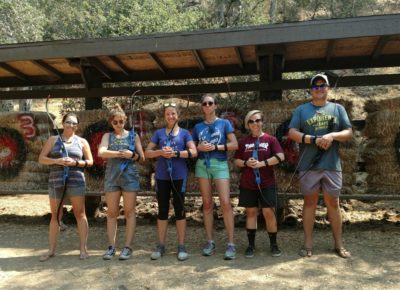 There was so much fun stuff going on even beyond the instructionals. We had College League, which was Experience Camps' version of a color war; a petting zoo with goats, chinchillas, and snakes; milkshakes made with vats of ice cream stirred with a baseball bat; and even an inflatable obstacle course complete with slip and slide. There was also pool time every day, which was a necessity given that temps were in the 90s all week. The hot temperatures were definitely a challenge, and we had to constantly rearrange a lot of the sports for lower key activities so the girls wouldn't pass out from heat stroke (which scarily happened a few times).
For privacy reasons, I can't fully recap the camp. And honestly, like I said earlier, it's really hard for me to explain, even to my close friends. There were parts of camp that were completely heartbreaking, and on more than one occasion I found myself ducking away for some privacy so I could cry. Every single one of the kids had been through so much, and while we had gone through some basic grief training, there was a lot associated with loss that I wasn't expecting. For example, it seemed to be a common experience that kids were teased at school for their parent or sibling dying (?!), which was just awful to think about. So many of the kids said that camp was the only place where people understood them. It made sense in hindsight; I just hadn't realized before exactly how special this camp was.
At the closing night bonfire, one of the girls said something that really hit home for me. She said that on the last day of camp the year before, she and her bunkmates exchanged phone numbers and immediately started a group text before they left camp. The first message in the group text? "360 days until next year." Throughout the year, the girls kept up the group text, sometimes talking about things they had going on at school or at home, but always counting down how many days until they would be back at camp again. I definitely teared up hearing that!
I know that this blog post is not at all doing camp justice… that's what I meant earlier when I said it's hard to explain. The relationships that formed in just five days were much deeper than I would have expected, and everyone was so honest with each other about a lot of really dark things. It was really impressive how open everyone was.
All the Experience Camps had a theme song, and this year it was "This Is Me" from The Greatest Showman on Earth. I had never heard the song before, but now it brings me to tears every time I hear it.
"I am not a stranger to the dark
Hide away, they say
'Cause we don't want your broken parts
I've learned to be ashamed of all my scars
Run away, they say
No one'll love you as you are
But I won't let them break me down to dust
I know that there's a place for us
For we are glorious
When the sharpest words wanna cut me down
I'm gonna send a flood, gonna drown them out
I am brave, I am bruised
I am who I'm meant to be, this is me
Look out 'cause here I come
And I'm marching on to the beat I drum
I'm not scared to be seen
I make no apologies, this is me"
Since getting home, I've listened to that song dozens of times, and thought of the girls in my bunk. During circle time (one of the core grief activities), one of the girls inadvertently drove the lyrics home to me. While she seemed to be a total social butterfly, she told us that at home, we'd never believe it, but that she's an introvert with very few friends. She said: "Camp is the only place where I feel like I can just be myself." I have been thinking about that ever since, and I'm so glad that I got to play a small part in providing this magical place for all the kids. Everyone needs a safe place where they can be themselves, and these kids, most of all, deserve it.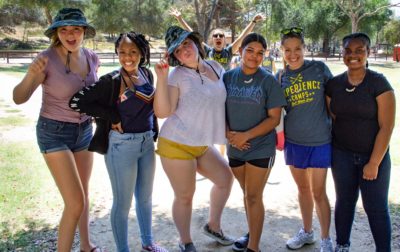 As I said early on in this post, I didn't know what to expect going into the week. The camp motto was "best week ever", and at first I thought it was just marketing speak to get us all hyped up. But this truly was the best week ever, for me and so many of the kids. On the last day, our amazing camp director Beth pointed out a sign that said, "Enter as strangers, leave as friends." She was corrected by a little boy who raised his hand to say that we weren't leaving as friends; we were leaving as brothers and sisters. I already miss my CalEx family (including the goats!), and have so much admiration for all the staff and campers I was so lucky to spend the week laughing and crying with.
Speaking of crying: the week was absolutely exhausting, both physically and mentally. I logged between 25,000 and 40,000 steps a day on my Fitbit, trekking up and down from one activity to the next and retrieving forgotten water bottles and beach towels. On Wednesday night, I had the night off from cabin duty, but I was so bone tired that I stayed in with the kids and fell asleep before they did! Since getting back, I've caught up on sleep a little bit, but I'm not really over the mental exhaustion, and am in a bit of a weird state of mind. On Monday, I had a really stressful travel day, and I found myself breaking down in tears multiple times… but at the same time, berating myself for getting upset. How could I cry about a delayed flight, when it's so trivial in the grand scheme of things? I think I'm a bit overly emotional now, as one of the counselors had warned me might happen for a little while until I can finally cry it all out post-camp. But in spite of the exhaustion, it was so worth it, and I would do it all over again in a heartbeat.
On that note, I am definitely signing up to volunteer again next year, and have started my own countdown to that day. (Well, theoretically; I can't start an actual countdown yet because the 2019 dates haven't yet been announced.) But I'm also considering doing a little bit more, if I can get the time off work. Experience Camps has locations all over the country, and while I hate the idea of not going back to see all my CalEx friends, both co-counselors and campers, I would love to check out another location. So the solution? Do two camps! I just need to see if I can make that happen with work.
I realize this post was a bit disjointed, and may not have made any sense at all. But if any of this piqued your interest, check out www.experience.camp to learn more and see how you can help out. Whether you can volunteer time or make a donation, any help is appreciated. And if you have any inkling of interest in joining me next year, please reach out with any and all questions. Experience Camp is truly a life-changing experience, and I promise you won't regret it.