Yesterday, Orangetheory Fitness had one of their benchmark workouts. These are mini-challenges that we repeat a few times a year, to see what kind of progress we're making. I never get too excited about the rowing benchmarks, but I am all over the running benchmarks, and yesterday was my favorite one: the one mile run.
A mile is kind of a scary distance to race. As Adam told me years ago, you basically have to go out as fast as you can, and then when it sucks… you keep going at that pace. (Or at least that's how it works for me, since I never run shorter track distances.) As a result, I always find it hard to figure out how to pace myself for a mile, since I can't use "that feels hard" as a barometer to slow down… it's supposed to feel hard.
As far as running goes, lately I've been doing a lot of long (10-13.1 mile) runs outdoors… sometimes on trails and sometimes on roads, but almost always on hills. My schedule has been really off for the last few weeks (a side trip to Chicago for a funeral, and a week in California for volunteer work), so I haven't been going to Orangetheory regularly and doing any kind of speedwork. And truthfully, it's been off much longer than just the last few weeks… I've been running slower speeds at Orangetheory all summer, after taking a few weeks off from traveling in July, and then also going through a breakup that put me out of sorts (and eating all the comfort food / drinks). I keep telling myself that this is the week I get back on track with both eating and exercise, but it didn't happen… until yesterday.
I jumped on the treadmill for the mile challenge not having any idea how I'd do. For my warmup, I started at 9.0mph (6:40 pace) and held that for 30 secs, then increased to 9.5mph (6:19 pace) for 30 secs, then walked for a minute, then repeated that twice. i wanted to give my legs a taste of fast running, but also save as much energy as possible. I was exhausted going into this week (more on that tomorrow), and I didn't expect to do well.
Still, when the time trial started, I went out at 12.0mph (5:00 pace) – figuring I'd get ahead a little bit by holding that pace for 60 seconds while I was still fresh. I was surprised to find it sucked less than I thought… though I was still excited to drop the pace slower when that first minute was up 🙂 I took it down to 11.0mph (5:27 pace), telling myself I'd stick with that for a minute as well. Already two minutes down, and I was targeting sub-6, so that meant I was more than a third of the way done.
I was getting tired, but I followed the strategy someone on Reddit suggested a few years ago that I love. When you get tired, rather than slowing down, do a quick burst of speed – so that when you go back to the normal pace, it feels more comfortable. I bumped my speed up to 11.3mph (5:18 pace), and sure enough, when I went back down to 11.0mph after 30 seconds, it felt marginally better. I was now halfway done… but I was dying.
I bumped the pace up again for another attempt at this, but 15 seconds in, it still really sucked. So ignoring what I knew I should do (go back down to 11.0mph for the rest of the minute), I succumbed to laziness and slowed down to 10.5mph (5:43 pace). Womp womp! But I forced myself to only get that "break" (ha) for 30 seconds, and then I went back up to 11.0mph. 3:45 done – so a little over 90 seconds to go. I told myself that I could push through for just 90 more seconds, even though I knew it wouldn't be easy.
At 4:15, I knew it was just over a minute left. I wanted to push the pace, but I was struggling just to hold 11.0mph. Coach Trish came over to cheer me on, and encouraged me to speed up, but that just wasn't happening. Finally, I got to 4:50 and knew I had only thirty seconds left. I bumped the speed up to 11.5mph (5:13 pace), and watched the screen carefully – hitting stop and jumping the rails (sorry not sorry) the second I saw the distance click over to 1.00 miles. The result?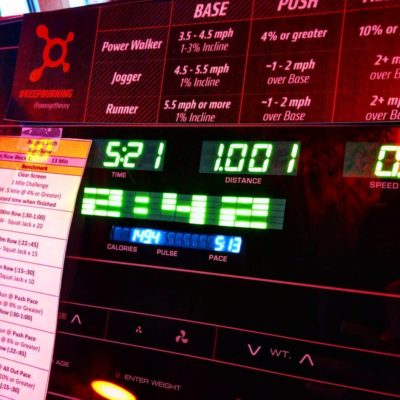 That's the fastest mile I have ever run, and I was super proud to have done it on a day when I wasn't feeling in top form. When I last did the one mile benchmark in February, I ran a 5:36… so maybe I am fitter than I think! I'm now getting pretty pumped for some fall races I have coming up.
In two weeks, I have the 2nd annual Superior 5K – the local race that starts in my town's brand new downtown and runs through "Original Town" on a mostly flat (as far as Colorado goes) course. Last year, I ran a 22:04, and managed to snag third female overall, which I was pretty pumped about. I know that in a small race I have no control over who else shows up (and so I don't have any goals for place), but I'm hoping to finish faster than last year. And on September 8th, I'll be running the Getaway 10K in Boulder – where I'm hoping to PR in the 10K distance!
I'll be doing a full post on the Getaway 10K on Friday morning, but in short – it's going to be an awesome race, and I'm really excited my friend Theodora is coming out to run it with me! If you and your friends / family would like to join us, you can get $12 off registration with coupon code SunFunRun2B.
More to come – happy Wednesday!