This post is sponsored by Vocalpoint and Getaway 5K. All opinions are my own.
This morning, I planned to start my day in my favorite way: running with several of my best girlfriends. A few years ago, my friend Heidi started a group email for early weekday morning trail runs. Now, we try to hit the trails every Friday before work. This year I haven't made it out often due to a lot of 6am and 7am calls I couldn't miss, but I was thrilled to be able to make it to Apex today for what I thought would be a hilly 7 mile loop of beautiful mountain views and candid conversation.
Unfortunately, what ended up going down (literally) was a bit different than my expectation. Within a half mile of the trailhead, *I* went down – tripping over some invisible thing on a fairly flat / non-technical portion of the trail, with no chance at all to catch myself. I fell right onto my knees, with my hands also hitting the ground but not really breaking my fall. OUCH OUCH OUCH. Although I wanted to get up and be smiley and pretend like I was fine, I was in so much pain that I couldn't do anything but lie facedown in the dirt for a solid minute. I wasn't all that bloody / scraped up, but my knees both hurt so much from where they took the brunt of the impact! With the other girls' help, I was finally able to get up (they literally pulled me to a standing position), and I continued walking the trail with Amanda for another few minutes until I realized my knee pain was not getting better and I needed to pack it in and go home.
Since I got back, I've spent the morning icing my knees in between conference calls 🙁 I'm a little nervous that I'm hurt worse than I think, but I'm determined to rest and recover for the races I have coming up in the next few weeks. As I mentioned on Wednesday, I'm looking forward to running the Superior 5K next weekend, and then doing the Getaway 5K / 10K in Boulder with Theodora in September. And both of them are non-technical, on either paved or dirt roads. My knees are happy for that!
The Getaway 5K / 10K is a race series that is officially timed, but also encouraged as a fun run / walk for everyone in the family. The organizers believe that an active lifestyle and healthy living are important at any age, so there are events for all levels and ages. To encourage seniors to come out, AARP members get 50% off the race registration fees. Meanwhile, there is a "kids zone" and celebration village open all morning, as well as a kids' fun run separate from the adult race.
For those like me without kids yet, the Getaway 5K / 10K is a great chance to "run together / have fun together" with your friends. Because there are two distances offered, everyone can choose the race that's right for them. It sounds like there will be some people taking the race really seriously (I personally want to PR!), and others who are there for a bit of exercise and some beautiful mountain views (I know Theodora is in this camp). But both of us can meet up post-race for an awesome beach vacation-themed after-party – with a live band, free meal ticket (available for redemption at multiple local vendors on site), and two free drink tickets for Avery Brewing Company (for everyone of legal drinking age). They are setting up the perfect place to unwind and kick back for a few microbrews with friends!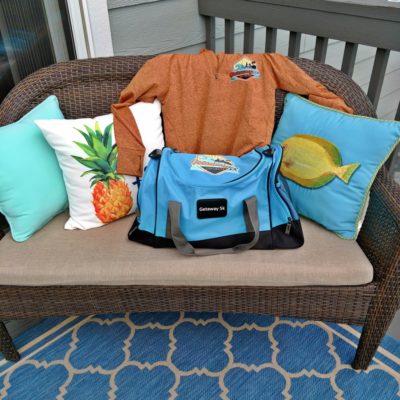 The Boulder Getaway 5K / 10K is being held on Saturday September 8 at 8am, and will run around the Boulder Reservoir. The flat course will be run on mainly dirt roads, with some paved sections. Runners will be treated to gorgeous views of the reservoir and, to the west, the Flatirons! Since my 10K PR (46:26) was set at this year's hilly Bolder Boulder, I'm excited to have a chance to PR on a flatter course (even if it is still at altitude). 5K runners will do an out-and-back on the same reservoir route, allowing them to see similar scenery on a shorter course.
The Getaway 5K / 10K also has some pretty awesome swag. 10K runners get a quarter-zip long-sleeve pullover jacket made from a soft technical material (95% poly, 5% spandex), and 5K runners get a short-sleeve tech tee. And all finishers get a sweet race-specific medal (made from hefty metal, with a colorful design, and hanging on a high-quality ribbon)! I don't often see medals for shorter distances, and especially not big fancy ones, so this is pretty cool.
Discount Code!
If you're interested in running the Getaway 5K / 10K, I have a great discount code for you! Get $12 off registration with coupon code SunFunRun2B, which you can enter at Getaway5K.com. At the current prices, that means using the discount code will get you a 10K race entry + after-party entry + all the above swag for just $33, or 5K entry + after-party + swag for $23… which is a pretty great deal and as inexpensive as I ever see races get.
If you can't make it to Colorado for September, but you're looking to head south this fall, you can check out the next Getaway 5K/10K race in St. Petersburg, FL on November 4th. The organizers are planning more races in 2019, so there are lots of options for racing getaways.
Let me know if you're joining the fun in Boulder, and perhaps we can meet up after the race! As I mentioned, my friend Theodora and her BFF Meg are both coming in for the weekend to race with me, and I can't wait to show them how beautiful the (brand new) Avery Brewery is. Hope to see you there 🙂
Disclaimer: The Getaway 5K/10K gave me free entry to this race and I am an official "race agent" who is helping to promote the series.