Wednesday was one of my favorite days of the year in my town. I wouldn't say that I've always loved the Fourth of July, but since moving to Superior, Colorado, I am so in love with our town, our country, and how grateful I am to live in such an amazing place!
Superior's Fourth of July starts to ramp up a few days beforehand, when the town sticks a mini American flag into the corner of every single person's lawn (about 4000 homes). I know it's such a small gesture, but it makes me smile to drive down the street and see the line of American flags stretching as far as I can see!
On Fourth of July morning, we all wake up early to kick off the festivities with the Superior Mile, which is purportedly one of the fastest mile races in the country because it's a net downhill. I have to say, I don't know that I agree with that designation. A few years ago, when I first ran the race, I went through a lot of complicated calculations to figure out how Superior's downhill mile equates to a flat mile after you take Colorado's altitude into account. What I learned was that while, yes, Superior's mile is a major downhill, the altitude makes performance almost exactly the same as if you were running a flat course at sea level. On the bright side, that does make it easier for me to figure out how fast I should be going, since I spend so much time at sea level!
But on that topic, this year, I really struggled to predict what time I should set as a reasonable goal. Although I've still been going to Orangetheory lately, the days I've gone have happened to coincide with more of the endurance and strength (hill) workouts, and fewer of the power workouts (when you're practicing all-out speed). Furthermore, ever since I was having shin splint issues, I took my paces down at Orangetheory, so even my all out speed is no faster than 11.0mph (5:27/mile pace). At Orangetheory, you only hold all-out pace for 60 seconds or less, and my mile time at last year's Superior mile was 5:26… so that's not exactly good training for me to get faster at the mile.
While I improved my finish time in the Boulder Boulder 10K on Memorial Day (oops, race report still coming), since then, I feel like I've slowed down. Whenever I go running outside, I usually don't go for time – especially on the trails I'm learning to love. And I haven't really done any treadmill runs outside of Orangetheory, which is usually what I use as targeted workouts to try to get faster. This year's Superior Mile kind of snuck up on me, and it was last week that I realized I hadn't really put any mile specific training in. At that point, unfortunately, it was too late for me to do anything about it.
Instead, I focused my efforts on resting up for the race. I worked out hard several days last week, and went for a long run on Sunday to try to get exercise out of my system. Although racing is a lot of fun, it drives me batty to have to rest up before a race! I told myself that I would take Monday and Tuesday off workouts, and that Wednesday I would do some sort of extra work out after the race. My goal is always to go into a race itching to run, so my legs feel fresh and ready to fly!
As far as pacing strategy, this, at least, was easy. While I usually go out way too fast in every race I do, I have literally never in my life run faster than a 5:00 mile pace. Even if I were to run a 6:00 mile, it wouldn't be entirely crazy for me to go out at 5:00 pace… so basically, I didn't need to worry about going out too fast. My plan was to go out as fast as I could, then in the middle of the race keep going as fast as I could, and then end the race by going as fast as I could to the finish 🙂
Unfortunately, I didn't get a great night's sleep on Monday just prior to the race… I had friends over to watch The Bachelorette, and the combination of wine plus hours of trashy TV helped me put away probably half a bag of potato chips. I rarely eat potato chips, so this didn't sit well with me! In case you are wondering, Kettle-brand potato chips makes a dill pickle flavor that is absolutely dangerous in how delicious it is. Lesson learned: I cannot buy those for my house again 🙂
I tried to redeem myself on Tuesday night with better sleep, but I ended up going to bed pretty late at 11pm. I was worried about that, but I woke up at 6am on race morning not feeling totally rested, but not feeling bad either. After getting dressed and making some coffee (caffeinated, which I always switch to on race mornings), I headed out at 6:30 for the 7am start.
I parked near the Mayor's house, since I would be going there after the race for an event. From there, it was only about a half mile uphill walk to the start, which was a great warm-up to get my legs going. I was glad I got that in, as I didn't end up making it to the start line until about 10 minutes before the race, which didn't leave me much time for a really solid running warm up.
I knew from past experience that I needed to make sure to stake out a spot toward the front of the crowd. While I find that in most races people seed themselves appropriately, for the last 2 years, this race has always tended to have a lot of kids getting excited and starting out front, which can make it difficult to get going. So for my truncated warmup, I did a quick jog down the course, interspersed with a few seconds here and there of all-out sprinting, and then did an easy jog back up to the start. It was definitely less than the five-minute warm-up that Adam had suggested, but I figured it was good enough since I wasn't expecting a fantastic performance any way.
We listened to The Star Spangled Banner at the start, and then I put my headphones in. Oops! I suddenly realized that I had forgotten to create a playlist for the race. I knew I would only have time for two songs, and I wanted them to be really good ones that got me motivated and going. As the race announcer was counting down the final seconds to the start, I frantically a quick Spotify playlist: "The Resolution" by Jack's Mannequin, and "Pompeii" by Bastille. "Pompeii" is such a great victory song, and I hoped it would give me the energy I needed to keep going, even though I knew I'd feel awful at the end! Mile races are really scary to me, because you just know it's going to suck and there's nothing to do but grit your teeth and get through it.
The gun fired, and we were off! Although I hadn't started on the front line, I didn't have too much trouble finding a place to run, and I stuck to the right side of the road. I immediately started reminding myself to go hard, harder than comfortable. As I explained with my "run as fast as you can, then keep running as fast as you can" strategy, a mile is not a race to take it easy and pace yourself. If I felt tired and out of breath, that meant I was on pace and needed to keep it up rather than pull back.
I remembered from previous years that the intersections on the road were almost exact even splits of the course. However, I had thought there were two intersections, each one third of the way through. In fact, there were three intersections, and each one marked a quarter of a mile. Fortunately, a few weeks ago, I had learned how to set Strava so that it would give me a voiceover at the half mile and mile marks, so at the second intersection, Strava told me that I was at a half mile… in only 2:35, or a 5:09 average pace! That was a lot faster than I had anticipated!
However, while the race is definitely downhill, there are flat spots in the course, and those flat spots were very identifiable because they felt absolutely terrible 🙂 I kept reminding myself not to slow down just because I was tired, and tried to keep my energy focused on the race and not distracted thinking about anything else. When "Dark Blue" ended and "Pompeii" began, the opening chanting reminded me that this was a victory song, and I was in fact only about two minutes from the end. Go go go!
Several others around me picked it up to a sprint when we rounded the slight curve and the finish line came into view. I tried to give it a little more effort, especially with people passing me, but I think I just stayed consistent with my pace rather than truly sprinting. I crossed the finish line tired, and reasonably pleased with my effort.
I had hoped to come in just under 6:00, and I knew I had definitely beaten that. When I checked the results, I learned that I had finished in exactly 5:30 – only four seconds slower than last year's super speedy time! I was totally thrilled with that, given my lack of speed training. It seems that I'm less out of shape than I thought!
Overall, I was pretty happy with how I did this year. I always struggle to push as hard as I need to for a short distance, and this time, I think I did pretty well in giving it a good effort. When I checked my Strava after the race, I found that I had set several best efforts for various distances: 1:07 for the 400m (4:30/mile), 2:34 for the half mile (5:08/mile), 3:15 for the 1K (5:14/mile), and 5:27 for the mile (not sure why that's different than my official finish time). My guess is that I started out fast and progressively got slower, but even if I did that, I'm thrilled with those splits – I can't believe I ran faster than a 5:00 pace for a quarter mile!!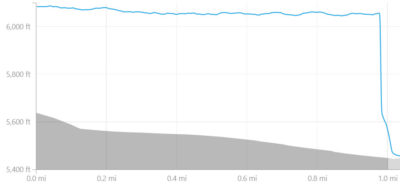 After the race, I headed over to the Mayor's house for coffee and to celebrate his wife's birthday.
Then it was back over to Rock Creek Parkway to walk in the annual 4th of July parade. Our Mayor is up for re-election, and I was really excited that he invited his supporters to come walk with him! I've never been in a parade before, and I ended up getting to carry the banner right at the front of the procession.
The parade ended at Community Park, where we had our annual pancake breakfast for the entire town. It was really fun to catch up with so many friends / neighbors, and I was so excited that I got to kick off my fourth of July celebrating my amazing town.
Next up for local racing: the second annual Superior 5K in August. I had a blast running that last year, and I'm really excited to see what I can do this time around!
Race stats:
Distance: 1 mile
Time: 5:30
Pace: 5:30/mile
Overall place: 63/387
Gender place: 20/169
Age group place: 6/32