While my last few weekends have had a lot of downtime and unplanned activities, this weekend was the opposite – a whirlwind of plans and commitments that barely let me be home. But I loved every minute of it!
To be fair, I kicked off this weekend with a lot of downtime and relaxation. Earlier this year, I decided it was silly that I've been working in Florida less than a half mile from the beach, and yet I never see the ocean. So I started taking one Friday morning a month off to stay in Florida, lie on the beach with a book, and disconnect. The August iteration of this plan was one of my favorites yet!
Thursday night, after work, I took myself out to a nice dinner and enjoyed a glass of Chardonnay, then curled up in bed early to read. I've been reading every night before bed this week (finally! This has been a habit I've sadly strayed from lately), and between that resumed habit, Thursday evening, and Friday morning on the beach, I managed to finish four books in five days. It was glorious to stay up as late as I wanted Thursday night reading, knowing I didn't have an alarm set the next morning and could sleep as late as I wanted.
I slept in till 8am, getting 8.5 hours of sleep. Including the weekend, I got more than 8 hours of sleep six nights this week – which is very unusual for me. Usually if I get that much sleep, I can't sleep the next night, but this week I was sleeping happily. I'm wondering if it's because my body is using the extra sleep as healing time for my knees?
Speaking of which: the injury update. They were definitely improving over the course of the week, and from my many consultations with Dr. Google I surmised that I probably had bruised the bones pretty badly (but that's an injury that would heal on their own.) On Friday morning, they still hurt a lot, to the point where I needed to be careful getting up / sitting down, but I was comfortable walking and doing the elliptical – it felt like movement loosened them up. In contrast, on Thursday morning, I had tried an easy half mile on the treadmill and that hurt a bit… so I was definitely nervous about my race on Sunday.
Anyway – after my elliptical workout Friday, I spent the rest of the morning reading on the beach, then packed up at noon to catch my flight home. I got a ton of work done in flight, so I didn't feel too guilty about taking the morning off, and I arrived home rested and ready to go.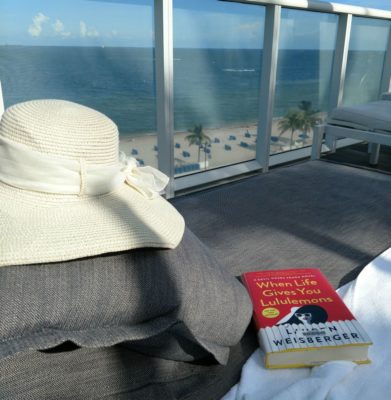 Friday night was my only real downtime at home without plans, but that changed when I stopped by a neighbor's house to pick up a check for my campaign. In addition to the generous donation, my neighbors graciously invited me to stay for dinner and cocktails on the patio. Honestly, even if I don't win a Board seat in the election, I think all the campaigning is worth it just to meet so many wonderful new friends and neighbors! We had a lovely night talking about Town issues and also getting to know each other better, and I headed home around 10pm to try for another great night's sleep before my race Sunday. (I have always believed that the sleep that counts is two nights before the race, which is why I hadn't made plans Friday night to begin with.)
Saturday morning I again slept in, waking up to my alarm clock at 7am. 8.5 hours of sleep again – woo hoo! And then it was off to Original Town, the oldest part of my neighborhood that dates back to the 1800s, when Superior was a coal mining town. A few of the current residents of Original Town had invited me to join them for their regular Saturday morning walking group, and I met up with a whole crew of wonderful women who pointed out various homes and potential development areas while we walked to get coffee in Louisville. I loved getting to know the issues facing a different part of my town, and hearing the ladies' perspectives on how our current Board / Town Staff is doing and how I can make it better. I ended up sticking around for 3.5 hours, and am looking forward to joining them for walks on future Saturdays as well!
After the walk, I rushed home to change out of my gym clothes, and then headed to another section of town for a campaign event. The Bell Flatirons apartment complex was hosting a "Meet the Mayor" event, where our Mayor was grilling hot dogs and giving residents an open forum to ask him questions. To supplement, I brought a cooler of freeze pops as a literal icebreaker, and had a nice time meeting residents in the complex and hearing about issues that mattered to them (transportation and sustainability).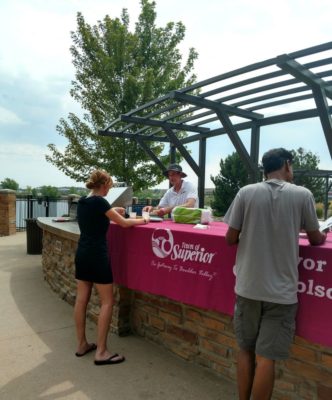 Finally, I was done with campaign things for the day (well, except for some necessary prep for Sunday's events), and I headed home to shower and take care of a few things around the house. Soon after, my brother arrived with one of his girlfriends – he had come out for the week to visit, and we all got to go out to dinner Saturday night! I took them to one of my very favorite restaurants, Empire Lounge in Louisville, and we ended up sharing several of my favorite dishes. We had the crispy sauteed brussel sprouts, the shaved brussel sprouts and parmesan salad (yes, two sprouts dishes… both were so excellent that we didn't mind the duplication), the coal miner's mac and cheese, and the pork ricotta meatballs and polenta. I was stuffed after dinner, and while I was originally worried I wouldn't be able to sleep well Saturday night since I'd been sleeping so much lately, I ended up heading to bed yawning like crazy as soon as we got home at 9pm.
Although I got another good night of sleep on Saturday night, I woke up on Sunday morning and not feeling very well. I woke up with a start to my alarm, and I felt hot and a little bit feverish. But it was race day, and I had campaigning to do before / after, so I pushed that aside and headed out to run my best. Stay tuned for a full race report, but the initial ickiness faded after some coffee, and I had a blast getting to meet friends and neighbors at the race. Plus, spoiler alert, I ended up winning first female overall, which I was really proud of!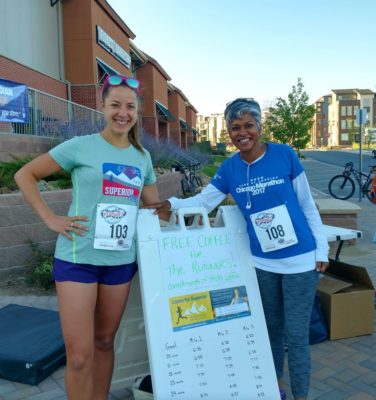 After the race, I headed home to finally get a little bit of downtime… my first of the weekend. But it was short-lived, as I only really had an hour before I needed to head out again. I had committed to volunteering in Lafayette with a new-to-me nonprofit called Heartfelt Hugs.
Heartfelt Hugs is a nonprofit organization started by a 12-year old girl whose brother was diagnosed with cancer when she was 8. Madelene realized that the siblings of kids with terminal illnesses don't often get a lot of attention from their families or others, with all of the focus being on the sick child, and she wanted to create an organization that would celebrate the siblings and make them feel special.
Now 16 years old, Madelene organizes monthly events for the kids to hang out with each other, and they formed a tight-knit community that reminded me of the amazing community I found at Experience Camps two weeks ago. With Heartfelt Hugs, there isn't as much of an emphasis on processing grief, although many of the families have lost a child; it's more of a chance for the families to have fun and forget about their problems, but in the company of those who understand what they've been through.
For this month's event, Heartfelt Hugs hosted a huge outdoor picnic at Waneka Lake in Lafayette. There was a cotton candy machine, paddle boats, giant inflatable human hamster balls, a performance by a hula hoop artist, and backpacks and gifts for every single child to take home.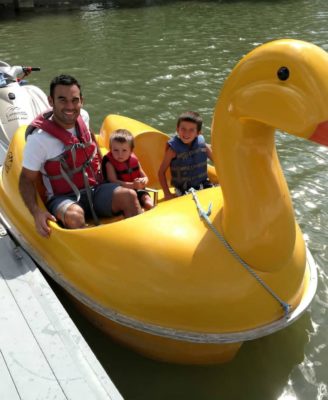 I had so much fun, and I have to say, this is the kind of volunteer work that I kind of feel guilty about doing. My job was to set up the gift table, sign people in, and generally help keep everything running smoothly… not difficult tasks, by any means, and I feel awkward when friends / colleagues praise me for doing volunteer work like this. I think it benefits me more than it does the families, since I get to feel good about doing something for someone else, but it's easy and enjoyable. I had a lot of fun getting to hang out with all the families, and I'm looking forward to the next event in September.
From Lafayette, I headed to the grocery store to pick up a few necessities, and then home to get out of my picnic clothes. Then, it was off to Por Wine House in Louisville for a quick date before heading home as fast as I could to cook for my friend Tim, who was coming over for dinner. Tim requested something healthy, and I kept it simple with this chicken zucchini noodle stir-fry and almond butter sauce… A fantastic recipe my friend Kelli introduced me to this winter. It was a huge hit, and Tim and I had a fabulous night catching up and relaxing on my deck. The perfect way to close out the perfect summer weekend!