This post was sponsored by Somersaults as part of an Influencer Activation for Influence Central and all opinions expressed in my post are my own.
I've written before about how little changes can add up to big results, and how one of my 2017 new year's resolutions is to start each day with a very small healthy habit. Every morning, the very first thing I do after getting out of bed is 10 pushups, 20 lunges, and 30 plank shoulder taps. The simple routine takes me literally one minute to do, but it starts my day on a healthy note and puts me in a mindset to make better, healthier choices all day. It's been two weeks, and I haven't forgotten to do it yet – it's so quick and easy that there is no reason not to do it, even if I'm in a rush. Plus, while it's a really small change, I'm actually seeing a small result in that my pushups have gotten incredibly quick and easy, even as I've graduated to doing most of the set with one leg in the air for an extra challenge. I'm loving this resolution so far!
Another habit that I am working to try to improve in a small way is my snacking. Particularly when I'm working from home, and the kitchen is so close by, it's hard to resist the temptation of an afternoon pick me up. But I'd rather not try to cut out snacking altogether; instead, I'm trying to choose something healthier that will fill me up and get me through to my next meal. As I'm working to gently change my eating habits this year, my focus is on incorporating more nutrients into every meal/snack, rather than thinking about what I'm not having (tons of fat, sugar, salt, etc – delicious as those may be).
One snack that I've been enjoying lately is Somersaults, a crunchy crispy little bite whose main ingredient is sunflower seeds. I've never been a big fan of sunflower seeds before, but the flavor really comes together with the other ingredients in these bites and I'm loving them! However, Somersaults also aren't overly processed – they're made with simple, all-natural ingredients of the highest quality (non-GMO verified). So while they have the crunch and satisfying flavor of some less-healthy snacks I've munched on in the past (potato chips, I'm looking at you), I actually feel good about eating them.
Sunflower seeds are a nutritionally dense superfood – they're packed with protein, fiber, vitamin E, and healthy fats. Per serving, Somersaults have 140-150 calories, 5-6 grams of plant-based protein (depending on the flavor), 3 grams of fiber, and less than 3 grams of sugar. That means they're perfect to fill me up till dinnertime without making me feel like I overindulged on an afternoon snack.
The package I received to try came with both big bags, which I put out for guests at a recent party, and little bags, which I can easily toss in my pack when going hiking or in my jacket pocket when I'm skiing. Somersaults come in four flavors: Sea Salt, Salt & Pepper, Cinnamon, and Dutch Cocoa. The first two are savory, and the second two are  sweet – meaning that I can make reaching for Somersaults a habit but still change which kind I'm eating to suit my craving.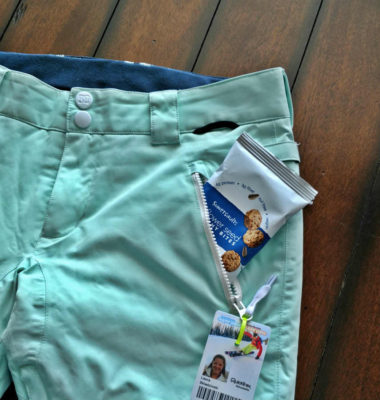 I seriously love each of the flavors I've tried; the up front flavor is what's on the label but then they have a great nutty aftertaste from sunflower seeds and some sesame seeds. They are seriously so good! While some healthy snacks are ones I kind of sigh and begrudgingly eat, Somersaults are something I crave and eagerly reach for… and have to stop myself from grabbing another when I've finished the bag 😉
While some health foods can be hard to find, Somersaults are available both online and in select Whole Foods and Target locations – check out the store locator here. In my neighborhood, they're available at both Whole Foods and Target, plus Safeway, so it's easy for me to pick up more when I run out. The little one ounce packs that I like best (portion control!) retail for about 85 cents a bag, so it's not definitely not breaking the bank to eat this yummy treat, even though it's full of high quality ingredients. The larger six ounce bags are about $4 each – so comparable in price to most packaged snacks you might be replacing.
I highly, highly recommend Somersaults if you're looking to make a small change to your snacking habit like I was. They're healthy and filling, but also totally delicious to where you won't miss your old snacks.
Disclaimer: This post was sponsored by Somersaults, and I was compensated for writing a product review. However, I truly love their product and once I use up all the samples they so generously sent me, I will absolutely be spending my own money to keep these stocked in my house. They are awesome!