Last year, I was definitely spoiled working in Dallas four days a week. There were tons of class options in Dallas that included treadmills, and it was fantastic for my running. Burn Dallas, Tread Fitness, Beyond Studios… I love doing treadmill workouts where someone else is pushing me to go faster / steeper. But in Colorado, I haven't found any studios outside of Orangetheory that offer treadmill workouts, except one. And this morning, my schedule finally worked out to where I could attend the Tread class at TruFit Athletic Club (a local big-box gym near me that offers both classes and "gym time' on Classpass).
I've wanted to try this class forever, and I got kind of worried after I checked in and headed for the treadmill area. There were a bunch of people who seemed to be just regularly working out on the treadmills, but there was no instructor and seemingly no class. I hopped on a machine to do a half mile warmup, but when it was two minutes past the start of the class and seemingly nothing happening, I headed back to the front of the gym to ask if it was happening. After checking emails to see if the instructor had canceled (nope), they told me they didn't know either what had happened, but that hopefully I could come back another week. Noooooo!
Fortunately, after I went back to the locker room to get my headphones and Kindle for some personal time on the treadmill, the instructor appeared. ("When the student is ready…") And while it was a rather inauspicious start to the workout, it turned out to be a great class. We did two blocks of 7.5 minutes each, with four minute blocks of tabata abs/arms in between. And then, repeat the whole thing again, for four blocks total and 30 minutes of running, plus 16 minutes of weights.
I have to admit, I was pretty spent after the first two blocks, so when I found out we were going to have to do it all over again, I wasn't thrilled. But I actually succeeded in upping my speed on both the incline workout and the sprints the second go around! In both treadmill blocks, we got to change either the incline or the speed every 30 seconds, and I really loved the extra focus I was able to maintain by only thinking about 30 seconds at a time.
After the workout, I was thinking about how much I liked it… and also how long it would be until I could get to this class again 🙁 So I wrote up what I had done in Excel, in order to hopefully do it on my own sometime. And while I was at it, I thought I'd share with all of you who may want to give it a shot too. (I've highlighted the changes in pace/incline in yellow.)
In the incline block, I used 7.5mph as my base pace. Ideally you'd keep that base pace throughout the hills, but at some of the higher inclines (and when I got tired) I had to bring that down to 7.0mph or even 6.5mph. After you come back down the hill, the goal is to do one minute of a running pace on flat ground. I was tentative in trying out 8.0mph for the first 30 seconds, but I bumped it up to 8.5mph for the second half to really end this block with a bang.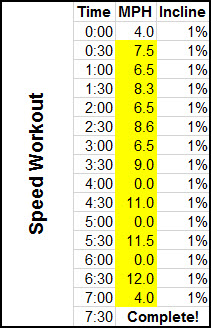 For the speed set, the idea was to start at a comfortable run, then take it down to a slow jog to recover. From there, we did a few "push pace" intervals that gradually increased until we we were just shy of a sprint, using a slow jog as our rest break in between in each one. But then, game on: three sprints of 30 seconds each, jumping off the treadmill to the rails for each one so that you weren't trying to mess with the controls in between sets. I tried to increase the speed of each sprint as I went, and just barely succeeded in hanging onto a 12.0mph (5:00/mile) for the final sprint. It was exhausting, and I loved it!
I know that these are pretty short blocks, but when you do two sets of each, that's not a bad running session (30 minutes total). Perhaps it's not ideal 5K training to be doing such short intervals, but it's definitely a fun way to work on both speed and hills without getting bored. I think even if I were doing these on my own, I wouldn't have any need to watch TV like I normally do on the treadmill – there's plenty of changes to keep my mind active!
Let me know if you give this workout a try 🙂