Before the end of 2016, I wrote a 2017 New Year's goals post – but also noted that I didn't have all my resolutions figured out yet. But the more I thought about it (and talked about it with some great and inspiring friends), I ended up coming up with a short list that I'm really excited about. Some are daily habits and some are long-term goals, but all are things that I feel pretty passionate about and I also think are reasonable lasting changes for me to make.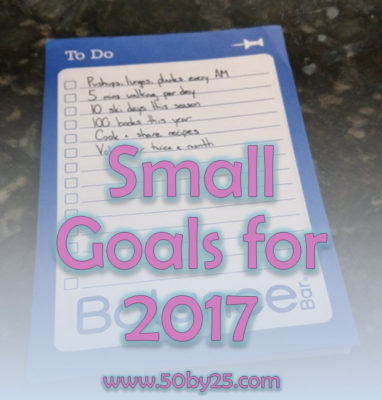 One of the toughest things about writing New Year's resolutions is the desire to go big. "I will work out every day!" …when you've only worked out once a month till that point. I decided that I wanted to incorporate two daily habits that wouldn't take much time at all, and wouldn't necessarily have a big payoff – but would put me into a healthy frame of mind every day and be a tiny little bit of success. (Kind of like how Navy SEALs make their bed every morning.)
I always admired how Ali starts her day with a round of situps, so I decided that I wanted to have my own morning routine to get myself going for the day. It's short and sweet: 10 pushups, 20 lunges, 30 plank shoulder taps. I started out thinking I'd do a 30 second plank but doing shoulder taps is easier to count, plus it raises my heart rate a bit! It probably only takes about two minutes for me to do the whole 10/20/30, so it doesn't really slow me down in the morning, and I make sure to do it as soon as I get out of bed. (Or sometimes after I hit the bathroom… but never anything else in between, not even brushing my teeth or putting my contacts in.) I don't hold out any hope that my 10/20/30 routine is going to make me super fit, but it's a nice way to fire up all the muscles in my body and also get my heart rate up a bit, so I'm energized to start the day. Plus, it sets the tone for the day that I am going to make healthy choices, which can inspire later, bigger, choices.
Also as part of my everyday routine? I had a lot of fun with my walking experiment last March, where I tried to hit 15,000 steps every day. But it was exhausting to sometimes traipse around for an hour before bedtime after a particularly sedentary day, and I felt like my sleep suffered during that challenge. So I'm scaling back: every night before bed, no matter how active my day was, I'm adding five minutes of walking. So far this has mostly been walking in place next to my bed, but it could be walking around my house (or outside) if I'm feeling up to it. I have been pleasantly surprised to see that I can get my heart rate a bit elevated just by marching in place, but it doesn't prevent me from getting to sleep easily, even when I do it right before bed. And while five minutes isn't very long, it nets me about 900 steps – which means about 328,000 extra steps by the end of the year. Little actions add up!
I have a few goals for 2017 that aren't daily actions, but overall tallies I'd like to hit. I want to read 100 books a year, as is my goal just about every year. (But I finally reached that goal in 2016!!! I'm proud of that accomplishment.) I'd also like to ski ten days this year – which probably sounds laughable to the many Coloradans who count their ski days in the twenties and thirties and forties, but ten would be nearly double what I did last year. I was out skiing at Winter Park this past Friday and had a great day – it reminded me of how much fun skiing can be, rather than me just remembering how I hate the cold 🙂
I'd like to make it a priority to volunteer at least twice a month this year. My friend Jill introduced me to the fun of prepping/serving meals at the Denver Rescue Mission, and over the holidays I also got some friends together to pack boxes at the Food Bank of the Rockies, which was a blast. Every time I volunteer, I think to myself that I should really do it more often… but then I don't make the time. Hopefully having a formal goal will help remind me of my priorities!
And finally, a goal that I'm not entirely sure about but I'm playing around with. (Who says you can't experiment with goals?) I love to cook, and I've been told that I'm pretty good at it, but my recipes never make their way onto the blog like they used to years ago. A big part of that is because of my terrible food photography! So I'd like this to be the year that I improve that a bit, and I want to start sharing that part of my life a bit more. Very nebulously, I'd like to cook more than I do right now (this goal is helped tremendously by the fact that I'm not really traveling for work at the moment), and I'm going to share what I cook on social media. For now, I'm sharing on my Instagram Story, since that seems like a low-risk sharing option given that things disappear within 24 hours. (Thank you to Amanda for teaching me how Instagram stories work.) And as a bonus to this goal, I'm finding that I really like viewing Instagram Stories to see sneak peeks into my friends' days. I've even struck up some good conversations as a result of the little snaps! So while sharing what I eat may seem like a total millennial move, I'm thinking it will help me connect with people in real ways too.
And you? What little (or big!) goals do you have for 2017?