Before I kicked off with my weekend on Friday with Adam, I wrote up a quick post about how my June challenge is going so far. This weekend didn't end up being a weekend that I stuck to healthy eating perfectly, but I also didn't wake up this morning thinking I totally blew it. As part of our Father's Day celebrations, we went to San Tan Brewery for a tour of the facilities as well as lunch – and while I couldn't resist getting their barbecue brisket quesadilla, I had exactly half of the large portion and took the other half back home to Adam's for him to enjoy later. That portion size felt perfectly filling, and I didn't even really want the other half. For comparison, the last time I went to San Tan, I discovered that the quesadilla was by far the best one of my life, and not only did I devour the whole thing, but I would have gladly ordered a second. Progress!
In my post on Friday, I didn't talk much about the "no sugar" side of the challenge. I've been fairly successful at sticking to 24 grams or fewer of sugar per day, and only on one occasion have I had an actual sweet treat (a popsicle with Adam's son). However, I haven't completely eliminated sugar cravings, and it seems like every afternoon, I crave a sweet shortly after lunch. One thing that has been really helpful for me in not going crazy is Adora Calcium's chocolate calcium supplements – just a small 30 calorie piece of those satisfies my sweet tooth without tempting me with a larger dessert portion where it would be easy for me to overindulge.
According to the National Osteoporosis Foundation, 54 million Americans have osteoporosis, which is responsible for over 2 million broken bones each year. The National Osteoporosis Foundation has a few simple (but often neglected) recommendations for maintaining proper bone health:
Engage in regular exercise. Check! I've been really good this month about working out almost daily.
Eat foods that are good for bone health, such as fruits and vegetables. Check! Veggies are the mainstay of my diet, and while I've been really light on fruit this month because of the low sugar challenge, I'm still getting tons of vitamins and nutrients.
Avoid smoking and limit alcohol to 2-3 drinks per day. Check! I would never smoke (ewwwww), and while I have never had two to three drinks every day, I've been conscious this month of trying to make sure I don't have more than two or three drinks any day. Sometimes it's easy to just keep pouring the wine, but I'm happier with two glasses spread out over a longer period, and I keep trying to remind myself of that.
Finally, get enough calcium and vitamin D and eat a well-balanced diet. Check! Adora combines the calcium and vitamin D into one yummy chocolate, which has 50% of my daily calcium recommendation plus plenty of vitamin D3 for enhanced calcium absorption. That gives me a great start on reaching my calcium goal for the day while also still allowing me room to get my calcium/vitamin D from non-supplement sources.
I've tried Adora in the past and loved it, but lately, I've also noticed a few tweaks to the recipe that make it even more healthy and delicious. Adora is made with only organic dark and milk chocolate, is GMO-free, and now has double the vitamin D of the previous formulation. To me, it tastes noticeably richer and creamier than before – to the point where I emailed the PR rep to ask if something had changed! I love that Adora can satisfy my afternoon sweet tooth for just 30 calories and two grams of sugar, and it's high quality chocolate makes it plenty satisfying even though it's so small. Win win!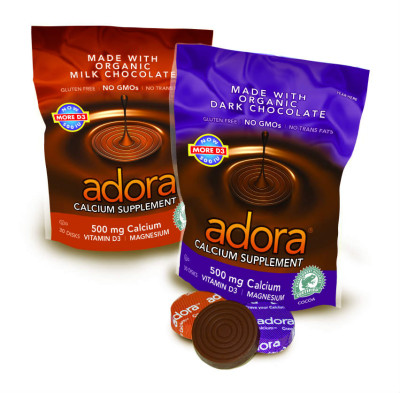 Giveaway!
Adora is offering one 50by25 reader a bag of their chocolate supplements to try for yourself. To enter, leave a comment telling me how you curb your sweet tooth cravings and log that in the Rafflecopter widget below (if you're reading this in Feedly/Bloglovin'/email, you'll need to click through to enter). The contest will run through Monday June 29th at 12am MT, at which time a winner will be chosen by random drawing and contacted by email; the winner will have one week to claim their prize.
Note: Adora Calcium provided me with a bag of their chocolate calcium supplements just like the winner of this giveaway will receive, but I received no other compensation for this post, nor was I pressured to write a positive review. All opinions expressed are my own, and in my own words 🙂