I spent this weekend in Arizona with Adam, which was a ton of fun. I flew to Phoenix from New York City to arrive Friday night, and we headed straight to dinner at a yummy (and surprisingly inexpensive!) sushi restaurant on our way home. Although I had arrived not really hungry, I devoured my bento box, especially the tempura, and then realized that Adam and I had gotten the same exact thing but I had eaten far more… oops. Yet Saturday morning found us brunching at Over Easy, where we went on my first trip to Phoenix. Although I tried to order a healthy omelet, it came loaded with delicious goat cheese (of which I scooped up every last crumble), and then I couldn't resist getting a jalapeno cheddar biscuit on the side. Finally, after a fantastic Saturday night grilling steaks and drinking great craft beer with another couple, we spent Sunday afternoon at Santan Brewery in Chandler… which had bar-none the best quesadilla I have ever eaten in my life! And of course, in addition to snarfing that down, I discovered that Adam's bleu cheese stuffed burger (yup, tried a bite of that too) came with beer-battered fries that were definitely in my top three fries of all time. So… not exactly a low calorie weekend, but definitely one where I enjoyed every bit (and bite).
I was already feeling a little indulgent about my eating choices this weekend, but the point about the importance of healthy eating was really driven home for me by some bad news I got on Saturday night. My dad, who has already had two heart attacks, went into the hospital on Saturday with chest pains and was awaiting further diagnosis from a catheterization procedure. The doctors said his cardiac enzymes were elevated when he came in, which meant a heart attack was likely, but by Monday they were able to get it under control without surgery… thank goodness. Although my dad was incredibly lighthearted about it and insisted that it wasn't a big deal, the scare made me rather frustrated that whether I'm in Colorado or Arizona, I'm on the other side of my country from my family and it's not easy to get there quickly in case of emergency 🙁
My dad and I talked yesterday about the importance of lightening up on meat and eating a little healthier, and this morning while at home, I decided to make a lighter version of a breakfast sandwich that I really love. Last week, while hosting my friends over for tacos, I ended up with bit of leftover taco meat… so the next morning, I put the leftover meat into an omelet and stuck it on a slice of cheese bread. (Yum!) Today, I tried out Gardein's Classic Meatless Meatballs to make a new twist on that breakfast sandwich. Although it ended up being quite a bit lighter and healthier, it was just as flavorful, and also came together really quickly.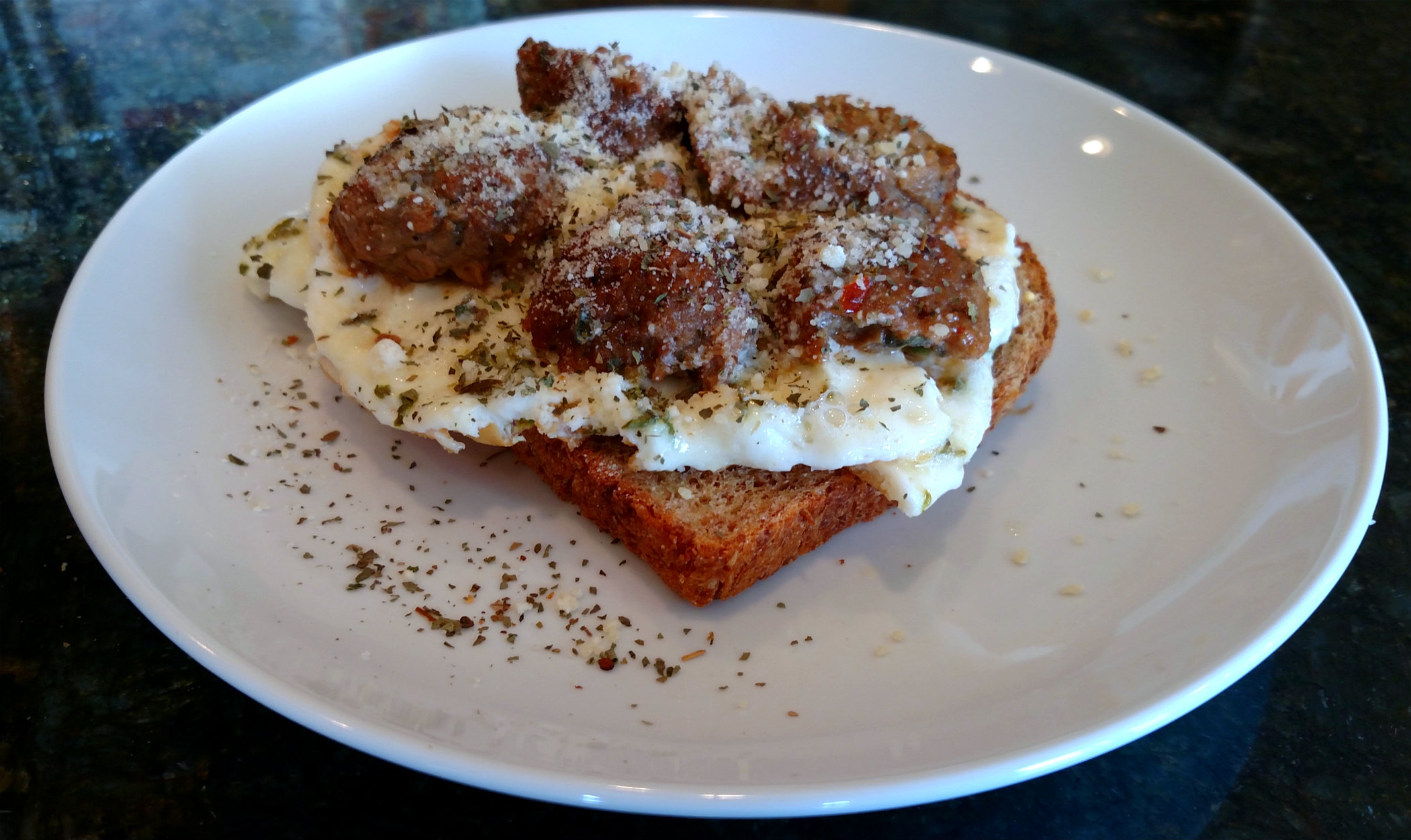 Healthy Gardein Meatless Meatballs Italian Breakfast Sandwich
Hardly a recipe - this meatless breakfast sandwich comes together in just a few minutes. It's hearty and delicious but still healthy and low in calories.
Ingredients
2

whole

Gardein Classic meatballs

2

whole

egg whites

1

dash each

oregano, basil, garlic, salt, and pepper

1

slice

sprouted grain bread

2

tbsp

tomato sauce

2

tbsp

grated parmesan cheese
Instructions
Place your frozen Gardein Classic Meatless Meatballs into a bowl, and add a very shallow (a few millimeters) layer of water to the bottom. Microwave for two minutes on high. Once done, let sit for 30 seconds and then cut each meatball into three round slices.

Preheat a non-stick frying pan while separating your egg whites. Beat the egg whites until fluffy and add to the pan, swirling to spread the egg whites evenly. Season with oregano, basil, garlic, and salt & pepper and cook for two to three minutes, or until firmly set.

Put your bread into the toaster and toast until golden brown.

Finally, assemble the sandwich: put the egg whites on top of the bread, then add tomato sauce and sliced Gardein Classic Meatless Meatballs. Sprinkle with parmesan cheese, and enjoy!
Gardein (garden + protein) is a plant protein brand that was new to me, but is winning a lot of awards lately by making delicious, convenient, and versatile foods that are good for you and good for the planet. Made with non-GMO soy and wheat, ancient grains, and veggies, Gardein is supposed to provide the taste, texture and nutrition of meat but with less calories, less fat and no cholesterol. In general, I'm not a fan of "substitute" products – for example, I usually won't touch fake sugar (just eat a small amount of the real stuff!). Similarly, I love most vegetarian-friendly products as they are (quinoa black bean burgers are delicious!), but not as substitutes for something they're not (quinoa black bean burgers do not taste like hamburger). In this case, I found that Gardein was definitely one of those substitute products that isn't exactly like the meat version, but is still delicious and something I want to keep on hand. Since Gardein's products are all frozen, it's definitely easy for me to have protein at the ready without having to worry about food spoiling. For additional information, chef-inspired recipes, and to find Gardein products near you, visit here and enter your zip code and the product you're looking for. There is also a $1 off coupon at that link – yay for saving money!
All in all, my weight has bothered me a bit lately, and my dad's scare showed me how important it is to be careful about what you're eating… but I'm just not ready to commit to a full-on exercise plan or diet. Life is about making conscious choices, and right now for me, losing a few "vanity" pounds isn't worth having to be restrictive and not treat myself sometimes on a daily basis. (Okay, fine, maybe "daily basis" needs to change.) But I do recognize that I've been really lax lately with both what I eat and how often I work out, and that needs to change. I think I'll be able to make a difference with a more incremental approach; in this case, switching my breakfast sandwich from meat to meatless and from cheese bread to sprouted grain bread is a pretty small tweak. I'm hopeful that making lots of little changes like that will help me to clean up my diet from the all-over-the-place way I've been eating lately, without taking away my enjoyment of eating and flexibility in skipping workouts from time to time.
…plus still allow me to have another mind-blowing quesadilla when I visit Adam again 🙂
Disclaimer: I received the pictured Gardein products to help me cook this recipe. All opinions are my own.