I wrote a bit yesterday about my weekend in Arizona and how Adam and I ate our way through a lot of delicious food, and I also talked a bit about how I've gotten out of my exercise routine. But one thing I didn't mention was the exact physical condition in which I arrived in Arizona. Which is to say, broken.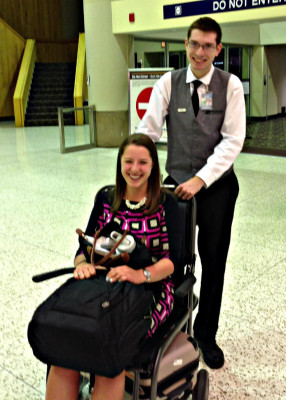 Out of nowhere on Thursday morning, while walking barefoot across the tiled floor of TSA at Denver Airport, my right foot started hurting. I hadn't stumbled, and it felt kind of like a cramp, so I just ignored it… until I was about to head to dinner in NYC and I went to change my shoes, and saw that it had blown up like a balloon and also turned a rather gruesome shade of purple.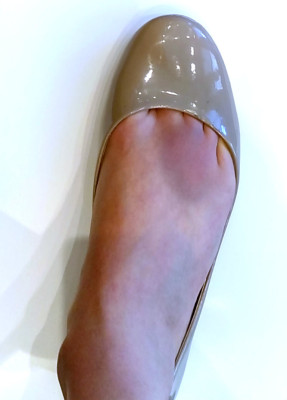 Since I was traveling, I decided to just try to stay off it as much as I could for the weekend, and Adam spent a while looking around Craigslist Phoenix for crutches that we could buy to help with that. (He is the best!) However, I woke up on Saturday morning to discover that my foot was still pretty bruised… but it didn't hurt, so we canceled the crutch hunt and just tested the limits of my normal, non-limping walking. We went on a two mile walk around Adam's neighborhood after breakfast, and it felt fine. So then on Sunday we contemplated going on the Camelback Mountain hike that we had originally canceled, and I did a ton of jumping jacks to prove to Adam that my foot wasn't going to start hurting with impact. (But we still thought the hike wouldn't be prudent and saved it for next time.) But then on Monday, my foot started hurting again… this time in the ankle area, nowhere near the main part of the bruising.
So on Tuesday morning I went to my orthopedist's office, where the receptionist remembered me from all the times I was there for my arm surgery and physical therapy. (Can I get a frequent victim punch card or something?) I was hoping for good news, but instead got… inconclusive. After taking some x-rays, the doctor told me that he couldn't see any fractures or breaks (except for one area on my third metatarsal that might be a fracture, but also he thought maybe he was just staring at it too hard trying to find something). While I certainly didn't want a "broken foot" diagnosis, I wanted something to know what to do. But all I got was "resume running gradually, mostly on soft surfaces. And yeah, don't run the Colfax Marathon this Sunday… that would be bad."
Inconclusivity just sucks. But what might possibly suck more is finally realizing that Adam is totally right about that, and we have had to make an exception to our relationship's rule of "Laura is always right." 😉  Adam hasn't been able to run for a while thanks to a knee injury, and I think he loves running more than I do, so I haven't been totally able to relate… though of course I've tried to be supportive. Now that I don't know what's wrong with my foot, it's annoying to wonder if I can hit the elliptical tomorrow or if I'm going to wake up with it hurting so much that even a yoga DVD is out of the question. Fortunately, it's only been a few days, so it hasn't been that bad for me, but I now totally see Adam's point about hating that you can't plan ahead for any athletic events. We were both planning to run the Boulder Bolder together next weekend, which is something we've each wanted to do ever since we virtually "met" in 2008 through a blogger circle that included the hilarious Ian's race recaps, but I think that's now out for both of us.
Speaking of Ian: when I opened a new browser tab to get the proper link to his site, I discovered that the opening lines of his last post are, "What is the worst possible injury for a runner? I maintain that it is bruised ribs because that's the one that I'm currently dealing with and my present reality trumps your facts and evidence to the contrary." Oh, Ian, I think Adam and his knee would beg to differ.
Honestly, I am not that upset about not being able to run, so I still can't entirely relate to Adam. But as I said, I am frustrated to not know what's up with my foot or what activities might possibly exacerbate the injury. (Or, for that matter, what happened in the first place to make it hurt – I wasn't doing anything!) My doctor told me that if it's still hurting in a week, I should come back and he'll do an MRI, so in the meantime, it's the waiting game to see if it will magically heal as quickly as it magically hurt.
On the bright side, this weekend is the Blend Retreat in Boulder, and I have a few lovely ladies coming for a sleepover at my place tomorrow night – so that will definitely cheer me up and keep me busy. Friday afternoon, Heidi is leading a trail run in Chatauqua Park, so I am thankful that my doctor said short trail runs are fine so that I can participate. And Saturday and Sunday, there are bootcamps scheduled that I'll now be able to fully take part in. (If I had run Colfax Marathon on Sunday, I would have missed the Sunday Blend activities, and I also would have had to scale back the Saturday morning bootcamp to rest up.) There is definitely some upside to not running Colfax Marathon on Sunday, but it still kind of sucks to have to skip it for reasons entirely outside my control, instead of skipping the marathon because there was something else I'd rather do.
So… boo: foot; yay: Blend?! That's pretty much the TLDR 🙂