The countdown is on, and it's only one day until the Blend Retreat opening ceremony! The last two years, I feel like I haven't been terribly excited leading up to the event, but then when I get there and get into it, it's amazing. This year, though, I am like a kid on Christmas Eve… I can't wait till Julie and Mollie get to my place tonight! They are both flying in a night early and I'm really looking forward to having them stay.
Since most Blend attendees are arriving tonight or tomorrow, it got me thinking about flights. Well, really, I've been thinking about flights a lot lately! That's a rarity for me, even with how much I travel. It used to be so routine to just book my weekly business trip to Dallas that I barely had to think about it; every Thursday, I just had an item on my to-do list to book my next round of flights 21 days out (21AP being the cheapest advanced purchase fare you could get for the NYC-DFW route). I tried to be cost-conscious when booking, but cost didn't really change my itinerary much since the bottom line was that I always had to be in Dallas for work on Monday morning. (Sometimes I'd fly in Sunday night or be on-site at the client Tuesday through Friday if things were really outrageously priced, but that was rare.)
Now that I'm long-distance dating, though, it feels like Adam and I are constantly checking flight prices for sales and trying to figure out where it makes sense to spend each weekend. We are incredibly lucky that flight prices between Denver and Phoenix are fairly reasonable… and sometimes they're even downright cheap. This week, I managed to book another Phoenix weekend for just $91 roundtrip with all taxes and fees included! Score. But all those flights are definitely adding up, so I need to be able to search quickly and frequently so that I can pounce when deals like that arise.
I've extolled the virtues of ITA Matrix before, and I'm still not giving up on it as the best flight search tool around. The flexibility and customization of ITA Matrix is unparalleled, and you can find a lot of deals you just wouldn't otherwise find. Where ITA Matrix really excels is in booking multi-stop custom itineraries; however, a simple DEN-PHX roundtrip of nonstops doesn't require ITA's power. Enter: Google Flights.
Google bought ITA Matrix a few years ago, and I was worried at the time that it would mean the end of ITA – luckily not. Instead, Google Flights has harnessed the power of ITA Matrix for its own searches, but still keeps ITA active for those who want to do more complex searches. And if you don't need a complex search, Google Flights is a breeze!
Google is known for how user-friendly they make everything, and Google Flights is no exception. There are no complicated routing codes or syntax to remember – although I always have trouble remembering that to search multiple airports in Google Flights, you use commas and spaces (e.g., "PHL, EWR", not semicolons like in ITA). As you click your way through the filters in Google Flights, your pricing options dynamically populate on the screen. Sure, ITA's filters do something similar, but the speed of the interfact is just a few milliseconds slower and it feels like it's "thinking" longer.
As a bonus, while Southwest still doesn't publish their pricing on a GDS, you can see above that Google Flights "scrapes" their site so that it can at least tell you what times the Southwest flights operate. You can then click through from the Google Flights selection directly to the Southwest website (with your search parameters already entered) so you can quickly see the pricing there. Google Flights is definitely the way to search if Southwest is an airline for consideration!
Speaking of which – another benefit of Google Flights over ITA Matrix is that once you've chosen your itinerary, Google Flights allows you to click through to the airline to book. While I never had a problem going to the airline website myself and filling in the flights I had found on ITA, I felt like it was awkward to send friends/family to ITA and then have to explain that this tool was just for searching, and they'd have to book elsewhere. Keep in mind that you still can't book on Google Flights, but the fact that it offers an easy pre-populated clickthrough to the airline's website makes it much more-user friendly.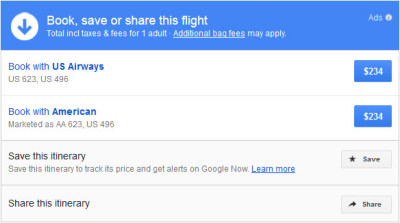 Additionally, if you're sharing flight options with friends/family, you no longer have to copy/paste the details into an email. Google Flights allows you to send a pre-populated email with a note, generate a custom "share" URL to send, and also allows you to save flights to your own favorites to consider for later purchase. When you save a set of flights, Google will automatically email you about price drops – really handy!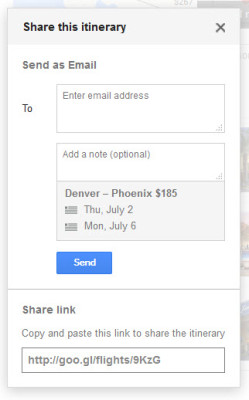 If you're price-sensitive (like me), you're probably used to doing lots of searches to compare options, or at the very least, specifying that you're open to flying on multiple dates. Google Flights doesn't let you pick multiple dates, which at first I thought was a huge downside. However, if you want to check different days, arrows allow you to easily shift your departure and return one day at a time (separate arrows for both), and again, the flights update dynamically rather than you having to go back a page to the search screen and start from scratch. You can also use a calendar to quickly shift a flight by weeks or even months at a time.
Once you've chosen your dates, Google being all Google-y and smart will also pop up a box on the top of the results to alert you if there is a significant price difference when you change days.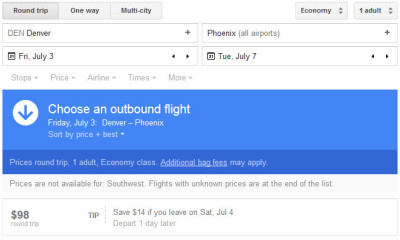 So with all those great advantages, what's not to like? One of the main drawbacks that I've found with Google Flights is that you have to pick your outbound flight first in order to bring up the options for the inbound leg. But there are a lot of times when my return has tight parameters (e.g., I need to be at work by 8am Monday) and my departure is more flexible (e.g., I can leave on Friday night or Saturday morning). When there are multiple carrier options, choosing one carrier for the departure flight may limit my options for the return (since a lot of flights are best priced on a roundtrip basis), so with Google Flights, I have to do lots of selecting one then canceling and going back to select another in order to make sure I'm choosing the best options for both flights. I also don't like that there is no option for the easy-to-read timebars that ITA uses, which I find make it easier to compare the cost/benefit of choosing a nonstop over a connecting itinerary.
Those drawbacks aside, Google Flights wins hands-down when it comes to user-friendliness and speed. All in all, if you're looking for a basic roundtrip or one-way, Google Flights is the perfect option to search in a hurry.