Weekend recap will be coming tomorrow (spoiler alert: tons of hiking pics, but none on a 14er. Stupid weather!), but in the meantime, I can't get over how strange it is to be in Dallas on a Monday and working normal daytime hours! I guess I got really used to night shifts, because it felt so weird this morning to go back to my old routine of waking up at 4am and flying to Dallas before starting my workday. Never mind that I have been in that routine for nearly three years; it only took three weeks to undo it! Guess that may teach me a larger lesson about why it's important to keep good habits going rather than letting them lapse for even a short time.
I wanted to share with all of you a quick review and giveaway of a product that was the biggest help to me in making those night shifts bearable: Energems. Energems are bite-sized, hard-coated "gems" that are kind of like oversized M&Ms. However, unlike M&Ms, these pack a serious boost: each serving of three Energems has the caffeine equivalent of a cup of coffee!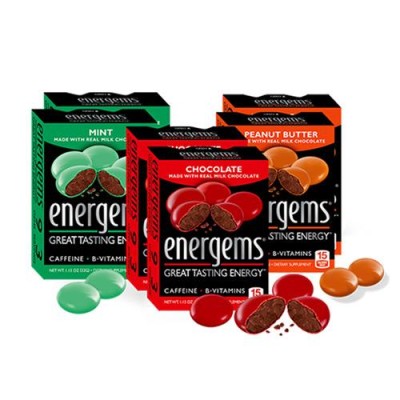 While working night shifts, I really liked that Energems could wake me up while also giving me a little bit of a candy fix. They are made with pure sugar, not any kind of nasty sugar substitute, which is really important to me. I am always amazed at how many products are made with fake sugar instead of the real stuff! Even if you are watching your weight, a teaspoon of sugar only contains 20 calories, so you aren't going to run into big trouble unless you're eating something that's chock full of sugar. (And if you're eating a candy bar, you're really not going to make it that much healthier by taking out the sugar! Just saying.) I will note that Energems also have artificial coloring, which is something I typically avoid, but when I compared the Energems ingredients to the ingredients in soda, Red Bull, etc, I felt that this was a minor price to pay.
One three-bite serving of Energems has 45 calories, which is probably about as much as I'd get from a cup of coffee with the artificial creamer that we had on hand at the command center anyway. But candy is much more delicious than coffee! I just had to remind myself that Energems are not, in fact, candy, and that I should stick with just one (or maybe two) doses per shift, not pop the whole box in my mouth.
Giveaway!
Energems was generous enough to be one of the sponsors for the Blend Retreat I went to a few weeks ago; they then kindly offered to send me a sampler pack of all the different flavors (classic chocolate, peanut butter, and mint); and now, they're offering an Energems sampler pack to one lucky reader! If you'd like to try Energems, click through your reader of choice and use the Rafflecopter widget below. You can get one entry for a comment, one each for following me on Twitter/Facebook, and one for tweeting about the contest. The giveaway will remain open for a full week, until next Sunday at midnight.
Thank you, Energems, for keeping me awake and energized during night shifts – my entire project is grateful that you kept me lively and in a sunny mood, even when there was no sun to be found!
Note: Energems provided me with a sampler pack of product just like the winner of this giveaway will be receiving. Otherwise, I received no compensation for this post, and all opinions expressed in this review are my own.