I participated in an Influencer Program on behalf of Mom Central for Dove. I received a product sample to facilitate my review and a promotional item to thank me for participating.
We have been sweating up a storm ever since we got here! Literally ten minutes after I arrived at the resort, Janae led us on a group run that took us down the hill from the property…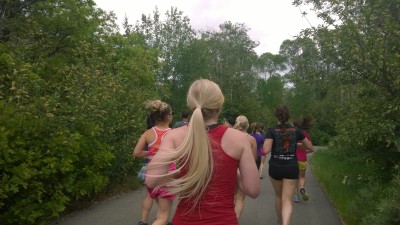 …and then allllll the way back up.
I felt really bad because I was trying to chat and get to know people, but I was so short of breath on that uphill! Working in Dallas four days a week doesn't really help me adjust to the altitude in the Rockies, and I'm starting to think it's going to take me years if I'm only there three days a week.
I spent last night "fueling up" (yup, that's what I'm calling it) on cocktails, healthy appetizers, and pizza. I felt a lot more relaxed this year than last year! It was nice to have a lot of people that I already knew, and I felt like that took the pressure off… though I still have been trying to meet as many new people as I possibly can. It is so wonderful just how nice everyone is here! I know there is a whole community who snark on bloggers, and I can even see their points with some people, but this particular conference just seems to attract such a wonderful group of people. It's not about improving your blog (ick, I already know about 209348 ways I can improve mine and I just don't have the time), and it's not about "gaining readership" or whatever… it's more just about making friends and hanging out and having fun. I love it!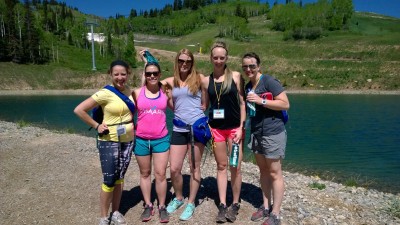 That said, today has also been a ton about sweat. Soon after we woke up, there was a bootcamp with tons of calisthenics, and then after refueling with a really delicious breakfast (fried potatoes? Yes, please. Thank you healthy bloggers for leaving more of those for me!), we headed out on a hike. The hike was short, but a group of us decided to take the long way down instead of riding the gondola, and that led to some really gorgeous views.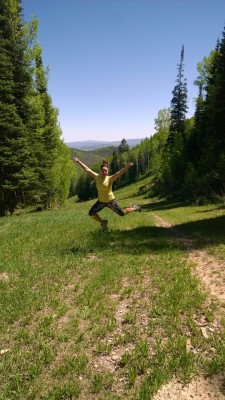 All in all, it's been a lot of fun, and a lot of sweat. I was glad I remembered to pack the Dove Advanced Care deodorant that I wrote about a few weeks ago, which offers 48-hour odor and wetness protection. The bootcamp got me sweaty, and the hike got me pretty dusty, so it's nice that at least I smell fresh, since Dove is available in a wide variety of signature Dove fragrances. Plus, since I'll be heading out to the pool shortly, I appreciate that it's helping my underarms to stay moisturized and smooth – they promise softer/smoother underarms in just three days of use. Thanks again, Dove!
Now… off to go make more friends poolside! Hope you are having a wonderful weekend too 🙂
As previously noted, I participated in this campaign on behalf of Mom Central Consulting for Dove. I received product samples to facilitate my review as well as a promotional item as a thank you for participating. All opinions expressed are my own and I was not pressured for a positive review.