The following post is sponsored by FitFluential LLC on behalf of Mizuno.
Last weekend was pretty busy! I was supposed to hike my first 14er on Saturday, but when the forecast turned crappy, I stuck close to home and got errands done instead… and went to go see frozen at Boulder Outdoor Cinema at night. It was awesome! I know I am probably the last one ever to have seen it, but if by chance you haven't seen it, I'd highly recommend it. It's adorable and yet has some adult jokes thrown in that will keep everyone laughing 🙂
On Sunday morning, I headed back to Mount Sanitas, a popular hike just outside of Boulder that ascends 1300 feet over just 1.5 miles. I did it for the first time on Thursday morning, which was a great glute workout, but Sunday went a little bit more smoothly – and I wasn't even sore after. I have to say though, even when  you're sweaty and out of breat, hiking just doesn't feel like a workout. It's so beautiful and relaxing!
One thing that made the hike even more relaxing, though, was knowing that I wouldn't slip on the rocks – thanks to my new Mizuno Wave Kazan trail running sneakers. Right off the bat, I was incredibly impressed by how "grippy" they were – probably even more so than my hiking boots. I felt totally comfortable balancing on various rocks, and it made running on the trail a lot easier too, since I wasn't worried about slipping and falling.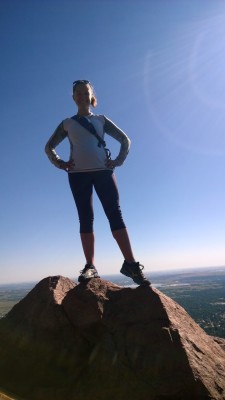 The Wave Kazans are designed as an "all-terrain" shoe – which is perfect for beginner hikers/trail runners like me who don't want to invest in a lot of specialized gear for every occasion. It has an "X-groove" on the midsole that helps you adapt to uneven surfaces, since the heel and forefoot can move independently.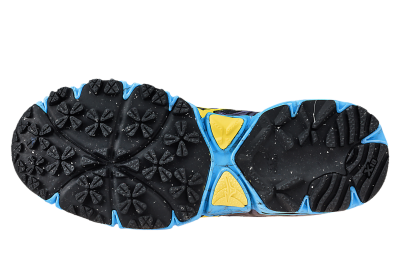 And yet, the Kazans are incredibly light for a trail shoe, weighing in at only 8 oz – which is really important when you're hauling yourself and your stuff up a mountain. When you compare these to hiking boots, the weight difference is incredible! I still obviously use my hiking boots when I need ankle support, but these have been phenomenal when I'm going on a shorter or faster trek and am more comfortable in a sneaker-like shoe. Again, though, the grip and flexibility on these is just far superior to a regular sneaker, and I am in love with them.
I made a new goal for myself this summer (that is, between now and Labor Day). Although I travel a lot, I want to make sure that I do something outside for at least 30 minutes every day that I'm in Colorado. (Stay tuned for tons of pictures on Instagram, since I tend to get pretty camera happy when I'm out in the mountains.) There are too many beautiful places to hike, run, and explore, and I want to see as much as possible while the weather is this good! I'm really happy to have my Mizuno Wave Kazans along for the ride.
Disclaimer: Mizuno provided me with shoes and compensation for an honest review, but I was not pressured to write a positive review and all opinions expressed in today's post are mine alone.