Weekend of September 28-29
I rolled into this weekend pretty exhausted… but also pretty psyched. My mom is visiting Colorado for 11 days!
My mom was due to get in at midnight on Thursday, so I booked my flight home from Chicago to arrive late as well, at 11pm. That meant I just had an hour to hang out at the airport and wait for her to arrive. I ended up making it into a date with a fellow traveler at the Westin Hotel bar, which was a fun way to pass the time! But by the time mom and I got our Uber home, it was really late… 2am, ouch! Unfortunately, there was no sleeping late to make up for it… my first meeting of the day was at 7am.
After some morning meetings (and a workout squeezed in), I headed over to Lafayette for my first appointment at Colorado Sports Physical Therapy. My calf has been really tightening up when I run, and now I was actually feeling pain through it after a run, so it was time for me to stay off it (which I did all this week, opting for the Peloton bike at my hotel and powerwalking at Orangetheory) and get it checked it out. Colorado Sports PT is run by Cathy, who's married to one of my college classmates; the two of them moved to Colorado a few years ago and Cathy's clinic has been thriving! Last fall, my mom started seeing Cathy for a knee injury, and my mom was the one who suggested I give Cathy a call. I am so glad I did!
Cathy's staff has now expanded to included several people, and she set me up with Emily – a fellow runner who totally gets how much it sucks for me to stop running. Emily checked out my calf, massaged it pretty deeply, and gave me a bunch of homework to try to strengthen the supporting muscles. On the bright side, she said it's not a stress fracture! So that was good news. But, I have a lot of healing to do before I'll be allowed to run on it again, as it seems the pounding is what's aggravating my tibialis posterior. I'm glad to have a diagnosis, and hopeful it will ease up soon!
After PT, I had a lot of work to get through, but also a fun outing – our Denver office headed to Unser Racing for an afternoon of high-speed go-kart racing! I am pretty terrible at this (I'm way too cautious / afraid of crashing), but I had fun anyway 🙂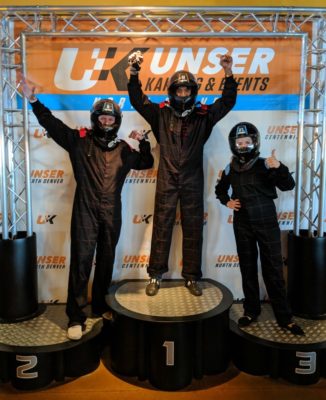 I got out of Unser earlier than expected, which was good news so I could squeeze a bit more work in. Then, Mom and I headed up to Boulder, where we met up with my friend Chris and her family to cheer on her boys at their rec soccer game. The field was right in the shadow of the Flatirons, so the views were stunning, and while it was a little chilly, I had a big thick blanket in the car that saved all of us and kept us warm. And crucially, the rain held off until literally right when we were all walking back to our cars! Excellent timing. Mom and I finished up the night with pizza and wine at Chris' house – the perfect low-key way to kick off my mom's visit 🙂
Saturday, though, was not at all low-key… it was going to be our busiest day of her trip! My friends Kelly and Den organize an annual biking expedition that's usually in a scenic mountain location. This year, though, they scaled it back to be all the fun but none of the travel. We met up at their house first thing in the morning, then headed out on a big bike ride, returning in the afternoon for showers and a barbecue / wine dinner. But in between, I also needed to fit in some time at my town's Oktoberfest celebration. Busy busy!
My mom and I started the morning off by making her famous cranberry orange scones. This time, we tweaked the recipe (which you can find here) to use fresh cranberries rather than dried, and I have to admit, I wasn't thrilled; they came out much more tart than usual as a result! But I would still highly recommend this recipe – it's easy, reliable (if you don't mess with it), and really delicious.
We were the first to arrive at Den and Kelly's house, as planned, since Den was going to help fit me for one of their extra bikes to borrow for the day. That didn't take long, and then we had some time to start munching on breakfast while we caught up. It had been forever since I had spent time with Kelly and Den, so I was grateful for the quiet time before the big party!
But when people started arriving, I was thrilled to see them. While Kelly and Den go riding with them a lot, I hadn't been on a real outdoor road bike ride since the last time I did the Fondo! (My 3 mile rides in Superior on my $50 Walmart bike to / from our bike park don't count.) I couldn't believe that was all the way back in 2014. I've seen a few folks when Kelly and Den have hosted parties in the past, but for the most part, this was the first time I'd seen these people in years.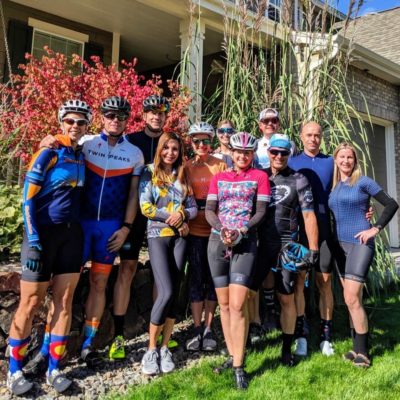 While I've been by far the weakest biker the two times I've done the Fondo, this time, there was another newbie in the pack, and a small group of us split off to do a shorter ride rather than the full 65 miles that would be the main course. Our "Fondito" group drove down to Morrison, then took a paved bike trail (no cars!) from there to Chatfield State Park. I was pretty nervous ahead of time about what this ride would be like, knowing the general expertise of the group, but our route was really easy, with no major hills at all, and we rode at a very conversational pace.
At our halfway point fifteen miles in, the rest of the group stopped in the park for lunch with one guy's parents (who were camping there in an RV for the weekend), but I needed to get back home for Oktoberfest, so I set off alone for the return trip. While it had taken us two and a half hours on the outbound, I rode back in two hours, which felt great – still not a super fast pace, by any means, but the return felt like a little bit more of a workout, which was fun. And that meant I did thirty miles overall!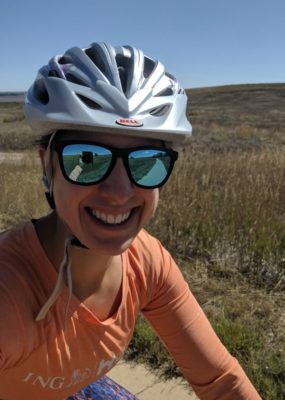 I met my mom back at the Home Depot in Morrison for a pickup, and then she drove me back to Superior. After a quick shower for me, the two of us were ready to head to Oktoberfest… and it was a beautiful fall day for it! It was lovely to see so many people enjoying the festivities.
And after Oktoberfest, it was back to Kelly and Den's house to meet the rest of the group for our post-ride celebration! And this is where things got interesting…
While drinking a lot of delicious wine, we got to talking about how Blair had signed up for an Iron-distance triathlon in the spring. But this was not just any tri; it takes place in Napa! Blair tried to convince the rest of us to sign up and do it with him, and I have to say, the location had me pretty intrigued. The event has all kinds of distances – sprint, Olympic, half Iron-distance, and full Iron-distance – and I thought it could be a great challenge to do the Olympic distance. But the more we talked about it, the more I started wondering if the Olympic distance would be the challenge I was looking for.
My friends Heather and Kirk valiantly tried to talk me down, with Kirk telling me that if I trained hard for the Olympic distance, he thought I could place in my age group. But while that would be cool, I never really race for awards; I'm always interested in racing to see how I can push my limits, and what I can do. I know any distance of triathlon is going to be a ton of training (especially since I don't really swim or bike), and to me, the compelling reason to put in all that work is to go after a goal I'm not sure I can reach. By no means do I think an Olympic-distance triathlon is easy, but I'm also pretty confident that I could do it after training; the half-Iron-distance, on the other hand, is something that I would have to work my butt off for, and I still don't know if I'd be able to finish. I started out doing marathons wondering if I'd be able to cross the finish line (but not caring what time I crossed), and if I'm getting into triathlons, I'd rather go into them with the same mindset.
However, as passionate as I got about the idea of a triathlon, I stopped just short of signing up with all that wine in me 🙂 Instead, I took a baby step – I pulled out my credit card and signed up for a USAT membership (which is required to race), but didn't yet select a distance or register for the actual race. I told myself that I needed to hit the pool the next day and get a sense of where my swimming fitness was before I committed any further!
And so, Sunday morning found me heading to the pool at Chuze – an area I had never before been except on my initial tour of the club. I was pleasantly surprised to discover I had it all to myself, so I didn't have to be embarrassed about my speed (or lack thereof). I knew that a half-Iron-distance swim was 1.2 miles, and I set that as my goal for the day.
The first few laps were definitely rough… I went out way too hard and fast, and had to catch my breath at the end of the lane. But I soon settled into a reasonably comfortable rhythm, counting twelve laps in a set (300m) before pausing for a 45 second break and going for the next lap. I was very pleasantly surprised to feel the time pass very quickly, and I ended up finishing the 1.2 miles in 38 minutes, and feeling really good still!
So after a quick rinse off in the shower, I threw on some regular gym clothes and headed for the lateral trainer. (I wanted to run on the treadmill to make it a quasi-brick workout, but this was my substitute since I'm off running because of my calf.) Again, a very pleasant surprise – when I got on the lateral trainer, I was really fresh and full of energy; it didn't feel like swimming had taken anything out of me. I covered 5.4 miles in 45 minutes, and the time on the lateral trainer passed very quickly as well – it almost felt like the swimming warmup made the time on the trainer easier, as weird as that sounds!
By the time I got off the lateral trainer, I had been gone from home a very long time, so I quickly hightailed it back so I could spend some quality time with my mom the rest of the day. But now, visions of doing the half-Iron-distance were dancing in my head… more to come on that soon 🙂