Want to stay in bed longer? Here's what I've been loving, laughing at, and getting intrigued by all week long. Now cozy up with your laptop/tablet and enjoy 🙂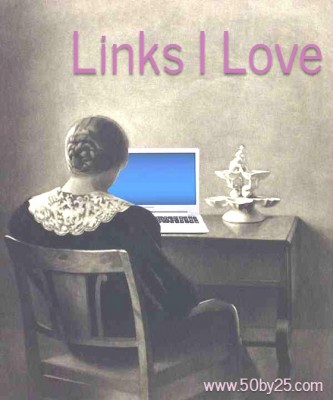 CAREER / BUSINESS
Some Brokerages Are Eliminating Trading Fees—What's the Catch?. (Lifehacker) I have long been a huge Schwab fan (though my investments are split between there and Morgan Stanley).
Write More Thank-You Notes to Colleagues You Appreciate. (Lifehacker) I just got the sweetest note from one of my senior associates this week, and it totally made my day!
Google Shopping's Overhaul Goes After Its Tech Competitors. (Morning Brew)
Want More Revenue? Focus on What You Can Do for Your Customers. (Under 30 CEO)
This is the secret recipe Chipotle used to change the loyalty game. (LinkedIn)
PRODUCTIVITY / SOCIAL PSYCHOLOGY
Productivity vs. Efficiency: Four Ways They Differ, and What Matters Most. (Laura Stack)
No Email Should Take More than Five Minutes to Write. (Zapier) Oops, I am guilty of this.
On the Surprising Benefits of an Un-Mobile Phone. (Cal Newport)
Move Almost All the Apps Off Your Phone's Home Screen. (Lifehacker)
HEALTH / FITNESS
The Mysterious Vaping Illness That's 'Becoming an Epidemic'. (New York Times)
How to exercise for better energy so that you won't need that extra cup of coffee. (Well & Good NYC)
Aerobic Fitness May Trump Strength for Metabolic Health. (New York Times)
I Did an Ironman Without Training. Then I Puked, Cried, and Fell Asleep.. (Runners World) I am thinking about signing up for an Ironman, so while this headline is pretty dire, it's actually comforting to me that it can be done without training. Not that I plan to go that route, but it's good to know this is the worst case scenario 🙂
The Beginner's Guide to Picking the Perfect Bicycle. (Lifehacker) On that note… I am in desperate need of bike advice like this!
The '1-minute method' will have you working out even when you're not feeling it. (Well & Good NYC) For me, it's forcing myself to go to the gym, but telling myself I can do any kind of workout I want when I get there. Sometimes I am not in the mood to run, but biking sounds okay. And sometimes I change my mind halfway to the gym and do my original hard workout anyway!
The expert-backed case for going on a stroll after a big meal. (Well & Good NYC) I am going to start trying to do this…
Getting Your Protein From Plants May Help You Live Longer. (New York Times)
Can Eating Only Junk Food Really Make You Go Blind?. (Lifehacker)
Does Sugar Actually Cause Inflammation?. (Greatist)
The longest-living people in the world have these 9 things in common. (Well & Good NYC)
What is earthing, and does it cure jet lag?. (Well & Good NYC)
TRAVEL
How much does a ticket to space cost? Meet the people ready to fly.. (Washington Post) Count me with the "I'm not interested in going till it's safer" folks 😉
The Crash of United Flight 232. (Popular Mechanics) I hadn't read about this one before; the story is fascinating!
American Airlines Pushes Back Max Return Date. (Skift)
Why American Airlines Is Being Trounced by Its Rivals. (Bloomberg)
Are these the best airlines on social media??. (Wandering Aramean)
United Airlines Adds Perks to Attract New Pilots. (Bloomberg)
Sun Country Airlines to try with connections by bus. (The Points Guy)
Flight shaming hits air travel as 'Greta effect' takes off. (Thompson Reuters Foundation)
How to Recover Something You Left on a Flight. (Lifehacker)
Food really does taste different on airplanes—here's how to use that to your advantage. (Well & Good NYC)
New Report: 7 Digital Advertising Trends for the Travel Industry in 2020. (Skift)
The Difference Between Loyalty Programs and Loyalty to a Brand. (Hotel News Now)
New Resort Fee Legislation Would Disrupt How Hotels Are Sold Online. (Skift)
Hotels Embrace Role as Curators of Niche Products. (Skift)
MISCELLANY
The MTA is tired of saving AirPods from subway tracks. (Engadget)
433 men named Nigel gathered in a British pub to honour their legendary first name. (Mashable)
Serve Your Fancy Cheese Board at Room Temperature. (Lifehacker)
The Chocolate Chip Cookies That Changed the Way I Bake. (Food 52) My mom and I want to try making these on her next visit!
Cookbook Club 101: What It Is and How to Start Your Own. (Wit and Delight)
His Family Had Money. Mine Didn't.. (New York Times)
Why we let our friends get away with behavior that's breakup-worthy. (Well & Good NYC)
31 Things I've Learned in 31 Years. (Yes and Yes)
On Being a Great Aunt. (Cup of Jo)
Mama Hotdog!. (Alexandra Franzen)
Teach Your Kids to Value Empathy Over Tenacity. (Lifehacker)
Let Your Kid Stay Up Past Their Bedtime to Read. (Lifehacker)
And finally, for a laugh: Things You'll Never Hear a Three-Year-Old Say. (McSweeneys)
---
Like this post? Want more fun articles in real time? Follow me on Twitter or become a Facebook fan to get similar stories all week long.