My reading slowed down a little bit in September, but I still wrapped the month with 7 books – which puts me at 62 books read so far in 2019, or 13 books behind. Same as last month, so while I'm not catching up, at least I'm not falling further behind either 🙂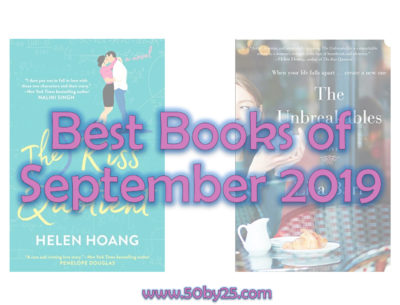 5 stars:
The Unbreakables, by Lisa Barr: LOVED this book so much. It started out light and engaging, but turned into a deep novel with beautiful writing and a wonderful storyline, with some unexpected twists and turns. So good!
The Kiss Quotient, by Helen Hoang: LOVED this book so much! I liked how Hoang humanized Stella's autism and made her extremely relatable. The story moved quickly and took some twists I didn't expect; I was eager to keep reading. The only thing I didn't love was that the sex scenes were pretty steamy / graphic; I would have preferred a regular chick lit novel rather than trashy romance style. But still loved it 🙂
4 stars:
My Lovely Wife, by Samantha Downing: Definite page turner, with some twists I didn't expect. However, it was a little bit of a Gone Girl copycat in other plot twists, so it didn't quite feel unique.
Summer of '69, by Elin Hilderbrand: Read this in one night! I wasn't initially excited about it (not a fan of the 60s) but it ended up being a really cool twist on Hilderbrand's typical Nantucket books, and I really enjoyed it. My only disappointment was that we never got to meet Teddy outside of his letters.
Sophia of Silicon Valley, by Anna Yen: The first chapter didn't draw me in, but I'm glad I kept reading – the more I got to know Sophia, the more invested I became, until by the end, I couldn't put it down! This all rang very true for me (well, perhaps except the way in which she was initially tapped from being an inexperienced paralegal to head of IR), and it was fascinating to see the rise of the companies. I liked the intertwining of Sophia's family culture, but found myself slightly annoyed by her relationships, which felt too easy (outside of her messing things up by being a workaholic). In all, a solid novel!
3 stars:
Alpha Girls: The Women Upstarts Who Took On Silicon Valley's Male Culture and Made the Deals of a Lifetime, by Julian Guthrie: This book sounded so good, but ended up being rather disappointing. I found it difficult to keep track of which Alpha Girl was which because of how the narrative jumped around. It felt like I was just starting to get to know / remember one woman when the chapter would end and the perspective would jump around, which was frustrating. However, it was interesting to see how many different approaches there were for women to be successful – not just one way to do it. And, there were a lot of great quotes that I ended up highlighting / saving for inspiration (you can see them here).
1 star:
My Very 90s Romance, by Jenny Colgan: This was soooo boring and the main character was absolutely unlikeable. Actually, just about every character in it was unlikeable. I intended to give up reading it but then decided since I was already halfway through, I might as well figure out how it ended. Nope – totally regret that decision. What a waste! And a big bummer from one of my favorite authors (though I understand this was one of her earliest books).
Any book recommendations for me? Follow me here on Goodreads to keep up with what I'm reading in real time.