This year, I hosted my Thanksgiving dinner on Wednesday night rather than Thursday, which meant that I ran the Louisville Turkey Trot after eating all the traditional Thanksgiving foods, drinking my homemade apple cider bourbon (another check on my fall bucket list!), and staying up super late. Not really ideal pre-race behavior! But before I tell you about the race, let's back up so I can tell you about the most exciting Thanksgiving I've yet experienced. (Yup, this beats the year my mom had NYPD out looking for me because she thought I had been kidnapped… the police were involved this year too.)
Long-time readers may remember that several years ago, I created an Excel workbook to use for Thanksgiving. The workbook counts the number of guests, scales the recipes accordingly, generates a grocery list sorted by section of the grocery store and how far ahead I can buy each item, and finally has a cooking timeline for me to follow. This year, I swapped out a few recipes that I wasn't loving anymore, and reworked the timeline both to accommodate those recipes and to eliminate any morning prep, since I was on conference calls all morning and then volunteering in the afternoon. I was pretty happy with my revamped timeline (I would only need to start cooking 3 hours before guests would arrive, and there was downtime in there for me to clean the house / get dressed), but I was a little nervous about how it would work compared to my tried-and-true.
I got home from volunteering on Wednesday a little bit late, and with my kitchen still a bit of a mess, started pre-heating the oven the second I walked in the door. No worries, though – I knew I'd have time to clean before anyone saw. (Famous last words.) I was stowing the perishables in the fridge when I smelled something burning, and glanced over at the oven. Although I hadn't put anything in, there was now something clearly visible through the door – a fire!!
I immediately knew what had happened. While baking my caramel pumpkin gingersnap cheesecake the night before, I had put the springform pan directly onto the oven rack, rather than on top of a baking sheet first. Sometimes when I make that cheesecake, some extra liquid (whey?) comes out in the cooking process and spills into the baking sheet; in this case, it had spilled onto the bottom of my oven, and I hadn't noticed to clean it up. On the plus side, I could see that there wasn't a lot of this stuff to feed the fire, and it was well-contained inside the oven, so I thought it would be okay.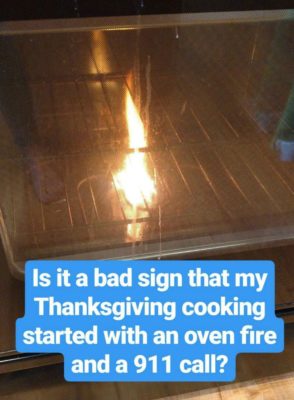 Just in case, though, I called 911. I immediately let the operator know that I didn't think it was an emergency, but wanted to be on the safe side, and explained that I had a small oven fire. "Ma'am, I'm going to need you to evacuate the premises," responded the operator. "No, no, I think it's fine; I just wanted to make sure I handle it the safest way," I told her. She insisted that I needed to leave the house, but as she was saying it, the flames went out and the fire was done. I explained that and told the operator I thought I was all set; she said okay and wished me a happy Thanksgiving, and we hung up. And I thought that was that…
A few minutes later, I was on the phone with a friend recounting my mishap, and scrubbing out the bottom of the oven to hopefully get on with cooking dinner…. when I heard a loud pounding on my door. I quickly got off the phone and headed to open the door, only to find a huge scene in front of me when I did: a fire truck, five firefighters, four police cars, and an ambulance, plus half of my neighbors standing on my driveway looking horrified!
Although the operator hadn't told me when we hung up, my call had already gone out to all the emergency services personnel. And when I took a minute in getting to the door, the firefighters grabbed their axes and were about to chop my door down to "rescue" me! They later said I had opened the door just in the nick of time before they started chopping their way in. Count an intact front door as something else I was thankful for this Thanksgiving!
I was totally mortified by the whole event, and also felt terrible that all the emergency services personnel had to rush over for what turned out to be a false alarm. They were incredibly nice about it, though, and even came in to give me tips on how best to clean out my oven to carry on with dinner. The next day, I baked the firefighters another cheesecake (this time with the pan under it!) as an apology / thank you 🙂
Although a fire is scary, this one was so minor (and short-lived) that it ended up being more of a funny / embarrassing story than anything else… and dinner still came out pretty great. I absolutely loved the new dessert I made this year (this peach cobbler with a little rosemary added to the biscuit part), and my new timeline worked flawlessly. Post-excitement, I was able to get right back on track and pull dinner together with zero stress! How's that for my spreadsheet making things easy under pressure?!
The only thing I was unhappy about this year was the turkey, which came out much drier/tougher than in years past… and I'm not entirely sure why. The butcher had accidentally given me bone-in breast instead of boneless, so I had to debone it myself before cooking. Unfortunately, butchery is definitely not one of my strong suits. So maybe that had something to do with it cooking unevenly? Who knows.
All in all, I had a lot to be thankful for this Thanksgiving. Good friends, good food, and a house in which I could enjoy both, undestroyed by both fire and firefighters' axes 😉