Can you believe that Thanksgiving is only one week away?? Thanksgiving is my favorite holiday – so many wonderful people gathered around one table, so much delicious food, and so much glorious time spent prepping for it!
Wait… what? I'm sure many of you are surprised at that last part. Many people seem to hate prepping for Thanksgiving because of the stress it creates. Thanksgiving dinner is a pretty high-profile meal, and everyone has their own expectations of what dishes should be on the table and exactly how they should be prepared. Stuffing cooked inside the bird or outside? Homemade or canned cranberry sauce, and if homemade, raw or jellied? Apple pie or pumpkin pie for dessert? We all grew up with different expectations, and it can be tough to satisfy everyone at the table! It's always scary to think that if you mess up one dish, that might be the item that someone at your table waits all year to have – and now you've totally ruined their Thanksgiving.
This year, I am staying in Colorado for Thanksgiving, and I'm really excited to host four of my friends who will also be in town. All of them graciously offered to bring food and make it a potluck, but I told them that I've got Thanksgiving covered! Nearly ten years ago, I discovered Bain's 2005 Thanksgiving Holiday Management Analysis – a Powerpoint that was making the rounds mostly for people to laugh about how consultants can turn anything into a presentation. However, while you might laugh, that Powerpoint is actually pretty useful, and the parts I liked the best were the timeline, grocery list, and having the recipes all in one place.
But I didn't want their recipes; I wanted my recipes. Some of those are my family recipes (my cousin Jill's raw cranberry sauce and my mom's gravy), some are traditional Thanksgiving favorites that I've found healthified (Hungry Girl's mashed potatoes, Greatist's green bean casserole and creamed corn), and some are totally unhealthy but amazing recipes I found on Pinterest or via blogs (Pioneer Woman's caramel pumpkin gingersnap cheesecake). I've hosted Thanksgiving several years in a row, and have refined the recipes over the years until I've come up with a menu that I think is just perfect. The final piece of that puzzle was when I used to crave the packaged Pepperidge Farm stuffing mix that my mom used to make for me as a kid, but I wanted my entire menu to be from scratch – and I found the Pepperidge Farm founder's grandmother's original stuffing recipe on which the packaged mix was based. Perfection!
Now, all that work trying out different recipes has paid off and tweaking my Excel has paid off. This year, it only took about 10 minutes for me to tweak the spreadsheets and get my grocery list all set. (Unfortunately, I think it will take me a lot longer than that to clean my apartment up to be presentable for guests.) I've gotten it down to a science, where all I need to do is input the number of guests I'm hosting and what time I told them to come over, and it generates a grocery shopping list and timeline for me to make everything. Becky is hosting Thanksgiving for the first time this year, and so I sent her my Excel in case it might be helpful. She then pointed out that perhaps I ought to share my work with others – so I decided I'd post it on my blog!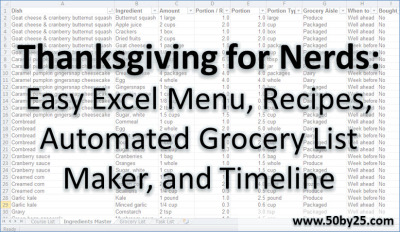 To download the workbook, click here and save. Now, here's a quick overview of what it contains:
Course List: Update the yellow box with the number of guests, and it will recalculate column A to show how much of that particular dish you made. The formula is set to round up to half increments, so that you'll never have to do super complicated math to make the right amount. (Plus, rounding up guarantees leftovers!) If you'd like to tweak the number of servings per recipe, either because you're inputting your own recipes or because you know some things are more or less popular at your table, the hard coded servings per recipe are all in hidden columns D and E. And in case you're wondering about Column I, that was added Column a few years ago for me to check off when everything was on the table… because I left a dish in the fridge and didn't find it till after the guests were gone! Better safe than sorry.
Ingredients Master: I input this all manually, so if you're changing out the recipes, this is where you'll have to type in the ingredients and amount you need per recipe. Make sure that the recipe name in Column A exactly matches the recipe name on the Course List sheet! Column D is how much the recipe calls for; Column E then multiplies that by how many times I'm making the recipe, back from Column A on the Course List. (E.g., if I am supposed to be tripling the mashed potato recipe, it will triple the amount of the corresponding ingredients.)
Grocery List: Use cell B2 to trigger when you're heading to the grocery store – some things you'll want as fresh as possible, but I like to get as much grocery shopping done in advance as I can, which is why I've tagged ingredients in the Ingredients Master with "week before" or "day before." (Hint: turkey is day before, so you don't end up with a disaster like the year I bought my turkey a few days ahead and opened the package day of to find it spoiled.) Make sure that when do you get to the day before Thanksgiving, you have B2 on the Grocery List set to show "all" – that way you know you aren't missing anything! Once that's set, right click on the pivot table in Columns A/B, then hit refresh. It will generate a grocery list in Columns F/G, sorted by area of the grocery store. As you buy items, you can check them off in Column I on the Ingredients Master, and then the pivot table will exclude those things you've already bought whenever you generate a new list.
Task List: D8 is what time you've asked guests to arrive – just fill that in and the rest of the timeline shifts to accommodate your schedule. I count on people taking 30 minutes to show up and enjoy some appetizers and wine before we sit down to dinner. One great thing about this timeline is that it's not until 45 minutes before your "sit down time" that you start final preparations for dishes that can't easily be kept warm. (E.g., baking the stuffing, boiling the potatoes, sauteeing the kale.) Presumably by 45 minutes out, any guests running late would have called to let you know, so it's usually safe to start the final prep without having to worry about latecomers causing the food to get cold.
I realize this sounds really complicated and like a lot to take in, but I actually find that it makes my Thanksgiving really unstressful because I don't have to think about anything – I just follow what's in the spreadsheets. (Yes, I keep my computer in the kitchen with me so I can refer to all the instructions.) I know exactly what I need to do and when I need to do it, so even when my guests start pressing glasses of wine into my hand (don't mind if I do!) as I'm doing all the final preparations, it's easy to know exactly what I have to do at what time. I can even hang out with my guests and chat in between, instead of worrying about whether there's something I'm forgetting!
So… what am I forgetting to tell you? Ask me your questions (and of course feel free to ridicule me mercilessly) in the comments 🙂