I got up pretty early on Thursday (actual Thanksgiving, not the same day as my exciting dinner), made some coffee, and headed for a walk around the neighborhood. I never walk around the neighborhood and it makes me so happy when I do. On Thanksgiving, it was especially perfect – I am so thankful to live in such an amazing, kind, and beautiful community!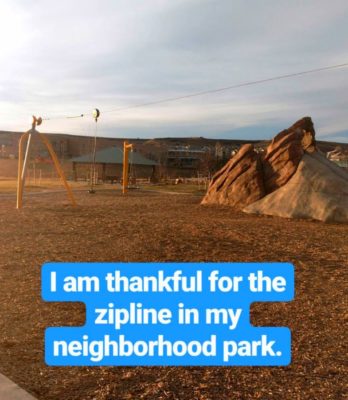 After getting back to the house, I had just enough time to charge my Garmin a little bit (whoops, I always forget to charge it the night before races) before heading over to Old Town Louisville, where our town turkey trot was being held. This year they had blocked off Front Street (where I parked last year), and I got a little worried as I saw the cars parked all along Empire Road, but I found a spot pretty easily that was only about a half mile from the start.
The 5K was totally free; however, you were supposed to bring a donation for the food pantry. Honest confession: I didn't bring a donation to the race, as I totally forgot till I got there! But, I spent a few hours on Saturday cleaning out my pantry, and ended up with three full bags of groceries that I dropped off for donation then. So hopefully that makes me not a bad person.
I jogged from my car to the race corrals as a warmup, and got there with just about five minutes till the start (there was a clock counting down, which was helpful). I positioned myself fairly close to the start line, because I remembered from last year that it was a bit of a mess, but didn't get too close, given the number of pro athletes that were also lined up.
Speaking of which, I then saw Neely Spence Gracey about ten feet away! I met her after last year's race, and have messaged with her a bit on Instagram, but was still a little hesitant to go up to her. She was with friends, and I didn't want to be an annoying disturbance. But finally I got up the courage to go say hi, and we ended up chatting up until the start. When I remarked that it was so cool to see her there, she pointed out that this race had no prize money whatsoever… and yet tons of elites who would normally not do unpaid races were running. It was a great point, and made me fall even more in love with my town!
But finally the gun went off, and I took off – along with thousands of others. Only in Boulder would going out at 6:15/mile pace mean that hundreds of people, including parents with strollers, were passing me! Rather than get me down, though, this year I found that totally expected and awesome. I like that running with elites just makes me raise the bar for my own performance – it's one of the best things about our sport.
We headed down Front Street toward Community Park, taking a right just on the other side. I passed a cheering station with volunteers who all had signs with food puns. I am really bummed that I can't remember any of them now, but they were really funny!
We turned left on Roosevelt Ave, following the little loop that began the Louisville Half Marathon, but instead of heading out to the trails we went back to Bella Vista and then took a right on Hoover. This was different than what we had run in last year's race, where we had run on the paved bike path through the open space.
We passed the first mile marker just before turning onto Hoover, and my Garmin indicated that we might have hit it a bit early, since I was only showing 0.95 on my watch. But, I was pretty happy with my split: about 6:30, and it felt comfortable so far. I knew that with a 6:30 first mile, I was on pace for a PR, so I wanted to keep running strong – but I also knew that one mile into a 5K was way too early to really make any predictions.
The next mile, though, was a toughy. I didn't know until after the race when I mapped the elevation, but mile two was a slow steady uphill. It was only about 80 feet of elevation gain over the mile, but that was enough to look flat but feel like a hill – which I think is way harder than when you can see you're going up a hill and mentally adjust. When you have an insidious incline like this, though, you just feel like you're slow for no reason and it's demoralizing 🙁
Neely and her friend Mary had passed me right around the one mile mark, and I figured that would be the last I'd see of them. In the second mile, though, I focused not on my actual pace but just on not letting them get too far ahead of me. I managed to keep them in sight for the rest of the race – which I was pretty happy about! At the finish, I learned that Mary used to run with Neely on their college team, so I felt pretty good about hanging with the pros 😉
Finally, the long steady uphill ended as we did a little loop and turned right onto Pine Street – which was right at the two mile mark. Again, this mile marker was a bit early – but we ended up making up for it in the third mile, which was a little long. (My Garmin did show me finishing at 3:05, but when I mapped the course it was 3.2 miles, so I'm going to blame GPS issues rather than a short course.) One mile left, and we had a straightaway as far as I could see in front of me. Woo hoo! I picked up the pace for this part, and felt pretty good for about the next half mile or so.
When we got to Main Street, we took a left, for an out-and-back that would take us past the finish line and then circle around to bring it home on Front Street. I cannot say enough about how much I love Old Town Louisville's Main Street! Every time I go there (every week or so), I feel like I'm in Stars Hollow from Gilmore Girls. It's just this super cute, quaint Main Street, but it happens to have tons of incredible restaurants all along it. Empire Lounge, Twelve Degrees Brewing, Zucca, Por Wine House… these are some of my favorite restaurants in Colorado, and I like having them in one spot so I can just go to Louisville and then decide spontaneously which one to eat at. It was fun to get to run down the street through the middle of them!
But, I was definitely pretty tired at this point. After I had slowed down significantly in mile 2 (I later saw my split was 7:32 – 40 seconds slower than the first mile!), I was pretty sure that I wasn't going to PR, but I was still hoping I'd come close to 21:00. I was counting down exactly how far was left, and as we ran up Main Street, I knew that I had less than a quarter mile left in the race. Come on, Laura, don't give up now!
Finally, we took a right onto Short Street, and another right onto Front Street – and the finish line loomed ahead of us. I did pick up the pace at this point (my Garmin showed a 5:27/mile pace for the finish), and that was enough to have me crossing the line at 21:23. I was thrilled!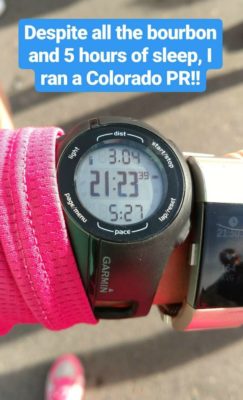 As my Instagram Story says, I was thrilled to have run that fast after a really busy day Wednesday and not much rest. My fastest 5K in Colorado was 22:04 at the Superior 5K this summer – so this marks the first time I've gone sub-22 in the 5K at altitude. Knowing that I am usually 30-45 seconds per mile slower at altitude than at sea level means that I am well within range of a sub-20 5K if I can get the conditions right – and I'm so excited about that possibility!
Unfortunately, I don't think I'm going to be able to do it before the end of 2017, as I don't have any weekends left in the year that I can travel to race. I tried to see if there would be any random weeknight 5Ks in Florida I could do, but turned up nothing. So, I think I'll have to settle for knowing my running has significantly improved – but not quite attaining that sub-20 5K time just yet.
I want to end this on a positive note, though, since I finished the race feeling awesome. I'm pretty happy with my splits (6:48, 7:32, and 6:48 again), especially considering I didn't have a pacing strategy and wasn't monitoring my watch. The consistency of miles 1 and 3 makes me think that 6:48 is my comfortable pace (and that's how I felt running it – like it was a little bit challenging but mostly comfy), and I think if I could find a flat course in Colorado, I could definitely sustain 6:48 the whole time – which would put me just about at 21:00, with a little push for the last 0.1 miles. I'm thrilled that I'm now at a point where I could theoretically beat my sea level PR at altitude! I have definitely come a long way in my running this year, and I'm excited to see what I can achieve next.
Race stats:
Distance: 3.1 miles
Time: 21:23
Pace: 6:53/mile