I am not feeling motivated today. I started the day with my easy four mile run this morning (splits: 8:57, 8:42, 8:20, 7:54 – with the last quarter mile down at a 6:59 pace just for fun). But after that, my 5K goal motivation just slipped away. I ate fairly poorly, I didn't drink as much water as I should have, and I didn't head to the gym for a strength workout tonight (even though I ran out of time this morning and really wanted to squeeze it in). Can I have a do over day?
Since I doubt a genie is going to arrive to grant my wish, I'm going to take tonight to write up the next installment of the amazing time I had at the Mammoth Running Escape. It was definitely a motivating weekend, and I'm hoping that reliving the experience through writing will inspire me to do better tomorrow!
After introducing ourselves and our running goals at breakfast on Saturday morning, we headed upstairs for a quick gear check, then reassembled down in the lobby to take the van to our first running spot. Destination: Mammoth Lakes Basin, where we'd alternate between lakefront roads and wooded trails. I was pretty happy to see that our drive to the start took us uphill, as that meant our point-to-point run would have us headed on a gradual downhill – yay. The setting was spectacular, and I was also relieved to see that the pace wasn't too aggressive. After hearing everyone's super-fast goals that morning, I had definitely been worried I would be out of my league for a group run.
Our run started at a cool former mining town, then wove down through a bunch of campgrounds before taking us out on the open road. We got to run next to some stunningly blue lakes on the main roads before ducking into some wooded trails. Unfortunately, here we encountered a problem: the scenery was so gorgeous that we lost some of the group that had stopped for extra photos! Fortunately, we all caught up just past a waterfall about 3 miles into the run.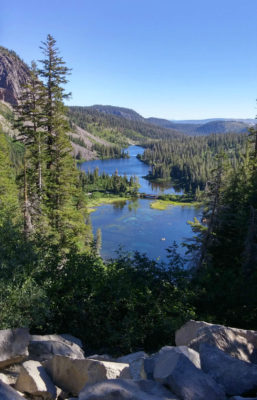 From there, we had two options to get to our lakeside brunch: a short way along the road, or a longer way through the trails. Adam and I chose the longer route, but I will admit that I did it more for the quiet solitude of the woods (vs being passed by cars on the road) than because I wanted to run longer 🙂 We arrived at our designated picnic spot hungry, and I was excited for the amazing feast that Deena and Andrew laid out for us. Breakfast burritos, mouthwateringly fresh fruit salad, and some truly outstanding crumbly coffee cake – yum! I ate way more than I had burned off during our run, but rationalized that we had several more workouts still planned for the day.
Upon arriving back at the hotel, we showered and changed, then headed downstairs for the first of two seminars, which was on goal setting. I already wrote about one of my key takeaways from that seminar, on ensuring that you set the right goal and don't aim too low. This seminar got me thinking seriously about what big goals I wanted to aim for, and how I might be selling myself short by not aiming high enough. And so when Deena handed out worksheets and asked us to brainstorm some new goals and how we could overcome the roadblocks to achieve them, I found myself thinking about what a good goal aiming to PR in the 5K would be.
I had already set a super speedy 5K PR a few months ago – far faster than I ever thought I could run. But perhaps that particular 5K was my own version of selling myself short. I know that I could have run faster that day if I had pushed myself harder. And I definitely know that I could have trained harder (since for that 5K, I wasn't training at all). Training to PR in the 5K would be a good way to stretch my limits and try something new, especially as a runner who has never really gone for speed.
Furthermore, I could broaden the 5K goal to include other aspects of training that would be good for my health and well-being: focusing on getting enough sleep, eating a healthy diet, cutting back on alcohol, and drinking plenty of water. Doing all of that simultaneously would be a fairly drastic change in lifestyle, but I believed that for one month, I could muscle through and make it happen.
Unfortunately, I will admit that so far, I haven't done a good job on those non-running aspects of 5K prep. All the injuries and circumstances that have sidetracked my actual running shouldn't have impacted those other aspects of training for my goal, but once I thought the goal wasn't achievable, I lost my motivation to control the aspects of training I could. Ironically, it's those other benefits of training that had initially made me so excited about my 5K goal in the first place. This is where I need to get my head back in the game!
So going back to the retreat… I left the goal setting seminar plenty inspired, and ready to put my plan into action. However, there was no time to discuss with Adam yet, and get him to weigh in on exactly what 5K time he thought was achievable for me. We were off to a cooking demonstration where Deena showed us how to make some of her favorite snacks. And from there, we got back into gym clothes and headed off to Mammoth Track for some pointers in stretching and recovery. (This was a lesson that clearly didn't sink in enough at the time, but I am now putting to good use.) My one complaint about the weekend was that it was a lot of go-go-go, and I would have liked more time to decompress and discuss with Adam all that we were experiencing.
Before we could get to our end-of-the-night pillow talk, though, we had one more big challenge ahead: the famed Ezakimak 5K, where we'd run 2500 feet up a mountain! On that cliffhanger, I'll save that race report for another post.