Two weeks ago, Adam and I were fortunate enough to participate in the Mammoth Running Escape after we won the SPG Moment. I wrote about the bonus track workout we did on our extra day in town, bu now it's time for me to properly recap the weekend. (Particularly as it's inspired my August goal!)
With only one flight into Mammoth Lakes, Adam and I spent the quick trip from LAX trying to guess who else on our flight was going to the retreat. It wasn't easy, because it seems like a lot of Mammoth residents are pretty sporty, and outdoor activities are the main reason to go visit! But we correctly identified a few people, who we confirmed as runners on the retreat after we checked in and met the group down in the lobby to go to dinner. The retreat was at the Westin Monache, a beautiful category five resort that was right in the center of town, but still surrounded by nature.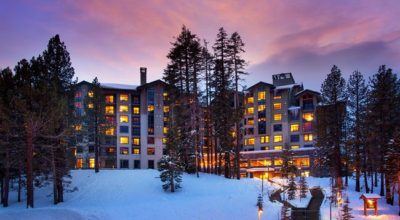 With the fifteen of us on the retreat plus Deena, her husband (and coach) Andrew, and their daughter Piper, we headed down the outdoor stone steps and into town. I hadn't realized beforehand that Mammoth was known for its ski resort (oops, spoiled by Colorado), but the town reminded me a lot of the villages at the bases of Aspen, Breckenridge, and Keystone – lots of cute little shops and eateries, and all elegantly laid out around a paving stone square concept. For dinner, we headed to Campo, an Italian eatery that was right in the middle of the village.
It took a few minutes for the staff to prep our table, and in the meantime, I was busy trying to hold Adam back from grabbing a beer at the Reggae Festival happening on the plaza right outside the restaurant. To help attract guests in the summer, Mammoth has been hosting cool festivals and events every weekend, and we were really impressed by the lineup. The Festival of Beers and Bluesapalooza was last weekend, and I wish we could go back for that or the Margarita Festival this weekend! Okay, fine, I think it's clear where my interests lie…
Once we were seated (and with a fabulous family-style feast in front of us), the dinner conversation was a little tentative at first. I think all of us were so in awe that we got to have dinner with Deena and Andrew and it was no big deal! But runners always have common ground, and so we quickly got to know each other talking about favorite races, race goals, training plans, and injuries – the big four for runners. Meanwhile, we devoured a delicious meal of kale/parmesan salad, charcuterie plates, multiple delicious choices for entrees (I chose the vegetarian risotto, which was rich and delicious), and an incredibly decadent chocolate hazelnut cake for dessert. Between that and the wine, I was plenty fueled up for our first group run the next day 🙂
Breakfast was scheduled from 6am-7am, and then we were to meet downstairs for the run at 7:30am. I don't usually eat breakfast before I run, but I figured I'd grab a cup of coffee with Adam a little before 7am, and then eat after. Much to our surprise, we headed into the breakfast room at 6:30am to find almost everyone there, with Deena and Andrew organizing a get-to-know-each-other round of introductions. Adam and I hadn't realized this was an organized activity, and I was so glad we hadn't missed it!
It was really interesting to hear everyone's backgrounds and goals, and it also got me thinking about my own running goals (or lack thereof). What did I want to get out of this retreat? I hadn't really thought about much other than some gorgeous scenery, fun running activities, and the unique opportunity to meet Deena and Andrew in an intimate setting… but now I started thinking about what I could do to take my running to the next level. Only 12 hours in and my mindset had already shifted! This was going to be a very special weekend.