Happy Marathon Monday! Adam and I were discussing the Boston Marathon this morning, and while neither of us ended up tracking the race or watching it online, it's still been neat to see the results of the elites and some blogging buddies come in. From some of the commentary I've seen, though, it looks like I may need to go find video of the final few miles in both the men's and women's races… they sounded exciting!
The weather today certainly wasn't ideal for a fast finish, and I'm sure more than a few runners ended up pulling out of the race thanks to the freezing rain. I'm no stranger to that myself, having DNFed the Newport Marathon a few years ago under similar conditions. But for those of you reading who toughed it out – congratulations! You've completed the world's most famous marathon, and under tough conditions to boot.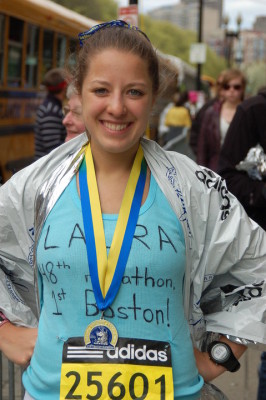 So… you've finished. Now what?
I wrote a piece on Greatist a few years ago on How To Recover From a Marathon. (It's a slightly different tone than what I usually use on this blog, in that it's less personal and more scientific.) In terms of what I do to recover, though, I can't stand ice baths, and compression has never worked well for me – it usually causes me to cramp up rather than preventing it. So I also wrote this post on How to Recover From a Marathon in Record Time, detailing how I recovered from the Bermuda Marathon after running a 4:11 even though I had taken nine months off marathons and two months off running altogether.
But the other part of how to recover from a marathon is… how do you mentally recover? The marathon presents a huge challenge, and it's a big goal that most runners work toward for months. All of a sudden, that big event that you've been devoting so much energy to is over, and it can be tricky to adjust to post-marathon life. The post-marathon blues are a very real thing! When I finished running the Minneapolis Marathon and broke the world record, it seemed that the question I got over and over was, "what's next?" I didn't want to admit this, but I was really scared because… I didn't know.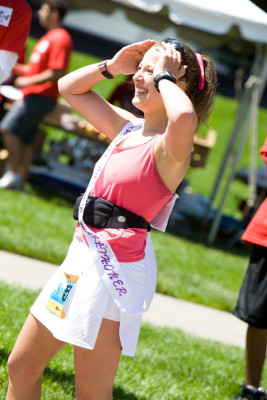 First: celebrate. You did it! If you have a self-critical streak, you may find yourself analyzing every minute of the race, but take a break from that (for now) and just bask in the glow of your accomplishment. Whether you reached your time goal or not, you ran 26.2 miles, which is incredible. So many people cannot do what you just did, so take a minute to toast your accomplishment with your friends and family. (May I recommend a boozy milkshake? Lots more protein than just a beer!)
Next up: learn from the experience. The day after the race is a great time to reflect on your performance and figure out what you did well… and what you could have done better. If you didn't hit your time goal for the marathon, post-celebration is a good time to reflect on the race and understand the truth behind why. Did you follow your training plan? Did you even have a good training plan to begin with? During the race, was there bad weather than slowed you down? Did you get some weird stomach issue that made you feel crappy during the race? Reflecting what you learned from the experience will not only help you in your next race, if you choose to do one, but also probably teach you some life lessons as well. One thing I love about the marathon is how applicable its lessons are to everything else in life – see my guest post over at DailyBurn on 10 Lessons I Learned While Running 100 Marathons.
Okay, so you've celebrated, you've reflected… what next? Time to choose another goal to tackle! You could choose another running goal – and in fact, I've recovered from a lot of marathons by quickly signing up for another one. (Or… ahem… running another marathon the very next day.) But before you sign up for another marathon, figure out why you're doing it again, and choose your race accordingly. If you are looking to finish faster than you did the last time, then you need to go back to the reflection step and figure out what you need to work on. If you weren't trained properly, you'll need to take some time to do that. But if your reason for not meeting your time goal is because of external factors, like the weather or a weird stomach bug, it might be worth signing up for another marathon in the near future – think two to four weeks from now. That will allow your muscles to recover from your hard effort at the first marathon, but still capitalize on the hard work you already put in without going through another training cycle – and hopefully you'll have better luck with the external factors that kept you from doing your best.
Don't believe me about post-marathon recovery not being nearly as long as convention wisdom would say? Here's a quote from Dr. Timothy Noakes, one of the world's foremost exercise physiologists, on how he's determined recovery time.
"How can you judge recovery except by measuring performance in another exercise bout similar to the one that initiated the fatigue?" Dr. Noakes said. "Since we can't ask people to run a marathon again, we never really know when full recovery has happened." So Dr. Noakes relies on the experience of great runners, who tell him that there is a large psychological component to recovery. Many elite marathoners run only one or two races a year. After a marathon, he said, it "probably takes at least six months for the mind to recover fully."
If that isn't flawed logic, I don't know what is. Doing marathons a few weeks apart may seem totally crazy, but actually, the three factors that determine performance are VO2 max, lactate threshold, and running economy (efficiency). VO2 max and lactate threshold go back to normal within 24 hours of a race, and as for running economy, you're basically all set as soon as your muscle soreness is gone. Muscle recovery time varies from person to person, but is usually around seven to fourteen days. If you're interested in that option, here's a great post on Runner's World about racing multiple marathons.
But what if you don't want to do a marathon at all? What if you never want to run again, ever? That is totally fine – just pick a different goal for a change of pace (no pun intended). Your new goal might be to spend more time with your friends, watch a TED talk every day, or learn how to upgrade your wardrobe – things that have nothing to do with running. That's fine! Sometimes the way to really stay in lifelong love with running is to take breaks from it when needed, and then go back to it when you feel like it again. Training for marathon can be really time-consuming, and it's pretty common for runners to get burnt out in the process – or even during the race itself. (I'm pretty sure that around mile 20, 90% of the runners are thinking, "Why did I sign up for this? If I can just get through this last 10K, I never have to run again.") Running will always be there for you, and even if you lose a little bit of your speed/distance by taking a break, I think it's better in the long run to not push it too hard.
Whether you choose a running goal or a non-running goal for your next focus, remember that goal setting should be an iterative process – and you should periodically in with and reassess your goals, to make sure that they still make sense for you. Goals can give you direction and purpose, yes, but that's only a good thing if it's a direction that you want to go. (Or a direction that you think you might want to go, in which case you can set a goal and then change it later once you've identified that it's not what you want to do.) Ultimately, if your goals aren't in line with your priorities, you're going to end up with a lot of stress when you look at your to-do list and calendar and realize that you hate everything on them. Meanwhile, remember that an infinite focus on growth puts you on the hedonic treadmill (that's a metaphorical treadmill, to be clear) so that you're always chasing something and never happy. The only way to avoid that is to choose goals that you really want, rather than trying to keep up with the Joneses (and the Desisas and the Rotiches). It's been five years since I broke the world record, and while I've achieved a lot of smaller goals in the meantime, I still haven't settled on a quest that's as big as 50by25… and that's okay with me for now to keep working toward smaller goals.
So the short version? Don't be in a rush to identify your next goal. Take your time and choose something that's right for you, and don't be afraid to change that new goal if it's not working out. You've just completed a really big goal and shown that you have grit and perseverance – anyone who completes a marathon could hardly be deemed a quitter! Congratulations on your huge accomplishment, but never stop striving for further success.