This past weekend was a little different than my usual. While I typically pack weekends full of socializing and other events, I mostly spent this weekend getting stuff done around my new house.
I got back from a business trip on Friday morning and headed straight for the office from the airport. It ended up being a really busy day, and I was sorry I hadn't taken the crack-of-dawn flight instead of the 8am! But I was able to get a bunch of work done on the plane, and then meet up with coworkers in person once I arrived, so that wasn't too terrible. I was just glad to make it home at all, since Denver had gotten a bit of snow on Thursday night/Friday morning, which led to the cancellation of a work event we had planned for Friday night. Although I was bummed not to have a chance to escape the room, it was nice to be able to head home early and have a quiet night…
…which Adam and I turned into a virtual date night! Whenever I visit Adam, we've really enjoyed watching HGTV and snarking on whatever choices the people make. Our favorite show is House Hunters, and we turn it into a competition between the two of us: which house do we think they should pick, and which house do we think they actually will pick (because they're obviously idiots, unlike the oh-so-savvy Adam and I)? To make our little game work from a distance, we both queued up the show on Netflix and then counted down so that we could press play at the exact same second, and thereby "watch" it "together." Our strategy worked really well, although I did miss being able to pause and have long sidebar conversations about whatever crosses our minds. But hey, that's why we watch a show that's not too cerebral, so you can miss a lot of it and still know what's happening! I think that activity is going to be a keeper for future nights when we're really sick of being long-distance.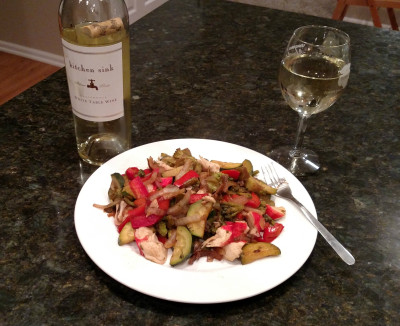 Perhaps inspired by HGTV, my fixing and organizing and settling began in earnest on Saturday morning. By 7am, I had already installed a new pretty lock on my front door, replacing the basic gold doorknob with a fancy oil-rubbed bronze handleset.

I then spent a while rearranging things in the kitchen (too many cabinets, not enough stuff… not that I'm complaining) and trying to get things rearranged in my closet (which will probably be a work in progress for a very long time). Next, I turned my attention to baking muffins for my new neighbors, who had done me a huge favor and taken in a floral delivery for me on Friday afternoon. But when I ended up with leftover muffins and saw on Instagram that my friend Elizabeth, who lives really close by, was on her way home from running errands, I invited her to stop by to have one with me. By the time she arrived, my house was full of more activity – the delivery people from Sears were finishing up the installation of my new fridge!
But once that was done, the rest of my day was all just errands and unpacking – so I invited Elizabeth to join me for some garage sale shopping. As a kid, my mom used to go to garage sales every weekend, and I always had fun looking for bargains. I think I am definitely going to get back into the habit now! Elizabeth and I didn't find much good stuff this time (although I did get an awesome 80s-style aerobic step for just $3), but I had a lot of fun and I think it will be a great way to get some stuff I need/want for the house without breaking the bank. Sign me up for exciting Friday nights of scouring the garage sale section to see where to go Saturdays!
After some grocery shopping and then lots of puttering around unpacking, though, I left home again to unwind with an evening hanging out with friends at a new brewery near me – Nighthawk. It was a lot of fun getting to see my friends, but I also have to admit that I loved that I was home by 9pm so I could still get a great night's sleep 🙂
I spent most of Sunday picking up some last few items from my apartment, unpacking them at the house, and also doing a final cleaning of the apartment before I turned my keys in. But then, for one final hurrah before the work week ended, I invited some girlfriends over for a low-key pajama party! We sat around, ate chicken chili, and just gossiped about anything and everything… the perfect kind of evening.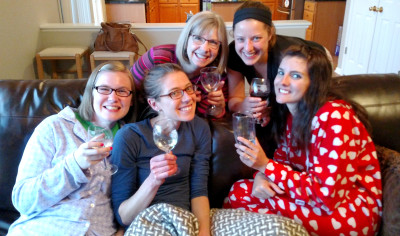 When I write out my whole weekend like that, it seems pretty boring. I think that when I posted a pic of my tools on my Sunday morning with an Old School quote, it was actually pretty predictive of what I did:
"Actually, a pretty nice little Saturday. We're going to Home Depot. Yeah, buy some wallpaper, maybe get some flooring, stuff like that. Maybe Bed Bath and Beyond… I don't know. I don't know if we'll have time!"
But lately, more and more, I'm becoming really happy with the Mitch Martin all-grown-up-life, and really don't have any desire to be more like Frank-The-Tank. Streaking in the quad? Yeah, I'll be the one calling the HOA on you 😉
All jokes aside, I'm finding that it's the simpler things in life that are making me happy these days. I don't want to travel, and I don't even really want to go out for dinner or drinks. I just want to be hanging out at home with the people I love – cooking something homemade, maybe watching TV or a movie, but really just enjoying each other's company. (To be clear, while my friends and I went to a brewery on Saturday night, it was the kind of low-key place where the owner's dogs are running around and you make friends with all three other patrons – so it's pretty homey even though I'm not at home.) That simple, low-key life is the opposite of what I had in New York, but right now, it is just so appealing to me… even though I know how cheesy it sounds. So cheesy that it's even a country song (and one that I've loved for years):
"I wanna sit on my front porch and drink my lemonade; cut my grass after church every Sunday, and go out Saturday night, and live the simple life."
Although I know it will take a while, I'm really excited to get my house in order so that I can have my friends over more, eventually host my housewarming, and perhaps even add on a front porch so I can drink lemonade out there and chat with all the neighbors? Ha, kidding. (Mostly.) As for excitement, well, don't the endless possibilities of Home Depot and Bed Bath & Beyond offer more than enough? (Or at least that's what I'm telling myself for the next few days while I try to make decisions about all the finishes/colors for the basement.)
In short, while that simple life may have sounded boring to me a few years ago, I now feel like there's just something so satisfying about taking care of my home and my loved ones. I ended the weekend feeling productive and accomplished, but also well-rested and like I had gotten in just the right amount of social time. Things are shifting, and I'm engaging in very different ways than I expected when I made my new year's resolutions, but I have to say that I'm happy with the life I'm building.