I had another fantastic weekend in Arizona with Adam, and this time, arrived home not at all stressed to have been away. Hooray! I'm only here in Colorado for two days before heading out on another business trip, but I was lucky enough to get to work from home today. Even though I had a ton of work to do (and even forgot to eat lunch until 2pm!), it made me so happy to get to do it from my very own kitchen table.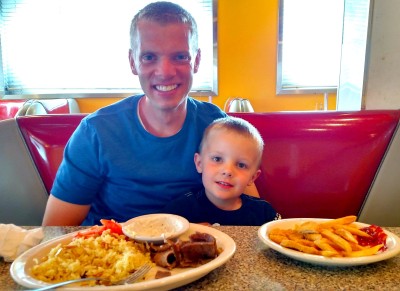 Tonight, I headed out to Bed Bath & Beyond to exchange an incorrectly-sized lazy Susan, and then stopped for groceries on the way home. But while I was out and about, I saw a store I hadn't visited before – Sears Appliance Outlet. I decided to stop in for a quick look and to get an idea of their pricing, but ended up leaving having purchased this beautiful new refrigerator! How's that for an impulse buy?! (Insert shame face here.) I had told myself that I really shouldn't buy a new fridge for at least a few months (maybe May, when it's supposed to be one of the best sale months for refrigerators?), but the prices at the Sears Appliance Outlet were crazy low thanks to a one week sale that was just wrapping up. When a salesman walked up to me where I was already exclaiming about the low clearance prices, he told me that I actually got to take 20% off the already-low ticketed price. As a result, I got that $2500 fridge for just $800. Score!
The new refrigerator won't be delivered until Saturday, but I am already getting excited because I think it's going to change my habits in the new kitchen. My current refrigerator is perfectly serviceable and works fine, but I've basically hated it ever since I've moved in. (To be clear – it's not like I'm used to fancy fridges; I've always had the basic, freezer-on-top models that have come in all my rental apartments, and have never lived anywhere with an icemaker.) My current fridge is a side-by-side that does have an icemaker, but also has only 17 cubic feet of capacity… and that is just not big enough for me. Right now I have so much stuff piled up and smushed into the freezer section that it's impossible for me to find anything… and I realized that I've been avoiding using the fridge as a result.
Today when I was late to make time for lunch, I didn't want to deal with having to root around the fridge/freezer to figure out what ingredients I had so I could throw something together. I considered heating up a can of soup… but I never heat up a can of soup unless I'm sick (which is why all the canned soup I have is chicken noodle and other comfort-type varieties). When I stopped and thought about it, I realized I had been eating a lot of prepared foods lately on the rare occasions when I'm at home. (You know it's bad when you get excited about a sale on Hot Pockets… what am I, a college student?) But eating prepared foods is not what I like to do (I love to cook!), and it's not what's good for me, either. I hadn't realized I was avoiding cooking until I stopped and thought about it today. But with that in my mind, I'm now really excited about my new fridge because it's well-worth the cost to shift my default from heating up convenience food to actually cooking.
Another subtle change I've noticed since moving to the new house is that my morning routine is a lot shorter than it used to be. At my apartment, I'd set my alarm for 45 minutes before I wanted to leave for the gym; now, I set it to wake me up 15 minutes before I need to leave. Why? Because at my new house, my computer is (all the way) downstairs and out of the way, rather than right in the middle of my path to the door… so I'm not wasting time logging in "just to catch up on a few emails" before I get my spandex-covered butt off to my workout. There were many days that I went to check my work email at 6am and then never made it to the gym at all because I suddenly realized it was time for my 8:30am conference call, and "just a few minutes" had turned into two hours of GSD. Not bad for my work productivity, but not good for my health or my routine!
Now, at my new house, I check my phone while I'm getting ready just so that I know there's not anything to panic about. However, I don't look at my laptop until I'm actually ready to settle in to work for the day. Result? At least fifteen minutes less dawdling in the morning (sometimes more time saved, depending on what comes across my inbox), and I'm feeling a lot happier about my work-life balance. I would imagine that my laptop time will get limited even more once I get my actual home office set up and have to make a conscious decision to go sit there, rather than passing it whenever I walk by my kitchen table.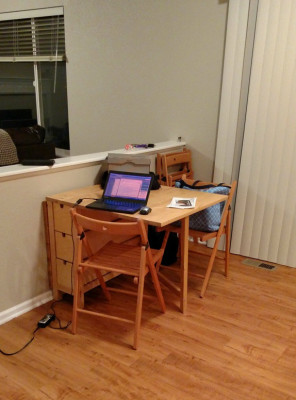 There is so much stuff that I need to do and buy for my house, but what I want to keep top of mind is that I should be making conscious choices about how I want my lifestyle to be- and then designing my home to fit that. (That's why I'm finishing the basement right away, so I can get a home gym setup going, even though I don't actually need the extra square footage.) While I had originally made a house to-do list and prioritized it based on what made sense for "most normal homeowners," I now want to start prioritizing that list based on me and how I want my life in the new house to be. Bye bye, new guest bedroom furniture (when I rarely have overnight guests); hello, new dining table (since I love to host dinner parties). And when it comes to what goes where, I'm going to try to think about function rather than how things work in a "traditional" home. Who says that I have to keep your full-length mirror in the bedroom closet, rather than on the door to the garage so that I can give my appearance a once-over for problems before leaving the house?
So… any tips for me on changes you've made in your own home that have impacted your lifestyle? Teach me!