Wow, this weekend could pretty much have not been more perfect. What an awesome Halloween – and two fabulous days after!
As I mentioned in my Friday post, I had a lot of different costumes for Friday. The one you did not get to see before, though, was my eveningwear: as a zombie flight attendant! Unfortunately, I did my makeup in my (very bright) bathroom… and while it looked pretty green and black and sickly to me in that mirror, by the time I got out into the night, I just looked like a regular flight attendant 🙁 My fellow zombies doing the Thriller dance went all out with the makeup and blood and scars, so now I think I know what I need to do for next year! I had a total blast doing the dance and I think this is going to become my annual tradition. As promised, here's a video of one of the performances (I did two of the four). You can spot me pretty easily because of the white captain's hat 🙂
After dancing, I went to dinner with my friends Caitlin and Adam, and we had a blast people watching. I was a little nervous about going out in a college town, since I didn't want to get caught up in all kinds of craziness (and I was really scared to drive home after my bus driver that morning had warned us against all the drunks on the roads), but it actually turned out to be fine, and even pretty low-key in the places we went (West Flanders Brewing and Walnut Brewing). I think this will become my annual Halloween plan – the dance was really fun, and the people-watching was superb!
Saturday morning, I was up bright and early to get some mileage in with my running group. One of the guys came up with a new lollipop loop for us that started on Big Dry Creek trail and then took us out into the neighborhoods there, and I just loved it.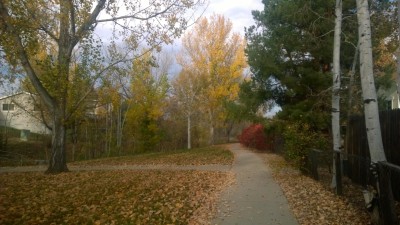 The group did 8 miles, but I tacked on a loop around the soccer fields where I go for 6am bootcamp in order to make it up to 9.1 miles. Progress! That is my longest run since June, and I'm really excited by how well the mile increases are going so far. From here on out, I'm going to try to increase by 10% per week every week, which will put me back in marathon shape at the end of January. Stay tuned for more on that front…
After getting coffee with my running buddies, I headed out for a ton of errands (and was super productive!), then got dressed up for a big night out. Nope, not the usual bar hopping – a group of friends and I went out to a nice Italian dinner downtown at Osteria Marco, then went to see the Colorado Ballet's production of Dracula! I had been lucky enough to see one of the final rehearsals of the third act through my work, so I knew ahead of time just how good the company was. It didn't disappoint at all, and the sets and costumes were really fabulous. I'm hoping we can all go back again to see the Nutcracker next month, which will definitely bring back memories.
On Sunday, I was once again up bright and early – this time, though, it was to go hiking! I couldn't believe that it was November and not snowing (take that, all y'all who implied when I was moving that Colorado was somehow worse in the winter than New York), but in fact, it was a gorgeous 60 degree day that was perfect for getting out into the mountains. I headed up to Boulder with two new friends, Rachel and Sam, and we embarked on a pretty long trek (to me): about 10 miles from NCAR trailhead through Fern Canyon, up Bear Peak, down to the West Ridge, up to South Boulder Peak, down through Shadow Canyon, and then a trek on the Mesa Trail to take us back to the car. It was exhausting and I was frustrated at how fast I got out of hiking shape in just the last month… but it was also insanely fun.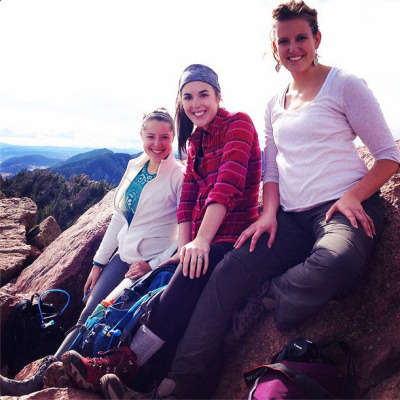 I definitely lost some hiking fitness over the last month of not doing it – the last hike I did was Quandary in mid September, where I complained at length about how much I suck at hiking in general. Well, let me tell you how I suck even more when it's been six weeks since I've gone hiking! Becky was kind enough to send me an Advocare sample that she thought might help my issues with altitude, but I totally forgot to take it on Sunday morning before we went. So… hopefully the weather will stay nice for another week or two so I can go hiking again and test it out?
Our post-hike adventures were checking out a new-to-me (though not to anyone else in Colorado) restaurant: Old Chicago. Is there any better way to refuel from 7 hours of hiking than craft beer and deep dish pizza, all while watching the Broncos game? I think not! (Though I guess it could have been better if the Broncos won.) I am now obsessed with this place, but think I need to lay down the law for myself that I can only have it after crazy intense activity like hiking… or else I will become deep dish-sized myself. Their dough was definitely thick, but kind of buttery and airy rather than heavy and brick-like, which was how the deep dish pizza I've tried in Chicago always was. So – deceptively light, encouraging you to eat a ton of it? Dangerous, I tell you! I "only" had two pieces of the pizza (which is more than enough given how thick it is), but I am pretty sure I could have demolished the whole pie because of how delicious it was (and then probably felt like crap afterward). Their beer list was also pretty awesome, and I am now a huge fan of Left Hand's Wicked Juju, which I think would be killer with some stir fry.
So! New regular weekend plan is going to be killing it all day on the trails (whether hiking, running, or skiing), then hitting Old Chicago to stuff my face refuel and watch some football. Whatever the results of the football game, I think that's a winning recipe to end every weekend on a high note 🙂