Most of my friends know that I haaaaaaate text messaging (SMS) with a passion. If they want to get a timely response to something (or really, if they want to be assured of a response at all), they're much better off sending it via email. Why? Well, my given rationale used to be that SMS is an outdated technology. We all have email on our phones these days, so what is the purpose of using an SMS to send a message that goes through a completely separate channel that you can't reach on any other device (unless you're also using MightyText for Android) and isn't easily sorted/searched (unless you're also using an app like SMS Backup)? I hate adding another inbox to my day when I already have three work and two personal email addresses, and texting just never seemed to serve enough of a unique function to warrant the hassle of keeping up with another.
The real reason I don't like texting, though, is that it's such an in-your-face mode of communication. On most phones, when you receive an SMS, it pops up on the top of your screen, blocking you from doing anything else until you answer or ignore the text. I know that most people don't intend their message to be this way, but isn't that a little presumptuous and rude to think that your message is so important that I'll want to stop whatever else I may be doing in order to read it? So most of the time, I just hit "ignore" and go back to whatever I was doing, intending to get back to the person later… except that I frequently forgot to get back to the person at all. Sorry, friends! Whereas, if they had sent me an email and I couldn't look at it at the time, it would be right there in my inbox staring me in the face and reminding me to answer so I could archive it and get it out of my inbox. Inbox Zero FTW! (Text messaging, you'll note, has no inbox zero.)
But there's another better reason to eschew text messaging, and it gets at that concept of interruption. I think it's pretty obvious that if you want to be productive, you need to minimize interruptions to your work, right? Unfortunately, text messaging (and other notifications) are a huge hindrance to that. You may have noticed that in my Sunday Links I Love feature, I've been including a lot of articles lately about the perils of interrupting your workflow, like Dan Ariely's 3 Costs of Multitasking. "Switching time" between tasks costs us a lot in productivity, and Scott Belsky's intro to 99U's reactionary workflow blog post further shows us where we're going wrong:
"In an era of mobile devices, instant connectivity, and automated mailing lists and notifications, it is all too easy for people to contact us. As a consequence, we live our lives just trying to keep our heads above water. Our ability to prioritize and control our focus is crippled by an unyielding flow of incoming communication: email, texts, tweets, facebook messages, phone calls, and so on (and on)."
This is so true, but for me, I've found that text messaging is the most distracting of all of those. Except maybe phone calls, although no one seems to get mad if you ignore those and call the person back later. (Check out Dharmesh Shah's Sorry No Calls for a great read on that topic.) I should note that I currently have tweets and Facebook message notifications turned on for my phone; I have them set to show up in the status bar, but not to show up on the home screen or otherwise make my phone light up, vibrate, or make noise. People seem to accept that you might not answer a Facebook message right away, so that seems just fine.
But that brings me back to texting. A few weeks ago, I was trying to get work done (on my computer) and I kept getting text after text on my phone – and I found myself getting totally irrationally angry at the friend sending those texts. But it wasn't his fault that my screen was lighting up with each text and that I was getting distracted from my work! That was something totally within my control. I had already been thinking about doing this for a while, but in the heat of that anger, I decided to pull the trigger and just turn off text notifications.
When I had thought of turning off text messaging many times before (particularly when I ended up on those awful group texts where people send something to the whole group that's only really aimed at one or two people), I had always assumed that I'd need to set up some kind of autoresponder when I did so. "Hi, this is Laura; I don't check text messages so if you'd like a response, please email or call me instead." Unfortunately, I hadn't found a great app with that kind of autoresponse capability. And more importantly, I knew I would look incredibly crazy/weird to those who got that response. Sure, my close friends wouldn't care (though they'd probably tease me about it – fine). But that'd be really awkward to meet some guy at a bar, exchange numbers, and then have him get my autoresponse. I wouldn't date me after that, either!
That day, though, I didn't think about what would happen without an autoresponse – I just turned off those damn text notifications. I changed my settings so they don't make noise, they don't vibrate, they don't show up over top of everything else, and they don't show up in my status notification bar. Instead, they just show up on my phone's main screen text messaging widget, so I'm reminded at a glance of how many new texts I have and that when I'm ready and have the time, I can go answer them.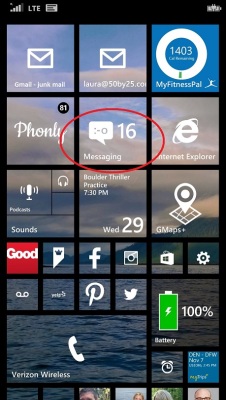 The ironic thing about this system is that it's actually made me much more responsive to texts than I ever used to be before. It used to be that if you texted me and it wasn't a convenient time for me to answer, I'd hit "ignore" and most likely forget about your message unless you happened to text me again at a time when it was convenient for me to take a look. I spent a lot of time sending "sorry, didn't see this till now" texts, so much that it probably would have been productive for me to set that up as an template text message for frequent use 🙂 Now, seeing that count of unread messages on my phone prompts me to go into my text inbox only when I have time to deal with the message (note that I keep emphasizing that), and actually respond. Sometimes that means I might not get back to your text for 24 hours, since I try to make sure I set aside at least a little bit of time every day to go through my text inbox. But usually, I have a few minutes every couple of hours when I can turn my attention to my text inbox – so messages that previously went totally unanswered are now getting responses within hours. Isn't it better to respond to 100% of texts within 24 hours rather than 10% of texts within 30 seconds and the rest not at all? I think so.
But what about those texts that your friends send letting you know that they're "running late" or "will be there in 5" or "already here and got a table in the back corner"? I do appreciate those texts and think they're a good use of the SMS medium. That said, I don't know about you, but when I'm meeting up with someone and can't find them, I look at my phone to see if I have a message from them. (Or look at my phone to catch up on email/blogs while I wait.) Either way, I'm looking at my phone, so I'm not going to miss those valuable in-the-moment texts that I do actually need. And if I'm driving or otherwise not able to look at my phone… well, maybe I shouldn't be looking at text messages? (Novel concept, I know.) With a true emergency or urgent message, the person will call you – so why allow the distraction of all those other messages that aren't urgent?
I've had my text message notifications turned off for about three weeks now, and while I originally thought it would be a silly experiment that I'd quickly abandon after pressure from my friends, I've been surprised to find that most of them haven't noticed – or, ironically, have noticed that I'm more responsive to texts than I used to be. I am really loving the focus its given me and how much more productive (and responsive!) I am as a result of turning off my text notifications. And as an added bonus, I've also been sleeping a lot better since I'm not getting woken up by late night texts by friends who are much cooler than early-to-bed-early-to-rise me. (No, I am not turning my phone off or putting it on silent mode, since I want to be reachable by phone in case of an actual emergency that might arise at 2am.)
And in case you think I'm still crazy for doing this? Well, about ten days into my little experiment, I came across this awesome article on Zero Notifications by Joel Gascoigne, where he did the same thing for all of his notifications. I'm by no means the only one who's found this tactic effective! This is a great way of making your technology work for you, instead of allowing your technology to get in the way of the work you need to do.
Have you ever tried turning off text message notifications, or would you consider doing so? What situations am I missing here where I'd be sorry that I didn't know of a text right away? I would love to hear your comments and feedback!