I am by no means in shape to run a marathon now (though hopefully I will be soon!), but all the hype around this Sunday's NYC Marathon is making me nostalgic for marathons and all the fun that goes into them. I was reading Jessie's blog and she's prepping to run the Outer Banks Marathon in a few weeks, so I then went to send her a link to my race report of when I ran it back in 2009. I didn't find it on my blog, but instead, I actually found a folder on my computer that had some race reports that I wrote but didn't publish. In some cases, they're unfinished, but Outer Banks I actually had completely done – I just never posted it! So while this race report is coming to you nearly five years late, I hope you still enjoy the blast from the past 🙂
I woke up a million times during the night before the race, first because of one roommate's 1 AM arrival due to a tardy plane (I felt so bad for her!) and then because of my other roommate's tendency to snore and talk in her sleep. I ended up putting a pillow over my head to drown it out, hoping it wouldn't smother me in the process. Unfortunately, my short sleep made me not only very tired, but also realizing that what I thought might be a hangover was actually the beginnings of the flu. Awesome.
I got dressed quickly, and with the forecast so warm, opted for just a tank top and skirt instead of the long sleeved tech shirt I had originally planned to wear over the ensemble. Unfortunately, I had brought my last clean tank, which was sea green. It wouldn't have mattered if I had my white and blue tech shirt on (which was carefully coordinated to match), but with the electric blue skirt I was wearing, the tank looked pretty ridiculous and loud. I considered going for fashion over function and wearing the tech shirt anyway, but decided to do my mom proud and ignore the fact that I looked like a four year old being allowed to dress herself for the first time.
Stopping in the lobby for breakfast, I picked up a piece of cinnamon raisin bread, toasted it, and added a small dab of jelly. I'm going to the Mayan Riviera in a few weeks, so it is time to get in shape! No more full bagels and peanut butter before a marathon. I figured the cinnamon raisin bread was probably already high calorie enough.
The start was about a ten minute drive from my hotel, and shuttle buses were picking us up from a Walmart parking lot. This worked perfectly for me, as I realized I hadn't brought sunglasses and would probably want a pair. One of my roommates had ducked in to do the same thing, but I bested her by finding a $6 pair of sporty looking sunglasses (compared to her $15 regular ones). They looked pretty similar to all those fancy-dancy "athletes' sunglasses" they always sell at expos, but for less than a tenth of the price. Score!
(Editor's note from 2014: my god, those sunglasses were so ugly; I cannot believe I bragged about scoring them at the time. You'll see in the upcoming race photos.)
Next on my agenda was to get a plastic bag for my Droid to protect it from sweat/moisture, which I planned to just do upon checkout. Unfortunately for me, my plans were foiled by the Walmart's attempts to go green: they had switched to all paper bags, and didn't have any plastic ones in the store anymore! Crazy. I didn't want to take the time to go back and buy a box of Ziplocks, since it was getting late, so I just hoped I'd get lucky and somehow acquire one at the start.
The shuttle buses were extremely frequent, and I got lucky and ended up in a comfy 7 person van instead of a regular schoolbus – nice! We had one first time marathon in our van, and she was really nervous, so everyone just tried to calm her nerves during the short ride.
I got to the start with about 10 minutes to spare before the race. I didn't have a bag to drop, but I went over to the bag drop nonetheless, hoping for spare bags – no dice. I wandered around, trying to think of another idea, and ultimately spied the medical table, where volunteers were handing out Biofreeze and Vaseline. I had a flash of inspiration as I saw the box of latex gloves on the table, and asked the volunteer for one. Confused, she gave it to me, and I turned it inside out only to find that these were not the powdered variety – perfect for my Droid!
Now with only a few minutes until the start, I headed over to the corrals. There had been big warnings that we were going to be grouped by anticipated finish time, but I didn't remember estimating a time on my application, and as far as I could tell, my bib didn't have anything to identify my pace. Sure enough, there were signs at different corrals (ironically, not marked by finish time, but by pace, e.g. "5:00 to 7:00/mile"), but it was a free-for-all as far as which one you chose. I debated between 7:00-9:00 or 9:00-11:00 (anticipating about a 9:00-even pace), but decided on the first group after seeing a number of people in the second who looked decidedly out of shape. (Editor's note for 2014: man, I was super snobby! I certainly don't have a crazy physique and I'm sure many people who look at me wouldn't believe I've run that many marathons.)
I ended up standing next to my roommate Mary, and we had a few minutes to chat before announcements started. First up was a local minister who was going to lead us in a prayer before the race. I'm not very religious, but I've seen a few races start like this (particularly in the south), so I dutifully bowed my head and kept quiet. What he said, though, I really didn't like. He asked us to give thanks for the volunteers and for the beautiful weather and perfect running conditions – okay, fine. But then he started talking about "the winners," and said that we should pray for them to have a fantastic race and a fast time. Next up, was "the rest of us," who he said we should pray to "just endure." Um, excuse me? Maybe I'm being overly sensitive, but just because I don't *win* doesn't mean I don't care about my time and it's just a matter of finishing. It's funny; in schools, I hate the mentality of "everyone's a winner," but in marathons, I really do think that should be taken to heart.
Anyway, after that was a Star Spangled Banner rendition that was surprisingly decent. I couldn't see the singer, but it sounded like a young girl about high school age. She started the song super high, sounding like she was about to crack on the early high notes ("oh say can you SEE"), which got me nervous for the later higher ones ("and the rockets red glare"). However, she held her own. Bravo, OBX – seems like lately I've been saddled with a lot of crappy National Anthem singers, so I was pleasantly surprised here.
As we geared up for the race start, I started fiddling with my Droid, trying to figure out exactly how to play a playlist. That accomplished, I realized I had yet to start my Garmin. I hoped that finding the satellites wouldn't be hard, but they did in fact take a few moments, so I stepped to the side as I waited for them to pick up, thus losing my place in the 7:00-9:00 wave start and putting myself at the front of the 9:00-11:00 start two minutes later. No matter – as long as I was at the front, I wouldn't be bobbing and weaving.
The gun went off, and as it turned out, being at the front was incredible. I ran by feel instead of for pace, but later discovered I had done an 8:15 pace for the first mile. This meant that I got to hold the lead as the front runner in my wave for about half a mile! How cool to be leading the charge. I saw a bunch of official photographers, so I'm really hoping they got some good shots there.
The early miles took us through some neighborhoods, and it was nice to see how many residents were out to watch and cheer. At the first mile marker, I was also happy to see that the mile station had a theme – Hollywood paparazzi! How fun. There was a big sign that said "who's going to win?" with lightbulbs around it, and I thought the only thing that would have made it better was a sign after it saying, "You are!" 🙂
By the end of the first mile, we were overtaking people from the previous wave, which surprised me. They had more than a two minute head start, so if we were passing them, they had grossly underestimated their pace! No matter – it wasn't too crowded, and it was easy enough to maneuver around them. A mile or two later, I ran into Steph's mom Mary and we chatted for a minute before I continued on. Steph had posted on her blog a few days ago that she was hoping to get a PR and qualify for Boston, so I assumed I wouldn't be seeing her at all.
Around mile 3, my left foot started to hurt. It was a pain in the bone of my instep, and I started getting worried. Last Monday, I wore heels to work, and my left foot started hurting in a similar way. There was no incident where I tripped or anything, and then pain came on gradually as the day went on, so I assumed it was just my foot protesting heels (lately I'm much more likely to wear ballet flats). It felt almost like my feet just needed to be stretched, and I tried flexing and pointing my foot, but by the next day it was gone, so I didn't worry about it. Now, however, it was back, and I realized the pain was very similar to when I fractured my foot about ten years ago. Thinking back to the weird toe pain I had at New Hampshire in October, I remembered that someone had suggested a stress fracture at the time. That problem only lasted a few minutes and never recurred, so I put it out of mind, but maybe this new instep thing was a stress fracture?
The more I thought about it, the more worried I got. When I was sixteen, I was performing in a summer stock production of Oklahoma as a dancer, and it was the day of the Dream Ballet choreography that I broke it on the way to rehearsal through sheer clumsiness (I tripped in my stylish early 2000s platform sandals). A doctor later confirmed that I broke it in two places, but I danced on it for several hours before I realized something was wrong, so it wasn't at all inconceivable to me that I could be running a marathon with a broken foot.
Clearly, the responsible thing to do is go to the doctor. But what if the doctor tells me to take a break from marathons? Uh uh – no way. I decided that I should still go to the doctor, but if s/he told me to stop marathoning, I'd be completely honest with them. If I could get through this marathon without my foot shattering or some other catastrophic event, I was going to keep running, and their best bet was to figure out what precautions they could take to help me get through the marathons with no damage.
All that thinking out of the way, I now turned my attention to running the race and enjoying the scenery. We were now on a boardwalk next to the water, and I loved the views as well as the beautiful homes. It reminded me a bit of Long Island (way out in Riverhead), where I would always go to visit family friends for summer vacation. It also reminded me a bit of what Rhode Island should have been like, if it weren't for the rain and the nasty weather. Finally, it reminded me of Sarasota, Florida, where I did a summer internship and spent a lot of time at the beach. All this is basically just to say: it was gorgeous, and I really want to take a summer vacation there.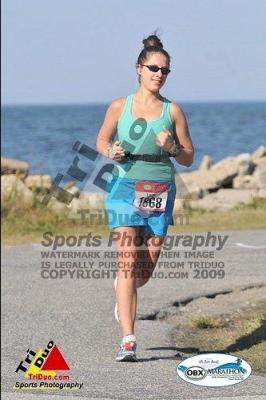 At mile 7, I was pleased to see that the race organizers provided gels – and a ton of them. One of the Marathon Guide comments was that they had run out of gels last year, so I carried my own just in case, but they seemed to be very well-stocked. Unfortunately, the high(er than I've been accustomed to) temperatures meant that I was drinking a lot of water, and by this time I was ready for a bathroom stop. At mile 8, I found a bank of three porta potties, and I lost 1.5 mins waiting for my turn. Oh well; urine waits for no one, and I wasn't going for time in this race anyway 🙂
After the pitstop, we turned to circle a big hill that had what looked to be a Masonic temple at the top of it (I wish I had taken Mary's advice from the night before and studied the course description a bit more to know what to look for and what it was!). But when I say hill, I mean basically a mini-mountain just sitting there, with paths up to the top if you wanted to tour it. On the approach, I briefly wondered if we were expected to go up and over it, but then remembered that the course is supposed to be pretty flat except for a bridge near the end. That got me thinking though – it looked like it would be a much shorter distance to go up and over, though of course the climb would be intense. But what if someone organized a race that was full of just those choices? That is, take the long and easy distance or take the short but tough one? That would be a fun way to do kind of a scavenger hunt race. Or you could maybe knock seconds off someone's finish time if they picked up the ribbon at the top of the hill or something.
But I digress. This was a marathon here, not some adventure race 🙂 From the Masonic temple (I'm just going to assume that's what it was), we headed into the woods for the trail portion of the run. While I loved the coastal views before, it seemed to me that this was really what distinguishes North Carolina from other beachy destinations: the pine trees and woods. When I think sand and beach, I normally think tropical palm trees, so it was cool to have the mix of both Evergreen forests and beautiful beaches. The trail was a wide, hard-packed dirt road that was very easy to run on, and I was glad that there were a few little ups and downs to keep changing up my leg muscles as I ran.
At mile 12, we found ourselves faced with a group of spectators handing out beer, as well as a steep uphill on a trail that was very different than the hard-packed dirt: it was soft mulch. Uphill plus super-soft surface? Yuck. I walked up the hill (as I said, it was steep but short), and then found myself passing a ton of people on the way down because I actually had the energy to run. I just had to be careful of my footing with that loose surface. A sign announced that we had just 1/2 mile to go till we were back to the paved roads, and while I appreciated the beauty of the woods, I was grateful.
Sure enough, we burst out of the woods onto the mile 13 marker and a chip mat (hopefully they'll provide splits). I clocked my time at the half-marathon point at 1:58, meaning I was on pace for a 4:00 hour finish if I could keep it up… but judging by how tired I was and how much my left foot was hurting, I doubted I would be able to do that.
After a short stretch through some more neighborhoods, we were out to the main highway that cut through town, running in the shoulder and far right lane as traffic went by. I was pleased that people were neither whizzing by us (making me nervous!) nor going along at a crawl and making us breathe in their exhaust. I have no idea how the race director managed to facilitate this on such a major road, but I definitely applaud the organization that made it happen!
Running on the main road gave us a chance to see lots of the signs put up by local businesses that welcomed the runners to town. This was such a nice change from races where no one in the town even knows there's a marathon going on! Almost every business in town had some sort of "welcome, runners" sign, and a lot got creative as well, particularly with customizing/advertising their products and services to appeal to runners (e.g. numerous pasta specials at restaurants and post-race lunches advertised). The only welcome I did not enjoy was the one for the Outer Banks Emergency Room. "Welcome, runners"? I thought "Stay away from here, runners!" would have been much more appropriate, and I said as much to a girl running alongside me when we passed by 🙂
Speaking of signs, as we turned off the main drag and into the neighborhoods again, I was super excited to see a version of a Chuck Norris sign cheering us up. I used to absolutely love the various Chuck Norris one-liners that were out there, and was immaturely thrilled whenever I heard one. But this one? The best. "Chuck Norris can run a marathon twice in one hour. Backwards. In the snow." Amazing!!! This got me thinking about all the various ways there would be to combine my love for Chuck Norris jokes with my love for marathoning, and I came up with a slogan that I intend to get made into a t-shirt: "Chuck Norris runs a full marathon or two every weekend to stay in shape. And so do I." The funny thing is, my friends will probably think it's not a good Chuck Norris joke, because they're so used to my marathoning that it doesn't seem like the kind of immortal feat that Chuck Norris would do. But I think a stranger who doesn't know me would be impressed 🙂
(Editor's note from 2014: OMG I am so ridiculously full of myself. Thank god I never actually got this made into a t-shirt.)
Coming up to mile 18, I realized that I had fallen off my pace quite a bit, and wasn't going to break four hours unless I could miraculously make up several minutes in the last 8 miles – not too likely. So I went with my strategy of running how I felt and not by the clock. It wasn't going to be a PR day for me, and it wasn't even going to be a sub-4 day, so there was no need to really push it.
However, thanks to how used to the 26.2 mile distance I am, "not really pushing it" in the last 8 miles or so still translates to "passing a lot of other runners because they're not used to the distance and are really tired." The exception here was Stephanie, who runs marathons as much as I do but who I was very surprised to pass at mile 20. She looked really strong, but was running with a friend who was having some stomach problems, and had solicitously slowed down to her friend's pace. I was really surprised to have caught Steph, since I knew she was originally trying for a BQ, so I was impressed that she had opted to stick with her friend. That's one thing I love about the running community – how supportive everyone is of each other!
We turned out of the neighborhoods and back onto the main road, where we got treated to the encouraging signs of the local businesses once again. I started noticing that the runners around me were really getting winded and tired, and starting to slow down. We crossed a timing mat at the 20 mile mark, and I got inspired by a cool idea: after the race, I wanted to look up my time at the 20 mile mark and my time at the finish, and see how many people I was able to pass. While I wasn't going at lightning speed or anything, it seemed like I was passing a ton of people, but I didn't see anyone passing me (unless it was through a water stop and then I caught right back up).
Speaking of the water stops, my mouth was seriously dry – almost as bad as after a big night of drinking. It had been pretty dry the whole race, but now it seemed that even when I got a drink of water, my mouth was dry and funny-tasting almost as soon as I stopped drinking water. I didn't want to have to stop for a bathroom again, so I tried just swishing the water in my mouth and then spitting it out, but that didn't help either. I wondered if it might be that I wasn't used to running in warm weather anymore, but then gradually realized the truth: I was getting sick. Darn it! A potential stress fracture and sickness? I was really overcoming the odds for this race.
The next few miles were very sunny and a bit windy, though I (correctly) assumed they'd only get windier as we approached the steep bridge at mile 23 that I had heard so much about. Sure enough, by mile 22, I started seeing it rising in the distance ahead of us. I had been thinking it would be a piece of cake after all my practice going over the bridges in NYC, but geez, it looked huge! I started to worry about how I would do going over this.
The road leading to the actual up-and-over part of the bridge seemed to also be on the water (kind of like a causeway), so I had a chance to get used to the wind before I dealt with the uphill. It wasn't crazy (nothing like Rhode Island, thank goodness!), but it was significant enough that it was tricky to keep up a good pace. Still, I was pleased that I was continuously passing people and never getting passed. As the bridge approached, I decided that I wouldn't waste my energy trying to run up it (as I saw many runners ahead of me doing); instead, I would take advantage of the opportunity to dig out my Droid and figure out how to change the playlist to my Marathon Power Songs. This strategy meant that a lot of people were passing me on the uphill, but I think I passed at least most of them on the downhill on the other side – score. However, the bridge turned out to not be nearly as steep as it looked, and in retrospect, I wish I had just powered up it instead of using it as a rest break.
But no matter – I wasn't going for time in this race, particularly with my injured foot. Though come to think of it – I hadn't felt any pain in a bit. Could it be that running on it had actually made it better? 🙂
By now, I had caught up with a ton of the half-marathoners, and I found it hard to figure out when I was passing a half-marathoner vs a full marathoner. When people were walking, it certainly was likely that they were half-marathoners who were taking the course slow (which was why I was catching up to them), but it was also possible that they were full marathoners who were just too tired to run anymore. For these cases, I really wish that race organizers would require half-marathoners to wear their bibs on their backs as well, like they do with relayers.
Only 1.5 miles to go, and I was totally ready to be done. My power songs have started to get stale lately – not surprising, since I've been using mostly the same ones for more than 30 marathons now! I think I should probably start looking for some new ones. It was now just a bit more to go, though, so even without any music I'd be fine.
Knowing I was only about 10 minutes from the end, I tried to focus on picking off the competitors around me, particularly the women. Turning the corner at mile 25, I managed to pass two women I had been eyeing for the last mile – sweet. We started to see spectators standing on the side of the road, and even marathoners and half-marathoners walking back from the finish after having received their medals. I was pleased to hear my name being cheered by a few spectators who told me I was "looking strong!", thanks to the race organizers' decision to put our names on our bibs (love it). The road was getting pretty crowded though – a clear sign that I had really caught up with a lot of the half marathoners. I wished again that there was a good way to distinguish them from the full marathoners – I wanted to know who I needed to pass!
The 26 mile mark came at a turn in the road, so I opted not to run out of my way in order to kiss the sign on the far corner. (Editor's note: I used to try to do that in most of the marathons I ran; not sure when I stopped.) Instead, I took the mile marker as a sign for me to pick up the pace. I was now doing an 8:30 mile – not bad for the final stretch of a marathon! I still couldn't see the finish line, but I could see a bend in the road, and assumed it would be just beyond that. Putting a big smile on my face, I went for it. Sure enough, after turning, the spectators lined the streets and the finish line was just ahead. My smile turned to slightly gritted teeth as I sprinted it in, but I passed several people and was definitely proud of my kick. Raising my arms in victory, I crossed the line and stopped my watch – 4:08! A great time for me, especially considering I wasn't pushing myself terribly hard and had an injury and was sick.
The finish line volunteers were super friendly, placing the medal around my neck for me so I felt like an Olympian (I hate when volunteers just hand it to you – I've earned that, darn it!). Another volunteer gave me an unexpected gift: a pretty nice OBX visor that I knew would come in handy for future sunny races. There were also two pirates (a male and a female) with whom you could get your finisher photo taken. Cool!
Unfortunately, while the medal and swag were nice, I was really disappointed with the food offerings. I was happy that they gave me water as soon as I crossed the finish line (a nice big bottle of it, too), but after wandering around for 10 minutes, I couldn't find any food except local restaurants who were charging for it. Surely there was some sort of free food for runners? I was in the middle of a quaint little beach town mainstreet (that reminded me a lot of downtown Newport), and all around me were people celebrating, but there didn't seem to be any free food. Was this just a big scam to get hungry runners to fork over money in town once they were starving at the end of a marathon?
Asking around, I found a guy who told me there was a tent right near the finish line that I had somehow missed. Getting my hopes up, I headed back in that direction… only to find that it was a really poor selection of bananas, orange slices, and peanut butter and jelly sandwiches that were all just sitting unwrapped in a box and getting totally destroyed by the thousands of grubby runners' hands reaching in… yuck! I had a few orange slices, but didn't really feel like a banana. Seeing my dissatisfaction, a volunteer also helpfully pointed out that there was plenty of free beer around the corner, but with my upcoming long drive back to the airport, that was not what I wanted. (Editor's note: I can't believe there was a time when I didn't want beer.) She mentioned there was also free clam chowder with the beer – now that was more like it! I eagerly headed over (and had some difficulty finding it, to boot), only to be disappointed when the "clam chowder" was an extremely watery and extremely salty broth with just a few chunks of clams and potatoes in it. Come on, even Campbell's makes better clam chowder than this!
Disappointed, I headed for the buses, figuring that the time I saved by not hanging out at the finish line would be better spent getting back to my hotel quickly and perhaps having time to stop for a bite to eat on my way home. Again, I couldn't figure out where to go, but asking another runner yielded results and I soon found my way… to a ridiculously long line that wound down the block of runners and families. Really? Upon closer inspection, it seemed that there were two lines, but no one (not even the people in the lines) knew which line went where. It seemed that there was a half-marathon start, a full marathon start, and a parking lot near to the finish (but not walking distance), but no one could figure out which line was going where, and there were no volunteers to ask. Amidst the mass confusion, I finally got on what I thought was the right line – though there were an awful lot of half-marathoners for it to be the full marathon line. After 20 minutes of waiting (and anxiously looking at my watch), I snagged one of the last seats on the bus that was indeed bound for the full marathon start (via the half marathon start).
The bus ride took forever, which was frustrating, especially since it seemed like they could have sped it up by separating out runners going to the half marathon start vs full marathon start vs YMCA, so the buses could have each just made one stop. The most frustrating was when a few families started just asking the bus to drop them at random hotels at which they were staying. What the heck? The bus wasn't their private taxi, and yet the driver obliged, making me fume because I could have very easily done the same thing. In the end, I got to my car just five minutes before I needed to be leaving my hotel for the airport, so there was no time for a shower – just a quick tidying up as I threw on clean clothes and fresh deodorant. It sounds gross, but it's really true that I don't really smell much after running once I get my sweaty clothes off. (Editor's note: EW. I forgot I sometimes used to do this.)
Overall? I'd give it an "A" for pre-race organization, the pretty and easy course, and a really supportive town in which to run. "F" for post-race food and shuttle bus organization. I'd consider doing this one again if Boyfriend wants to go down with me next year, and I think I'd just learn to bring money for food and park my car at the finish line. A few flaws, but still a great race.
Race stats:
Distance: 26.2 miles
Time: 4:08:47
Pace: 9:30
Overall place: 555/1811
Gender place: 153/796
Age group place: 16/48