I participated in an Influencer Activation Program on behalf of Influence Central for Ame & Lulu. I received product samples to facilitate my review.
Typically when I travel, I bring my rollerboard. I have a really tiny one so it's not necessarily too much for just a weekend away. However, this weekend, I was taking a trip to Breckenridge – and when you're headed to the mountains, a rollerboard just isn't very practical. So I was really psyched to break out the awesome Ame & Lulu Easy Tote as a weekender bag to hold all my belongings.
Amye Kurson founded Ame & Lulu™ in 2003, because as an avid golfer, she was serious about the sport, but hated the stodgy and stale look of traditional active wear. She craved stylish accessories that could take her seamlessly from the course to cocktails. She created Ame & Lulu to provide classic & colorful accessories for an active lifestyle, with preppy All-American style.
Ame & Lulu had a ton of amazing prints to choose from:
I settled for the Villa print, and when my matching set of Easy Tote, Essentials Insert, and Key Pouch arrived, I was so thrilled with my choice. The color is just a little bit more subdued in real life than it looks in the swatch, and I loved how classic the overall look was. I especially loved having the three matching pieces – I used the Key Pouch to hold my (minimal) jewelry for the weekend, the Essentials Insert to hold my toiletries and makeup, and the Easy Tote to hold both of the smaller bags as well as everything else I was packing: trail running sneakers, workout clothes, PJs, three casual outfits, and a hairdryer.
Since I'm staying in a hostel this weekend, I wanted to be as compact as possible and not inconvenience my bunk mates. The Ame & Lulu tote really did the trick! I loved that it was a really durable material, so even though it looked trendy and preppy, it was still totally equipped for outdoor adventures. The straps in particular were very heavy duty, which was great because it meant I didn't worry about hanging my bag from the hooks on our bunk bed. It worked out really well to keep my stuff organized and out of the way!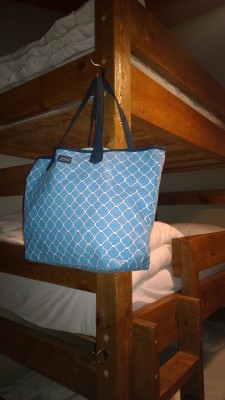 Tonight, we have a happy hour at our hostel, and I really don't want to have to carry my entire purse around just for my cell phone and room key. Fortunately, the Essentials Insert has a wristlet, so I was able to just toss my things in that and not have to drag around my regular purse! It is plenty big to include a wallet, lipgloss, hairties, and even my giant (but amazing) Windows Phone, and I love that the blue color is cute but neutral enough to go with just about any outfit.
If you're interested in checking out the Ame & Lulu line (which features a ton of other cute products – I'm eyeing the wine tote!), you can visit their website at ameandlulu.com. Best of all, Ame & Lulu has generously offered all 50by25 readers a one-time use code of 25% off using the code Love25!
Thank you so much to Ame & Lulu for the opportunity to try their products – I can't wait to bring them on more adventures!
Disclaimer: Ame & Lulu sent me their Easy Tote, Essentials Insert, and Key Pouch to try; however, all opinions expressed are my own.