This week was a bit rough with work, and I was getting pretty stressed out yesterday. However, today I got some great work-related news to close out the week. Yes, "close out the week". It may only be Wednesday, but tonight I'm flying out for a four day weekend. I'm headed to Alaska!
Tonight I'm en route to Seattle to spend the night, and then tomorrow morning I head up to Ketchikan, where I'll take a seaplane to Thorne Bay on Prince of Wales Island. Tomorrow and Friday I get to spend the day speaking to a few school groups, and then on Friday night I'll be speaking to my fellow runners at the pasta dinner. On Saturday, I'll be running the Prince of Wales Island Marathon, then helping to pass out the medals and awards at the finish line. Finally, I get to go on a fishing expedition on Sunday, and then on Monday, I start the (long) journey back to Dallas. It's going to be a packed weekend, but I am just so excited for all of it!
The last time I was in Alaska, to run Humpy's Marathon, I was only there for about twelve hours – getting in at 2am, running the marathon, and leaving at 2pm. (My recollection was that I had to catch the 2pm flight to get back for work, but now when I go back and look at that race report, I found that I chose to leave Alaska that quickly. What the heck was I thinking?!) In comparison, this feels like a wonderfully long vacation, and I'm so excited to get to experience Alaska for real. From what I've read, Prince of Wales Island is really unique. It's the fourth largest island in the U.S., and despite having about the same area as Delaware, its population is only 6,000.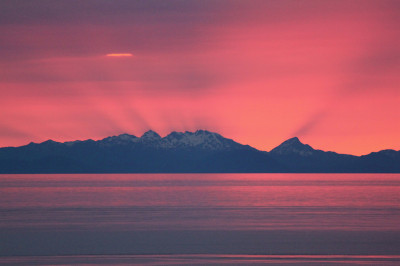 Don't worry, I'll be taking lots of pictures, and of course, blogging about the weekend 🙂 Stay tuned!