I woke up in Seattle much later than expected – although I had set my alarm for 8am, I had assumed I'd be up earlier than that. After all, I had napped for three hours on the flight up, and I figured since my body was still on Central Time, I would be up super early. Not so! I ended up having to hurry to shower and grab breakfast before heading back to SeaTac Airport for my flight to Ketchikan.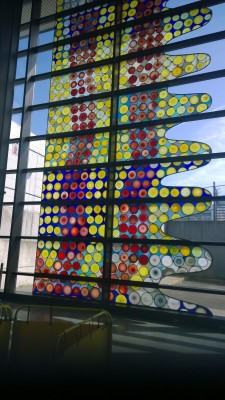 The security lines were pretty ridiculously long, and although I thought I had arrived at the airport with way more than enough time (over an hour before my flight!), I ended up arriving at the gate after boarding had already begun. I sat next to a really friendly little girl and her mom, and found the entire flight to be really comfortable and the flight attendants to be super nice. Off to a great start so far!
I had a two hour layover in Ketchikan before I'd take a seaplane from there to Prince of Wales Island, so I grabbed lunch at the tiny concession stand and then read for a while. Then it was time to weigh in both me and my bags, so they could load balance the little seaplane, and head out to the dock from which we'd take off. I was glad I had worn my boat shoes – it was slippery out there in the rain!
There were three of us on the plane, smushed into a single row behind the pilot and co-pilot, and I couldn't get over how close I was to the cockpit. I mean, on a tiny plane like this, you're basically in  the cockpit, and I was kind of nervous I was going to accidentally stretch and kick the stick shift or something! It was incredibly foggy and rainy, but the passengers on either side of me kept wiping the window off and pointing out cool sights so I could get pictures. What an amazing ride! I think this was when I first knew I was in for a really special weekend.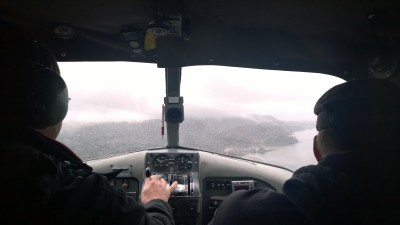 The race director, Ann, met me right on the dock of Thorne Bay, and with no time to lose, we headed over to Thorne Bay School, where I'd be speaking to my first group. It was a mix of elementary, middle, and high school students (plus some teachers), and the kids had so much energy! The time flew by and I wished I could stay longer to talk to the kids. However, Ann and I needed to head across the island from Thorne Bay to Klawock, following the course of Saturday's marathon in order to get there.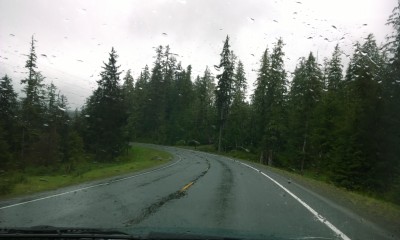 Just before coming into the town of Klawock, we stopped by the home of one of the members of the race committee. She had a wedding to go to, and despite her hard work, wasn't going to be able to be in town for the marathon this year 🙁 So I was glad I got to meet her before she left town!
Finally, Ann took me to the bed and breakfast where I'd be staying for the weekend. It is gorgeous! The views from the shared living room are stunning, and I can't wait to hopefully enjoy a cup of coffee there one of these mornings.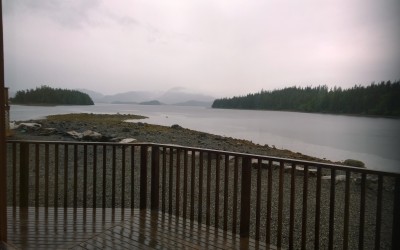 But I didn't call it a night yet! Instead, Ann had arranged for me to join a local family for dinner, and then after dinner, I got to go to Craig Middle School to see a talent show. It was really fun and cute to see all the kids perform, and Stacy (my host) was awesome about introducing me to everyone… and I do mean everyone. With Prince of Wales Island being so small, both she and Ann really did seem to know everyone in town! I know that I used to live in Manhattan, but I love this small town atmosphere and how intimate it is.
All in all, I am loving it here so far. I have used the word "beautiful" so much that it probably sounds fake to those I'm meeting, but I truly mean it. Prince of Wales Island is gorgeous! I find its remoteness to be charming, and everyone I have met is just so friendly. Why do you need more people when everyone who is here is wonderful?! I can't wait to see more of the island and its inhabitants tomorrow!