I woke up this morning bright and early – today was going to be a busy day!
My host for the day, Lisa, met up with me at 7:45am, and we stopped for coffee at a little drive through that was housed in a former Burger King. Despite the unassuming surroundings, though, I discovered one of the most delicious coffees I have ever had! I got drip coffee with butterscotch syrup and some milk, and it was seriously amazing. Perfect way to put me in a great mood for the day 🙂
We headed over to Klawock, where I got to open their morning assembly with a ten minute talk on goal setting and things I've learned from running marathons. When I was done, I got to do question and answer with the kids, which was a lot of fun. I got a lot of questions about whether I had been to certain states, or where I ran in those states. It seems like a lot of Prince of Wales Islanders have moved here from other places, and the kids were no exception! They were really eager to hear if I had been to the places where they had been, and I was happy in a lot of cases to be able to tell them yes, I had.
After the school visit, we stopped by the adjacent traditional crafts shop, where one girl was busily working on a pair of homemade moccasins when we arrived. They already had beading on the top, and it was so intricate and perfectly laid that when my big mouth opened to ask if she had done the beading herself, I got worried. Obviously these beading had come pre-fabbed into some kind of applique and she had just sewn it onto the moccasins, right? Fortunately for me, I was entirely wrong – she had actually done that all by herself! I was so impressed, and when Lisa told me about the summer arts camps that allow you to practice these kinds of crafts all day long, it made me really want to attend.
From there, we headed to the Klawock Totem Park, which was on a hill just behind the crafts shop. Oh my goodness, it was gorgeous! I loved being able to look out over the water below, and I ended up taking about a dozen pictures from different angles. How lucky are these kids that they get to go to school right by this gorgeous site?!
From there, Lisa took me to the carving yard and clan house. Although the totems I had seen were beautiful, they were recreations of traditional totems – meant to commemorate the real thing. But in the carving yard, they had authentic totems that had been found on the island! It was so interesting to see the moss and plants growing out of the wood in some places – it made me really appreciate just how old they were and how long they had lain dormant before being found again and brought to wear people could enjoy them.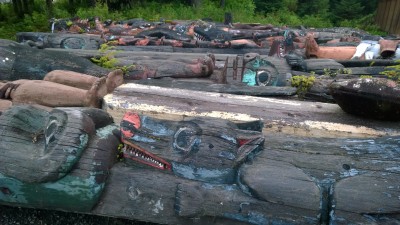 Next to the carving yard was the clan house – and this was a really cool building. Lisa was able to tell me all about how they had used the clan house for various rituals in the past – like when someone makes their first kill on a hunt – and she even knew one of the old legends about the world being formed from the opening of Pandora's box. The huge carving on the wall was really spectacular to look at, and I could imagine how cool it must have been to be there for a ceremony and celebration.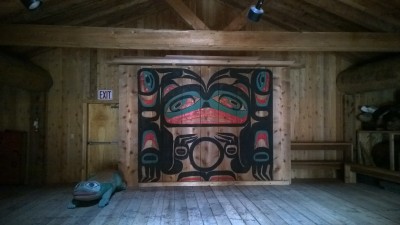 After that, we returned the clan house keys to the shop teacher, and then dropped by City Hall. The Mayor was out for a graduation back on mainland Alaska, but his kind staff showed me around and told me about all the cool artwork that they had on display. I also really liked the plaque out front of the building.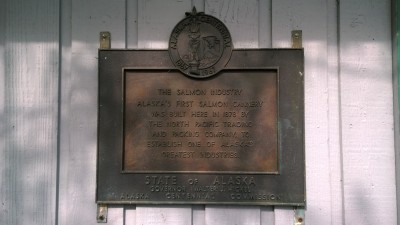 From there, it was onto the salmon hatchery. In order to help protect the salmon population, they trap the salmon, get them to lay their eggs in a protected space, and then release the eggs back out once they're a bit more mature. What a cool way to help with sustainability while still allowing me to continue eating delicious, delicious salmon! The hatchery wasn't open this time of year, but I got one of my favorite pictures of the trip looking upriver from its grounds.
Before we headed back to town, Lisa took me to a little inlet that she knew about only because she had passed it many times when driving to/from work. (I was so lucky to have her as a tour guide!) It was a gorgeous place to take in the scenery, and we also found a little abandoned rowboat that made for a really fun and whimsical shot with me actually in the photo 🙂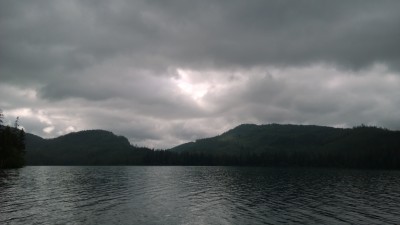 But playtime needed to end for a little while, now – I still had a lot of visits to make around town. I had been asked to go around to many of the different business owners to meet them and thank them for supporting the marathon, and I was more than happy to do so. Besides being grateful for the chance to say thank you, I was also excited to get to meet as many people as possible while I was in town. Plus, everyone I met was just so gosh-darned nice! I kept saying to Lisa that I was shocked that everyone didn't want to live on Prince of Wales Island – the views are incredible, the small town atmosphere is incredibly homey, and everyone I met was so wonderful that I couldn't imagine anyone not getting along with them.
Case in point: the awesome ladies who were running the quilt show at the town rec center. It was so cool to browse all the different quilts that people had submitted for judging, and it made me really want to take up quilting.
Next, we stopped at a really adorable cafe for lunch, the Dockside Cafe, and I got one of the most delicious grilled chicken sandwiches I have ever had… and devoured it in no time flat. I guess all that meet-and-greeting had gotten me hungry! I was really glad I got to sit for a little bit and just veg out and recharge, because right after lunch, it was time for me to speak at the Craig School assembly. This one was a bit longer than my visit to Klawock School, and I did a 30 minute talk about my marathon journey and what lessons the kids could take from running. I was happy with it, though, and again, was really impressed with the questions that the kids asked.
One more stop before heading back to the B&B though, and this one was a super fun one:
That's right, I got my Alaska fishing license! (With King stamp, in case I miraculously manage to catch one of those.) Lisa and her husband Rocky were kind enough to donate a fishing expedition to me as the marathon guest speaker, and I get to go out on Sunday. Most of the people I met found it hard to believe that I had never been fishing before (nope, not even fly fishing or with a rod and a pole in a little stream), and I feel like I definitely have to prove myself. I'll be headed out Sunday, and determined to have to buy a wax box to take my fish home south with me 🙂
We made a few more stops at some businesses, then swung by the race expo to pick up my packet for the next day's marathon. And then, Lisa took me back down the road to my B&B, so I could get a quick nap in before heading to the pasta dinner for my big keynote speech. With all the beauty in Alaska in my head, I was thrilled to lie down for a bit and dream about what it would be like to live here (or somewhere like here).
Stay tuned for details on the pasta dinner and race itself! (Which I will be running first thing in the morning – time zones are a bit behind my usual here.)