So you already know about my day exploring the island and getting to meet people at all the businesses in town. But I wanted to still do a proper "night before the race" post, especially given how impressed I was with the race organizers for their fantastic night before the race festivities.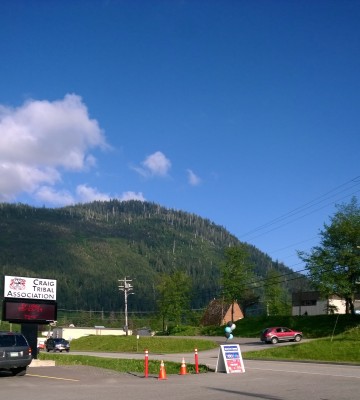 Upon walking into the Craig Tribal Association where the dinner was being held, I was immediately impressed by the decorations. Lining the walkway to the main room were coloring book-type pictures of the race logo, which had been colored in and signed by local kids. The best part was, there was a wall of these with "Welcome, So-and-So!" backgrounds behind them, welcoming anyone who wasn't from the island to the race. What an amazing idea! I felt so touched that someone had colored in a picture just for me, and it was also really neat to look at all of them and see who else had come from "down south" (the Alaska term for anything in the lower 48 states) for the race.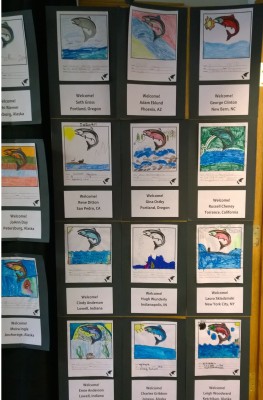 The pasta dinner started at 6pm, and it was $15 per person for tickets. However, I want to emphasize just how much you got for your $15, compared to going somewhere else! There are many times that I've skipped the official pasta dinner because I thought I could do better other places. But because Prince of Wales Island is so remote and it is costly to bring in supplies/food/etc, restaurants in town are a bit pricier than your average place (I'd compare them to NYC prices) – so $15 is an absolute steal. Going down the buffet line, you got salad (with separate tomatoes/cucumbers/croutons/dressing/etc so you could put on exactly what you liked), garlic bread, white spaghetti and wheat angel hair, veggie marinara and meat marinara, and water or juice. The water cooler even had cucumbers in it to make it a bit more fancy! I liked that the buffet was self serve, so I could take as much or as little as I wanted of various things, and we were also allowed to go back up for seconds. I almost didn't go back up for seconds, though, because I wanted to save room for… the dessert bar.
That's right, volunteers had baked all kinds of homemade desserts for us to enjoy – and there were so many delicious treats that I found it difficult to make a decision! I ended up having both the lemon bar and a piece of cinnamon cake with cream cheese frosting. (Okay, so maybe I wasn't exactly sticking to my DietBet yesterday.) Both were amazing, and they also got me excited for the homemade cookie bar that I knew would be at the end of the race.
The CTA was also the location of the packet pickup, and booths along the edges of the room were well-marked so that you could easily pick up your stuff, sign the "guestbook" (a Prince of Wales Island Marathon poster, that will be framed for posterity), and do optional activities like easily swap your shirt for a different size, or sign up for the (free) van pickup from your B&B to the start of the race. I loved that you could either stop by during the day or get your stuff at any point during the pasta dinner – it meant that pickup was completely hassle-free, with literally no lines for anything you wanted to do.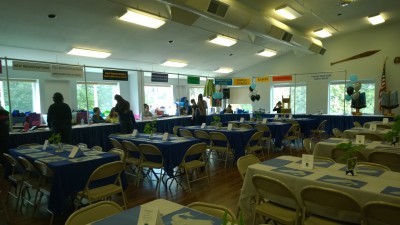 But what really made the pre-race festivities exceptional was the program that the race organizers put together. It was fantastic! (And I say that not including my portion of the program as the guest speaker.) The one-hour program kicked off with thank yous to all the volunteers and the fabulous race directors, and the energy in the room was amazing. Everyone at the dinner was just so happy to be there, and it was clear that the marathon was really an "it takes a whole village" effort.
Next, there was a formal ceremony as the American and Alaskan flags were brought out, and a girl with a gorgeous voice sang the National Anthem. We were reminded that there was actually going to be a guy running the marathon "virtually" from his army base overseas. He had registered for the race, and since being deployed, had faithfully sent training updates to the race director to share. I loved the idea of getting to run on an isolated island but also knowing that someone else thousands and thousands of miles away would be running with us in spirit!
Speaking of people thousands of miles away – one part of the night that I really liked was when we did a "roll call" of those coming from the lower 48 states. Anyone who didn't live in Alaska was given a placard on a stick, to raise in the air when their state was called. I was really proud to be able to hold the Colorado sign!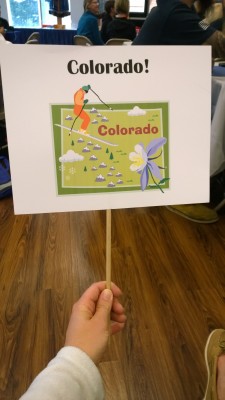 One of my favorite parts of the program was when a guy and girl from one of the Native American groups in the area took the stage, to read us a prayer for race day in the language of their ancestors. Then they sang and played a traditional song. What a cool way to tie the history of the island into the race! I loved it.
After some announcements that helped all the runners to know exactly what to expect on race day, it was my turn to speak. The room had gotten a bit noisy during the announcements, but everyone got really quiet for my talk. I was really thrilled that so many people wanted to listen, and I felt like I really connected with a lot of people. It was such an amazing feeling! After the program was over (and the next day at the race), a lot of people came up to introduce themselves and tell me the parts that resonated with them, and it made me so happy that I was able to have that kind of an impact. I was especially glad that I had ended my talk by asking people to come say hi to me on the course, because it meant that I was able to make all kinds of new friends as a result 🙂
Finally, to round out the program, we played a quick game of "heads or tails" for a door prize. I had never played this before, but it was really fun! Everyone put their hands on either their head or their "tail," and then the announcer at the front of the room flipped a coin. If it didn't land on your chosen side, you sat down, and thos standing remained in the game and got to choose heads or tails again. It was a really fun way to get people laughing and moving, and I loved it 🙂
But then? Early to bed, so I'd be ready to tackle 26.2 miles in the morning!