Well, apparently I didn't really learn my lesson from Yonkers, because two nights before the race found me in Dallas eating Mexican food and drinking margaritas with one of my best friends. On the plus side, I still got a decent night's sleep, and the next day (the night before the race), I took it easy and also fueled a bit better.
I flew from Dallas to Elmira (via Detroit), munching on half a bagel when I first got to DFW, a breakfast sandwich and fresh fruit on the plane, and then some crackers in the lounge at DTW. By the time I got to Corning, I had snacked so much that I didn't even want lunch! Instead, after getting an emergency tweet from Beth and heading over to her hotel to loan her my TENS unit, I enjoyed a homemade peanut butter cookie from Kara. Plenty of carbs and plenty more enjoyable than a sandwich right? 😉
But in all seriousness, I ate a great pre-race dinner, going to the small-town Yee Olde Hickory House (sic) that was next to the hotel room I shared with Steph and Fiona. Salad and dinner rolls and spaghetti and garlic bread and baked potato, oh my! I opted for plain marinara sauce (no meat), and while I sprinkled some parmesan cheese on top and also put some sour cream on my baked potato, it was pretty much as close to a high-carb/low-fat/low-protein meal as you can get. For once, I was taking my own advice! (Though let's ignore the fact that you really need to be careful what you eat for a full week before your marathon, not just the night before.) We all headed to bed super early – I was yawning into my food at dinner, and it wasn't because of the company! I was really grateful for a good night's sleep, and hoped that would set me up for a good race the next morning.
We woke up bright dark and early to the sound of rain outside – and we knew it had been raining all night, too. Checking the forecast as we got ready, we learned that it should stop before the race started, but that we'd likely hit thunderstorms about 2/3 of the way through until we hit the finish line. Not so fun, but I'd at least rather that than rain all through?
It was a pretty quick and easy drive from our hotel to the start, even though we had opted to save money and stay in the next town over (Horseheads). I'm sorry, but $269 a night for a Radisson is absurd! Instead, our cozy little Rodeway Inn was more than adequate – and in fact, we kept remarking on how it was a lot nicer than we expected. At $110/night (and split between three people), you really couldn't beat the price.
Anyway! We found easy free parking at a public lot just behind the aforementioned Radisson, and only had to walk a few blocks down Corning's Main Street to get to the buses. We headed for the back of the bus like the cool kids that we are (okay, so maybe I was the former high school nerd who insisted) and enjoyed a pretty comfortable ride to the start. We got off the bus around 7:20am, which meant we had a 40 minute wait till the start. A bit longer than I'd prefer, but what can you do? With good friends, it really didn't seem so bad.
In any case, the portapotty lines were long, so we spent most of our wait standing around people watching. We were particularly amused by one woman who had the "I'm an elite!"-looking bikini bottoms as her racing shorts, but whose body seemed fairly average and not the sinewy muscle-and-bone look we're used to seeing of marathon winners. Soon enough, it was time to head past the portapotties and uphill to the start, where I joked that since this was a point-to-point, they could get away with just starting the race on a  big hill like this and then even if the rest was flat, it would technically be "net downhill." I honestly didn't remember the course from last year that clearly, but this year, it felt like that maybe wasn't a bad guess – the course was much flatter throughout than I remembered.
At the start, we heard the announcer warn us that it was 20 degrees warmer this year than last year – yikes! Last year the weather was absolutely perfect, so that's a huge difference in temperatures as far as running goes. To make it even worse, while the weather was supposed to be dry at the start but a 40% chance of thunderstorms later, it started to drizzle in the last few minutes leading up to the gun. I decided to take a picture emulating one of my favorite movies (and in fact, I frequently get told I look like the actress when she was in Mamma Mia, though I don't really see it):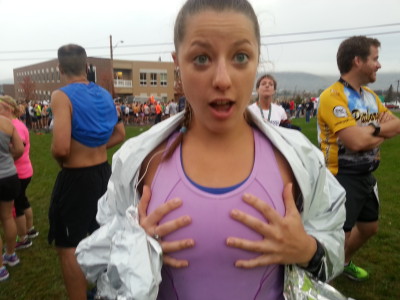 I love Mean Girls so much (it's one of my favorite movies), so taking that picture had me cracking up for a good five minutes after I made the joke. Nothing so great as being impressed by your own sense of humor, right?
But it got the race off to a good start. My friends and I all said our goodbyes at the start, planning to each run our own race, and I found myself happily bounding down the steep downhill that made up the first quarter mile of the course. From there, the road flattened out quite a bit and stayed that way for a while. I started right behind the 3:45 pace group (very optimistically), but quickly lost them around mile 2 while I stopped at a water station – and never saw them again. No matter! Although I knew I would get slower as the race went on, I was just so psyched to be easily running a sub-9 minute mile instead of struggling to hold an 11 minute mile like I had done the week before.
I did the first three miles at a sub-9 minute pace, and then started slowing down to around a 9:15 (which was around how fast I honestly hoped to run the rest of the race). There was a hill at mile 4 that I remembered from the year before, but I also remembered that it was fairly short (less than 1/4 mile) and that I would get a break to crest the hill before it got too tiring. Mile 5 passed uneventfully, and before I knew it, I was at mile 6. Ever since Chasing the Unicorn, I now break the race into four 6.5 mile quarters, so this now meant I was just about a quarter of the way done. Yippee!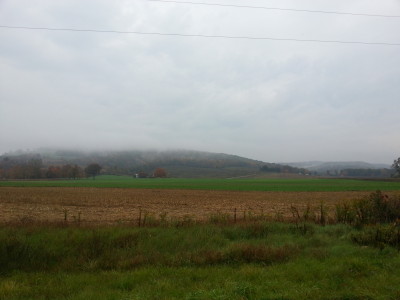 I crossed the 10K split in 56 minutes, which averaged out to a 9:04 pace so far. However, I was definitely starting to get tired, and I knew I was going to be slowing down significantly as the race progressed. I was definitely not looking at a PR, but I still hoped to come in with a reasonably quick time after being so disappointed in my showing the week before at Yonkers Marathon. At this point, I was hoping for a sub-2 first half, and then perhaps a 2:10 second half to finish under 4:10.
Mile 7, though, had a pretty long and steady incline (which I again remembered from the previous year. It wasn't terribly steep, but it did go on for a while longer than was really comfortable. I managed to persevere and make it to the top without slowing to a walk, but it was definitely exhausting to do so. In the process, the 3:55 pace group cruised up behind me, and I made small talk briefly with a few people wearing club shirts from the Albany area, where I grew up. But that group soon passed me, and by mile 8, I was once again on my own.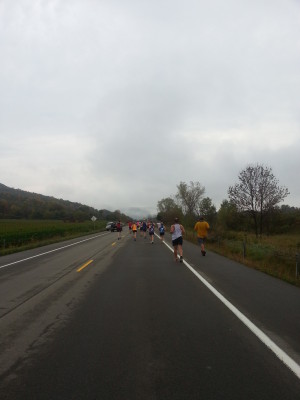 At mile 10, we passed a field where a woman and her toddler stood watching the race – until two horses came running from behind them (she shielded the child) and in the same direction as the runners. It was majestic to watch them, and when they finally got to the end of the paddock, they started dancing and playing with each other (horsing around, if you will). I paused to attempt a quick video, but forgot that if I take the video in landscape mode, I don't know how to adjust that setting before posting to Instagram. So you can check out the video if you like, but you might have to turn your monitor sideways to do so. (Hint: extra credit to whomever can tell me how to solve this going forward.)
Mile 10 was the site of the second official "viewing area" of the race (where officials encourage spectators to gather so you get one big wall of sound instead of a few people clapping), and it did not disappoint – I gave a big smile to the crowd and got some really motivating applause in return. Here, we also took a turn to cross over to the southwest side of the highway. I felt like this road was a bit less scenic than the one that we were on before, but no matter – we were less than a 5K away from the halfway point, and I was really looking forward to getting there.
I had stopped once at mile 8 to get some Vaseline to smear on my legs (to prevent chafing from the heat/sweat), and I was looking forward to getting more at the halfway point. But when I crossed the mile 13.1 chip mat (2:03 time – a bit slower than I had thought even at the 10K point), there wasn't an aid station in sight. Hmm, I could have sworn I remembered an aid station there last year? Turned out that it was just a quarter mile down the road, and I gratefully sucked down some Gu and Gatorade before proceeding to the medical tent for more Vaseline. To save time, I simply smeared the packet on one leg, and then intentionally ran with my legs super close together to spread it to the other leg in the exact spot where I'd normally chafe. What can I say, my lack of a thigh gap has its advantages 🙂
Mile 13.3 brought another viewing point (thanks for cheering, crowds!), but after turning the corner and nearing mile 14, I got hit with one of the worst attacks of a problem that had been plaguing me since the beginning of the race: bugs. Ever so often, I would find myself running through a quick cloud of tiny flies (like fruit flies?), and there was nothing to keep them from hitting my face when I did so (ew). They were tiny enough that I couldn't really see the bugs until I was already in the thick of them, but this time, one got right in my eye. I tried to get it out, but couldn't – settling for instead running with a bug clinging to one of my eyelashes somewhere. (I eventually found it in the corner of my eye and got it out… again, ew!). I had never experienced anything like this before, and it seemed to be just unlucky bad weather – Steph said she kept getting the tiny bugs sticking to her sweaty face as well. Ah, runners… we are so sexy.
But I didn't really have time to worry about bugs; I was more concerned with the nasty hill we had at mile 14. It was about as long as the hill at mile 7 (that is, around half a mile), but this one was steeper than before, and I definitely dropped down to a walk for part of it. I was getting tired, the day was getting much warmer than was really comfortable, and I was also fast losing my motivation. At the halfway point, I had rethought my plan to aim for a 2:03 first half and 2:12 or better second half (which would result in a 4:15 finish), but I now felt like a 2:12 second half was pushing it, given my lack of energy. For the next few miles, I really started slowing down and also taking more walk breaks than ever before. I wasn't in a bad mood, but I was just tired and didn't feel like pushing the pace hard. So sorry, so lazy.
At mile 18, though, I got fed up with my lazy ways. I had taken a walk break at the mile 17.5 aid station that was totally unnecessarily long – and I recognized that I was walking even though I wasn't actually out of breath or otherwise too tired to run. I realized that perhaps the problem was that I was listening to podcasts instead of to music. I like that listening to podcasts helps me to learn something and to feel like I'm being extra productive to multitask while running – but I also just don't get the same energy boost from podcasts that I do from really great music.
Having just written my Links I Love post the day before, I was still thinking about one video I had shared – of Wicked fan Sarah Horn getting called onstage at a Kristin Chenoweth to sing "For Good" as a duet. With that in my head, I set "For Good" to play on my own phone – and got a significant boost of energy as I got inspired. It only takes one moment for something to happen that changes your life, but Sarah Horn had been singing that song by herself for years with no idea that it would ever become so important. I just thought it was so amazing that she got to fulfill her dream like that – truly the luckiest girl in the world! – and it reminded me how lucky I am to get to go out and run all these marathons. If I was lucky enough to be out there running it, I ought to be out there running it – and that was enough to get me going again and bring me to mile 19.
From there, I switched to a Wicked song that actually brought tears to my eyes, in part because of the gorgeous melody and in part because the lyrics were so perfect. "Too late for second guessing / too late to go back to sleep / it's time to trust my instincts / close my eyes and leap / it's time to try defying gravity!" As I listened to the incomparable Idina Menzel, I ran through an aid station with a huge dopey grin on my face and tears of joy in my eyes – not even tempted to slow to a walk here. I thought back to my freshman year of college, when I was a theater major at NYU, and how I never in a million years would have believed anyone who told me I would someday run even one marathon – and enjoy it. I was a musical theater nerd through and through, and I hated sports – running most of all. I'm so happy with how far I have come since then, and so proud of the work I have put into making it possible. There is always more you can do (and I am the first to admit that I don't run marathons as fast as I probably could if I put more training into them), but at this point, it was enough for me just to pause and be proud of what I have done.
There was no actual pausing going on now, though – I was cruising and it felt great. I cycled back and forth between the two Wicked songs, and at some point in there crossed the 20 mile mark in a time of 3:31, not even caring that the year before I had been at mile 24 at that time. I had been worried going into the race that it might feel really demotivating when I was going to be running slower than I had been in my epic PR race on the course the year before, but now that I had hit on some musical theater songs to remind me of the huge progress I've made in the last ten years, I didn't mind it at all. Instead, I switched my music over to Songs for a New World so that I could get inspired by a whole new batch of songs. "A new world calls across the sky: time to fly!"
Mile 20 had taken us through another cheering station, and then it was up a short hill before we plunged down to circle an elementary school, grab a water break, and then circle around to some railroad tracks. We were now in the residential part of Corning, and it was comforting to know that we had reached the town where we would ultimately finish. It was here that we turned onto the Painted Post Trail (a paved running trail through a pretty green park), but also where I got some bad news – two of my friends were DNFing. After some texts back and forth, I determined that they were okay and that I should probably just keep going, but I was still rather bummed for them.
To gain some perspective, I switched over to "Hear My Song," a stunningly beautiful piece from Songs for a New World that had been the finale number of a breast cancer benefit concert I performed in while in high school, when a close friend's mother passed away from breast cancer. We had a group of sisters sing one of the key parts of this song, all of whom were breast cancer survivors, and that memory sticks out in my brain of such an amazing sign of strength and what we can survive. Not finishing a marathon is just not a big deal in the grand scheme of things… but at the same time, it also made me all the more determined to finish (in my run-dumb mind, it was now in their honor). The lyrics of a particularly upbeat part at the end: "Listen to the song that I sing / listen to the words in my heart / listen to the hope I can bring / And we'll start to grow and shine!"
I was growing and shining, and I was now less than 5K from the finish line. We passed through a little tunnel that spit us out into our final neighborhood of the race, and now the mile 24 mark was looming in front of me. I stopped for a quick pic to commemorate the occasion, reasoning that a quick selfie break would also give me the energy to really kick it when I was done.
For the next half mile, I really pushed it – even running through the mile 25 water station rather than slowing to a walk. But at this point, I also knew I needed some real classics to bring me home – so I switched my playlist to my perennial favorite, Fun. "On our darkest day / when we're miles away / Sun will come, we will find our way home!" With one mile left, I was on my way home for sure, and I remembered this part of the route very vividly from the year before.
I passed a lot of people in that final mile on Williams Street, trying to encourage others to pick it up now that we were so close. But once I turned right onto Bridge Street, I stopped cheering and focused instead on just pushing it hard. I knew that that mini hill of the bridge was going to be tough (and in fact, I did end up taking a quick walk break on it), but I wanted to finish the race not regretting my final miles – and I started running extra hard on the other side. I was feeling so great about picking up the pace in those last 8 miles, and the smile on my face was completely genuine. Maybe I hadn't PRed (far from it), but I was genuinely proud of how I had turned my attitude around in those last few miles to not only run a pretty good pace, but also have a lot of fun doing it.
Turning onto Main Street, I picked the pace up even more – but then stopped. I wanted a picture of the 26 mile mark! I slowed the pace just slightly in order to commemorate the moment before speeding through to the finish.
At this point, I was listening to "Some Nights", which is lately my favorite running song, and right when I passed the 26 mile mark was when the song transitioned from its somewhat slow ballad of an intro to the insistent drumbeat that makes it such a powerhouse. Inspired by the song, I tried to match my feet to the drumbeats – a blazing 112bpms (so I was essentially trying to run at a 224 steps per minute cadence vs the 180-200 steps per minute top runners use). Let me tell you, that didn't last very long! But I wasn't going to slow to a walk now to recover. I just slowed it down to a more normal sprint (rhythm be damned), and then as the finish line drew closer, kicked it even harder to carry me all the way across the line. I did it!
Every race, I remember something about it very clearly – and here, it's how hard I kicked it in that last quarter mile. (Well, that or the also very memorable fact that we hit a deer while driving home and turned our 4 hour drive into a 10 hour expedition including time we thought we were going to get raped in the woods and time we spent trying to avoid emotionally eating all the goodies in the truck stop where we eventually settled to wait for help.) Perhaps my finish time wasn't what it had been the year before, but I was so relieved that I had finished the race smiling and having had a much better experience than my misery in Yonkers the week before. A "great marathon" to me isn't always the one where I have the fastest finish time; it's the one where I genuinely enjoy myself and am so grateful that I get to go out and run in so many wonderful races and with so many wonderful friends. At Wineglass Marathon, I got exactly that – and I also got a wineglass and a split of champagne to toast the occasion later 🙂
Race stats:
Distance: 26.2 miles
Time: 4:18:36
Pace: 9:52/mile
Overall place: 835/1682
Gender place: 370/917
Personal marathon rank: 83rd fastest out of 96 run