Friday was my company's annual promotion day, where all the promotions for the year are announced, and we celebrate. This year, we were still obviously not doing an in-person celebration, but our local office arranged for a magician to perform on Zoom (and he was phenomenal, – I wasn't expecting much over Zoom, but it was awesome!), and the national organization arranged for Keith Urban to perform. I haven't really listened to much Keith Urban in a while, but I got really into it, singing and dancing in front of my laptop screen 🙂 Now I want to go to a Keith Urban concert in person!
Meanwhile, while some additional promotion day festivities were going on, I packed up my car and Sadie Bug and headed up to the mountains. My night was a quiet one, catching up on a bunch of emails once I got in, and while I didn't get to bed quite as early as I wanted, I was still asleep by 10pm.
On Saturday, I woke up at 6am, and had a bit of a slow start to the morning. The forecast had been for thunderstorms, but now as I checked again, it looked like those wouldn't be till the afternoon and there might just be a bit of rain in the morning. Much better, at least for the hike I had planned! I messed around on my phone for a while trying to find a good weather radar app to download, and was really unimpressed with everything I found. If anyone knows one, let me know! But finally, I got out of bed and started getting myself and Sadie ready to hike.
I decided that since I was starting late and also wanted to finish quickly, I would do Meadow Mountain near my house, instead of heading over to East Vail to do Deluge Lake like I had originally planned. That would save me some driving time, and it also meant that if the rain made us turn back, we'd be that much closer to home. Of course, as soon as I stepped out the door, I realized it was already actually raining a little bit… oops! But it wasn't bad – more like a mist than a true rain, and I decided I was fine with it.
Sadie and I drove over to the trailhead (it was only a mile away, but I thought I'd save the road running time and just start right on the trail). We saw several rangers in the parking lot getting ready to do some kind of training, but there didn't seem to be any other hikers on the trail. In fact, we didn't spot anyone until halfway through, when we were at the Line Shack!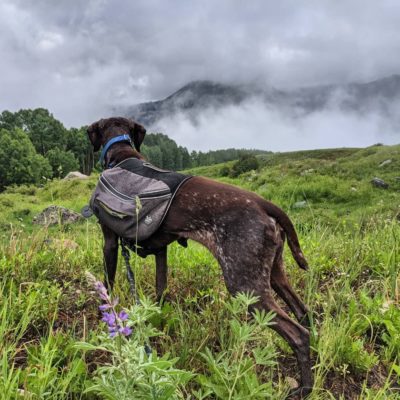 The misty morning was actually quite pretty, and while I started out listening to some country music, I quickly switched over to podcasts, which are my go-to for hiking. I know she's gotten a lot of flack recently, but I do really enjoy the Rachel Hollis podcast, which I just started listening to about two years ago. As with most podcasts, I've been listening to it in chronological order, and I finally only have five or six left to get fully caught up! As for the controversy around her, I never believe that any internet celebrity is completely authentic, so I don't care all that much if her online persona is fake and she's covering up what's really going on behind the scenes (i.e., I don't care that she got divorced after teaching how to have a happy marriage). What I care about is whether someone's content makes me think and become a better person… and I usually get good ideas and inspiration listening to the Rachel Hollis Show. So I'll keep listening!
The rain stopped after a few miles, and Sadie and I were making a pretty good 20 minute per mile pace up the mountain, even though we were just hiking and not running at all. And about three miles in, the clouds started to lift and we got to see the beautiful blue Colorado sky! By the time we got up to the Line Shack (the peak of this route), it was a really gorgeous day, and I was kind of regretting not bringing my sunglasses, which I had left in the car at the last moment. I should know not to make that mistake again – the Colorado weather can be so mercurial!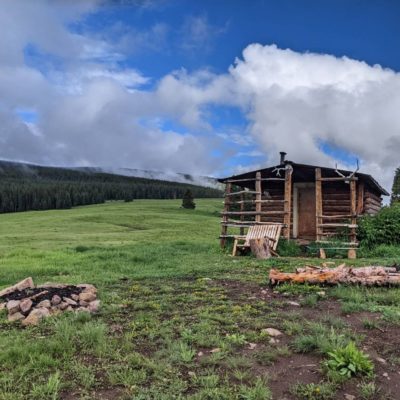 Sadie and I went in and explored the Line Shack a little bit, which reminded me as always that this would be super fun to hike to with a bunch of friends and then camp and stay here. I wished I had asked the rangers at the start whether that was allowed or possible!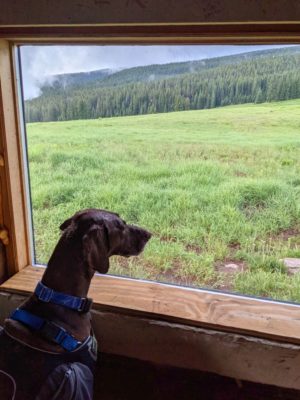 Then after a few more pictures at the top, we headed out the gate to Whiskey Creek for the downhill section of the loop. We saw another trail runner coming up Whiskey Creek right before we went through the gate, but he was the only person we saw until the very last mile. I love the solitude of quiet mountain trails!
I was delighted to find that running with Sadie on the downhill trail was actually quite pleasant – we were able to keep a pretty good pace, and she wasn't pulling too much, except when she got excited about things she found in the brush. In this section, I texted a bit with one of my coworkers, Emily, making plans to perhaps go do a 14er together on July 6th, since it's a company holiday for us (thanks, PwC!). I've been reluctant to hike 14ers since I struggle so much at high altitude, but maybe being here in Colorado for a year without traveling will help? Certainly no better time to try!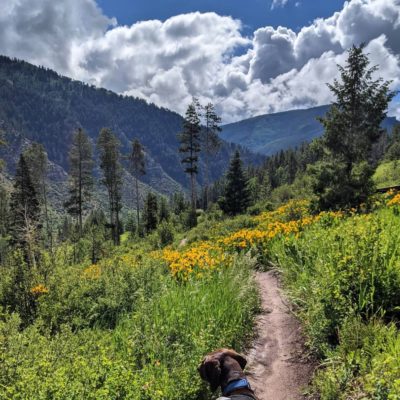 Sadie and I ended up finishing the loop in just under three hours, which I was thrilled about, and I thought we had a lovely time. However, when we got to the car, Sadie started chewing at her harness, and I realized it was wet and irritating her. Between the rain in the beginning of the hike, plus the fact that Sadie kept diving into the grass and foliage on the side of the trail, she was soaked to she skin pretty much the whole time. I stupidly didn't think about that at the time, but it had definitely caused some chafing. I didn't realize it at the time, but later I realized the chafing was actually pretty intense – it rubbed off a good chunk of her fur, and also caused some serious tenderness. Poor baby 🙁 We will not be hiking with this harness anymore!
Although I had grand plans to do some Peloton strength classes when I got home, I ended up lounging around for a while after I got Sadie and I cleaned up, and then popping over to Home Depot and Walmart for a few errands. I chatted on the phone with my friend Heather while I was running my errands, and while I had initially been really undecided about what to get for lunch, I ended up picking up a frozen cauliflower mac and cheese meal to pair with a salad. Although the picture on the box looked promising, it ended up not being great – now I know! By the time I got home, had lunch, and chatted with a few friends, it was time for me to hurry up and get ready for my big event of the weekend: the Vail Beer Festival!
The weather was starting to clear, and it looked like maybe it wouldn't be thunderstorming the whole time (yay), but I still needed to dress for bad weather. I ended up throwing a poncho and an umbrella in my purse, and also wearing a few layers, since I remembered how cold it had been two years before. Finally, I settled Sadie in in her favorite chair, called an Uber, and headed over to Ford Park Sculpture Garden for the event. I got there just a minute or two before my friend Joe, and he was quickly followed by my friends Kelly, Den, Heather, and Kirk. The gang was all there, and I was psyched for the tasting!
Perhaps because I had been running Whiskey Creek that morning, I had been oddly craving whiskey all day, so I started my tasting with a bourbon cocktail at the Bulleit booth instead of a traditional beer. I was surprised how many liquor and spirits options there were rather than just beer, but I was pretty happy about it! The whiskey cocktail was great, and the beer was delicious as well. I tried a bunch of new-to-me beers, chatted with a lot of the brewers, and even scored a few coupons for free beer at various breweries if I decided to go visit after. I also met a couple who had their two Weimaraners with them, and we exchanged numbers to potentially introduce our dogs to each other and also maybe have a built-in pet sitter when we want to travel. I love how friendly everyone in Colorado is!
Finally, the festival ended at 5pm, and we all headed out pretty quickly. We ended up deciding to go to Heather and Kirk's house for dinner, so after picking up Sadie and grabbing some cheese and crackers to bring, Joe and I headed over there. It was a lovely evening with great friends (though of course I ate far too much cheese and crackers🤦‍♀️, and then Heather and Kirk made a pork dish for dinner that was fantastic, along with a side of mac and cheese. It was definitely a mac and cheese kind of day, but this kind was way better than what I had this afternoon! At the end of the night, Sadie was falling asleep like crazy, and I probably wasn't far behind, so I finally called it a night – and Sadie and I were home and in bed by 10:30.
I woke up somewhat tired from the beer festival, but more feeling sorry for poor Sadie as I realized the full extent of her harness injuries. The night before, she had cried when one of my friends accidentally touched her chest, and she was definitely in pain when we woke up on Sunday. There was nothing oozing or bleeding, but she couldn't tolerate even the lightest touch on her fur, and she was also exhausted. I felt awful that I had let this happen to her! Seeing that, I decided we definitely wouldn't go for another hike, and I also wouldn't torture her by hiking and leaving her behind; instead, I packed us both up to head home.
We made it home by 9am, with no traffic and beautiful views, and I told myself that I would get some solid indoor workouts in instead. I spent half the drive home planning what those workouts might be (various Peloton classes), but when I got home, I didn't feel like working out at all. I am really terrible about working out if it's not first thing in the morning!
When we got home, Sadie got out of the car and stood in the kitchen, but then didn't move and just kept staring at me as I unpacked. She clearly didn't want to move around too much, and I felt terrible for her! I made her put on a t-shirt, to stop her from licking her wounds, since I read online that they really needed to dry out. She hated the t-shirt, and I think it limited her mobility even further, but it was necessary. My poor little girl barely moved all day! Thanks to the Fi collar I got for her, I could even see that she clocked not even 1800 steps for the day, where she normally gets in 30-50,000. Ugh, I felt awful 😢😢😢 Meanwhile, for my part, I made it a true rest day as well – not really getting much done except a few chores in the afternoon.
But in the evening I met up with my friend Jeremy for dinner. We decided to go to a Japanese place in Boulder, Osaka's, which was famous for their okonomiyaki burgers. (Jeremy used to work in Boulder, so he had been to this place a bunch of times, but had never gotten the burger.) When we got there, though, the rest of their menu looks absolutely awesome, and I found myself really torn. We finally got the best of both worlds by splitting a burger to share an appetizer, then Jeremy got teppanyaki and I got ramen as my main course. All of it was excellent, and the atmosphere was awesome, but there was also a truly exceptional part of this place: a really neat little electronic device for service.
It was basically a four-sided die with symbols for water, check, order, drinks. When you turned the die to put the corresponding side face up, the electronic wristbands of all the servers would buzz to let them know what you needed, and someone would come right over. It was such a cool way to handle service, and I wish more restaurants had a system like this!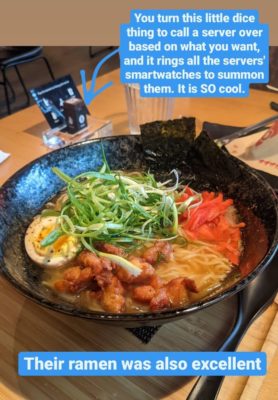 As I said, the meal was delicious, but it was also made even better by Jeremy sharing stories of his recent trip to iceland. He was there for two weeks and took the most phenomenal pictures on his trip. While normally, everyone hates looking at hours of travel photos from someone else's trip (right?!), I was completely enthralled, especially when Jeremy told me he kept thinking about how much I'd love running there, on the Ring Road. I looked up how long the Ring Road is, and it's 828 miles… but I also found a story about a guy who ran it in 27 days, which sounded pretty amazing and made me want to do something a little bit similar. That is, I don't think I would want to try to run it in 27 days, since that would be 25 to 30 miles a day. But two months sounds fairly doable? I left dinner thinking that maybe I've finally found what I want to do with the 30-day sabbatical from work that I've been sitting on for several years!
After dinner, Jeremy and I went to Trader Joe's for a bit, and had fun browsing around until we each had a whole basket of goodies. I picked up some limited edition key lime popcorn, which sounds terrible, but was actually…. terribly addictive, as I discovered sitting in Jeremy's car eating handfuls of it while I looked at more photos from Iceland. When I finally went home, I definitely stayed up far too late researching not just running in Iceland, but also various picturesque trail runs all over the world. I don't know why it hasn't occurred to me to travel to incredible places and run, particularly since years ago my thing was all about traveling to run marathons! But now I think I've caught the bug, and I really want to plan some trips for later this year. Stay tuned…