This is a catch up post, but includes all six books I read in June 2021.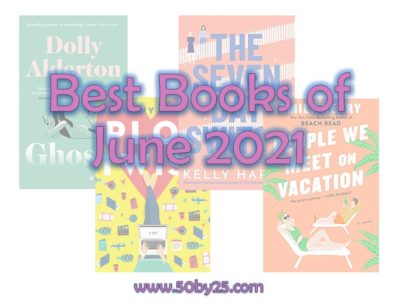 4 stars:
Ghosts, by Dolly Alderton: I really enjoyed this book, which had a lot of smart insights about relationships and life. Nina is a successful food writer in her 30s, who is also single – but it seems like things are on the upswing when she meets Max and on their first date, he declares he's going to marry her. But then he suddenly and inexplicably ghosts her right after they both say "I love you." The book as a whole explores how relationships change (dating, friendships, and family), and I really liked how it alternated between an interesting story and keen observations on society – I had a lot of highlights in this! However, it was also a bit depressing, and for a fiction novel, I wanted things tied up a bit more neatly with a bow at the end.
Plot Twists, by Bethany Turner: Olivia Ross in aspiring screenwriter; when she crosses paths with an adorable aspiring actor at a coffee shop on February 4th, 2003, they make a deal that in ten years, they'll meet back at the same spot – her with a finished script, and him to play the leading man. However, February 4th turns out to be an auspicious day each year, and the book profiles what happens each February 4th until the big day in 2013. I thought it was really cute, and I liked how we kept seeing short snippets of how the characters evolved over the years, but I had to set aside the age Olivia was supposed to be – I think it would have made much more sense if she started as a young (and dumb / naive) 25 or so, then ended being 35. The true timeline, from age 30 to 40, made Olivia seem very immature.
The Seven Day Switch, by Kelly Harms: This was like Freaky Friday, but instead of a mom and daughter switching places, it's two moms who are polar opposites: the down home stay-at-home mom and the uptight career woman. I thought this was a lot of fun to see their different perspectives, and I was kept guessing until the end exactly how it would work – plus what I wanted to happen, since my perspective on that changed. Very well done.
People We Meet On Vacation, by Emily Henry: Poppy and Alex became best friends in college, and have sustained their friendship through annual summer trips each year. But two years ago, they had a falling out, and haven't spoken since… until Poppy decides to text Alex and try to get another summer trip going. Although it was a compelling story that made me want to prioritize reading, I found that it slowed down quite a bit toward the end, and I was frustrated that Poppy and Alex couldn't seem to be honest with each other. Also, while at the beginning it was interesting to wonder what happened in Croatia (to break up their friendship), the longer it was referred to by the characters but kept secret from the reader, the more artificially tantalizing it became, and I found it irritating that we had to keep waiting to find out what had happened in the past. However, I still enjoyed it overall – a sweet story, and very well-written.
3 stars:
Set Boundaries, Find Peace: A Guide to Reclaiming Yourself, by Nedra Glover Tawwab: This was a great guide to setting boundaries in order to have better relationships; however, I found it very repetitive. It certainly served a good reminder to set boundaries, and had some solid sample scripts for how to do so, but I would suggest finding the sections you're most interested in (e.g., workplace, romantic relationships, parenting) and just reading those sections rather than slogging through the whole thing.
The One You're With, by Lauren Denton: I was so up and down on this book. Edie and Mac are high school sweethearts who have now been married for 16 years; however, they broke up for three months one summer in college. Their happy marriage is suddenly disrupted by the arrival of an 18 year old girl who turns out to be Mac's daughter, conceived that one summer that Mac and Edie had broken up. The story goes back and forth between the events of that summer and the present day, from both Mac's and Edie's perspectives, and it was one of those dual timeline novels that worked really well. Until now, Mac had no idea of his daughter's existence, so I was really disappointed that his heartfelt summer romance was treated as blatant infidelity and something he had done wrong – by Mac, by Edie, and seemingly everyone in their town. In the famous words of Friends, they "were on a break!" I was incredibly irritated by so many of the characters, but even as I was frustrated, I found myself wanting to keep reading to see what happens. So… 3.5 stars?
---
Any book recommendations for me? Follow me here on Goodreads to keep up with what I'm reading in real time.