Once again, this post will be a little longer than a weekend recap. Although we just had a long weekend because of Thanksgiving, I took Wednesday through Friday off this past week again – this time, to attend training to become a ski instructor at Beaver Creek!
Last winter, I went on a few dates with a guy who ran a really successful business, but also became a part time ski instructor at Beaver Creek. He talked it up a lot, and encouraged me to check it out myself. It sounded like fun, but I don't know that I really took it too seriously. However, fast forward to this summer, when Vail Resorts announced they'd be requiring reservations to ski, and that season passholders would only get a limited number of guaranteed reservations; meanwhile, employees would not have to worry about capacity limits. That was what pushed me over the edge to at least interview. When I passed the interview and got offered the job, I still wasn't sure if being a ski instructor would be safe from a COVID perspective, but I decided to at least accept and then see what happened. In the back of my mind, I hadn't 100% committed… until this week, when it was time for training. So… here we go?
I headed out to the mountains on Tuesday night after the work day, taking a few more calls on the drive out, and then worked late into the night, since I'd then be off work the next few days. It's ironic, isn't it, how the only way to take a vacation is to stress yourself out working harder before and after?! Luckily, I really love the work I am doing right now (selling a health check / automatic contact tracing product to help keep employees safe from COVID19 when they are working), and also the people I'm working with, so I genuinely don't mind doing work even on my days off 🙂
On Wednesday, though, after a few hours of work in the morning, I set my real job aside, and headed to Beaver Creek. I spent all night dreaming about becoming a ski instructor, and I woke up really excited. On my first day, I spent the morning dealing with employee paperwork, and it wasn't until afternoon that my training group got out on the snow. My first ski day of the year!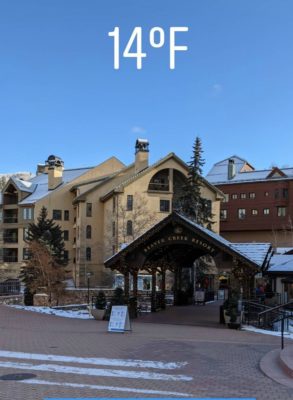 The first day of training wasn't so much of a train-the-trainer as it was giving us our own private lesson, so we could understand what a good lesson was supposed to be like. I learned a lot about my own skiing technique, but was definitely left with a lot of logistical questions about how the season would work. I was definitely anxious to learn more!
I wrapped up ski training at 4pm, and then after a quick grocery stop to stock up my mountain house fridge, headed back home to cook dinner and settle back in with my laptop for a lot more consulting work. I was a little frustrated that I wanted to relax and unwind from the day but had a lot of urgent things crop up, but c'est la vie! That's what I get for trying to do two jobs at once. (Three if you count my government job.)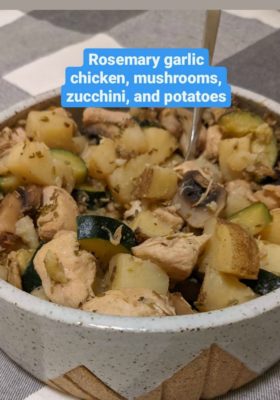 The next morning was really busy, but really good! I woke up at 3:30am and couldn't get back to sleep, which sucked. But, after reading in bed for a while, I got up to do a few Peloton core and arms classes, and then jumped on my 7am work calls. I was glad I hadn't skipped my 7:30am call – I got a big standing ovation from my team for a deal I had sold! However, I had to race to get from there to the mountain on time.
Day 2 of training was broke up really nicely – in the morning we went up to the top of the mountain (BC has a lot of their beginner terrain at the top), and learned a progression for beginner skiers. And in the afternoon, in addition to some other training, we went for our uniform fittings! I was incredibly proud to get to put on the signature blue Beaver Creek ski instructor uniform, and can't wait until I get my own to wear.
Thursday afternoon, I also got to practice teaching my first class (to the rest of my group), and I was thrilled to get great feedback from the instructor and the rest of the class on my presentation style. It's really hard to be dynamic (and also understood) with several layers of masks on while teaching. Ski instructors (and anyone in ski school) must wear their masks over their mouths and noses at all times, with no exceptions, and I am really glad for this rule. If it weren't for all the precautions that Vail Resorts is taking, there is no way I would do this job. But, it does make it challenging to figure out how to teach around a mask (and with tons of winter gear on everyone's heads that already inhibit hearing).
My Friday went like Thursday, though at least I woke up at a more normal time! My morning was a bit hectic, but I managed to squeeze in a ten minute core class before I headed to the mountain. The day of training was great; I learned a ton, and left in a fabulous mood. However, when I called my mom on the way home to relax, I learned that Sadie was acting strange and my mom was worried that she was injured – which got me totally stressed out and upset. She wouldn't jump up on either the couch or her favorite chair, and it seemed like something about her leg was bothering her. My poor baby! And since I didn't find out earlier, it was now too late to reach a vet and see if we could get her in first thing Saturday morning. The rest of my Friday night was unfortunately consumed with making a plan to get Sadie Bug taken care of 🙁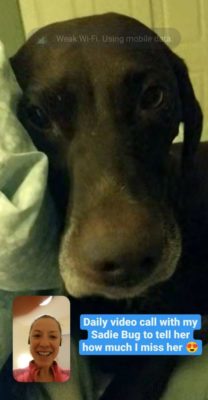 But Saturday made it better! I started the day with a good stack of Peloton workouts – including an awesome weighted core class, a 10 minute arms class, and a 20 minute yoga class. That was a wonderful way to start the day! Then I headed to the mountain and had a fun morning learning to ski backward and also do "whirlybirds" (where you spin all the way around while heading down the hill).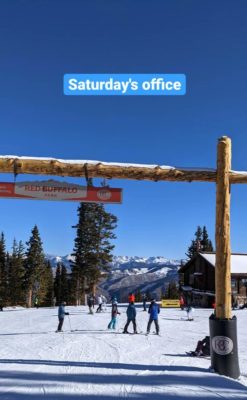 Meanwhile, I was monitoring texts from my mom, and after speaking with a vet, determined that we'd let Sadie rest for a day or two and see if it got better, as her injury didn't seem to be too acute and was actually getting better. What a relief!
That evening, I doubled down with a 30 minute yoga class to make up for skipping it several days, which helped me start getting back on track for the #PeloYoga Bingo Charity Challenge I'm doing. My bingo board is pretty darn empty right now; I need to start making up for that!
Post-yoga, I treated myself to a delicious Saturday night dinner of crab fried rice, and settled in bed early to read. I ended up staying up till midnight to read the second book in the Caraval series – not quite as good as the first one, but still a page turner! It took me till midnight to wrap that, and then I ended up unable to sleep after (unrelated to the book)… oops. But only one more day of ski training and then I'd be heading home!
On Sunday, I didn't wake up with enough time to do much of a workout, but I did at least do my 10 minute core class. Things were pretty swamped on Sunday morning trying to pack up to head home straight from the mountain, but I got lucky with traffic and still made it to BC on time – whew! We spent Sunday learning  / practicing our level 3 and 4 lessons, which included how to teach people to get on the chairlift. I am a little nervous about teaching that, since I've been doing it for so long that it seems automatic to me! But after teaching it to a few groups, I realized that it's not that hard to teach; it's rather intuitive, and the lifties are there to help as well.
After training, I met up with a fellow instructor to buy her old skis for myself to use as teaching skis (we were advised that students will often run over your skis and such, so don't use your good ones!), and then drove home, listening to music and catching up on the phone with a few friends on the way.
While I had been planning to spend Sunday night with Mom decorating the Christmas tree and trying to have a bit of holiday magic, I got home really exhausted – so we instead just curled up on the couch to watch the Great British Bakeoff and then go to bed early. I was so glad to be home with my mom and Sadie! Training had been fun, but also tiring – and it was nice to be back with my girls 🙂
Although I'm super excited about becoming a ski instructor (and I'm now halfway done with training!), I can see it's going to be hard to be away from my mom and Sadie whenever I go to the mountains. However, this was the longest I'll have to be gone in one stretch; hopefully going for one or two nights at a time won't be as hard.