I was soooooooo eager for the long weekend after a particularly tough week at work! Monday kicked off with an all-day video call for me to do performance reviews. These are always difficult (so many talented staff and not enough promotions / top ratings / bonuses to go around!), but sitting on a video call for fourteen hours straight was just brutal. At one point, around the twelve hour mark, I could see that literally every single person on the call had their head in their hands. Unfortunately, even when we wrapped up at 9pm, I didn't get a good night's sleep – I had another 7 hour video call starting at 6am my time, so I had to get up extra early to walk Sugar beforehand, and the sleep I did get was filled with nightmares about the performance reviews. Thursday couldn't come soon enough!
Thursday night, my work wrapped up with a live music happy hour (one of the partners has been hiring musicians to come play for us and take requests for cover songs every other week), and while it was going, I cooked a bit – throwing together a tomato and cucumber salad, and baking this sweet potato cornbread by Budget Bytes. I left the happy hour a little bit early, dishes in the car, to head down to Highlands Ranch for dinner with two of my closest friends, Kirk and Heather.
It was a lovely night, and Kirk made this cocoa encrusted pork tenderloin on the grill. It was to die for! We sat outside on the patio, and with the two of them already confirmed as having COVID19 earlier in the year, I felt really comfortable dining with them. It was amazing to get to see good friends again, and especially to share a meal without masks on!! This felt like things were finally the way they used to be, though I know it will be a very long time before we're truly back to normal.
The next morning, I was thrilled to have the day off work. Thank you so much to my wonderful company for granting us a four day holiday weekend! I wanted to take advantage of the fact that most people were still working, so Sugar and I hopped into the car and headed to Green Mountain – one of my favorite local hikes, but also one that's normally pretty crowded, so I haven't wanted to go on a weekend. I figured a weekday when most people were working would be just perfect…
… and I was right! We did pass a few people, but for the most part, the trail was pretty quiet. I took a client call about halfway up (part of why I picked this hike was I knew I'd have service the whole way), but finished just before we hit the summit. And after a couple and their dog left, I had the summit all to myself! It was lovely.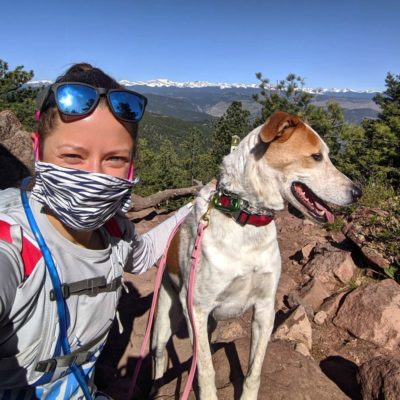 I decided to take the long way home (West Ridge / Ranger / Gregory Canyon), since I knew the trail was a little bit wider and I wanted to avoid having to narrowly pass people on the way we had come up. This is definitely the long way to go, and it's pretty unshaded – there is a reason I don't normally go this route! I definitely had a few moments of "how much farther do we have to go?", but finally, we came into Gregory Canyon and from there it was only a few minutes to the end. Hiking success!
We made a quick stop at the grocery on the way home, and then I finally got home to eat. And man, I was starving and tired! We spent the rest of the day laying low, with Sugar conking out hard and me curling up on the couch with a book.
I was glad I had gotten that hard workout in, though, because on Saturday, it was time to start resting up for the virtual Bolder Boulder I'd be running on Monday. Sugar and I went for a VERY short run, and then when we got home, I caught up on some Peloton upper body workouts. I've been doing the Olivia's Team Strength Challenge – a different ten minute workout by Olivia every day. I've been pleasantly surprised how much ten minutes a day can make a difference to strength! But I will confess I haven't been great about doing ten minutes every day; I seem to keep missing a day here or there and then catching up. I know this sounds silly, but I was proud of myself for catching up on Saturday – I find that when I need to do multiple classes, it's easy to quit after one or two, so it's daunting to do a bunch. On Saturday, though, I learned that when the classes are ten minutes, it's actually pretty easy to tell myself "just one more" and know that it won't be that long. Ten minute classes for the win!
After my workout, I hustled to do my grocery shopping for the week, then got back to have my good friend Heather over for coffee on the deck. It was so wonderful to see her! Heather has been sheltering in place alone, as well, and the two of us were thrilled to get to see each other in person.
The night ended in my now-usual low-key weekend way: some chores in the afternoon, and then lots of reading and a bit of cooking. That set the tone for Sunday, when I planned to really rest as much as possible. And to kick off my day of sloth, I started the day baking blueberry vanilla scones for breakfast. Now this is a fun way to carb load! I still haven't tried baking bread (and honestly don't have much interest), but I am enjoying baking something special on weekend mornings when I have a little more time.
The weather report had been for cold, rain, and storms all day, which I was counting on to help me feel good about a rest day. However, first thing in the morning, it was actually quite beautiful out, and Sugar was none too happy that I wasn't taking her on her daily morning run!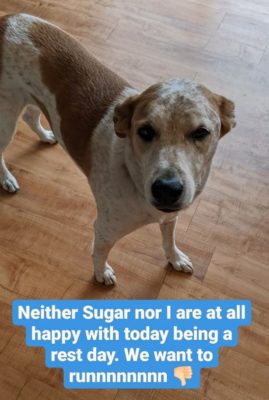 But I made it up to Sugar for not running, by letting her snuggle on the couch with me while I read the day away. She's learned very well that she's not allowed on the couches, but I'm hoping she's smart enough to understand that the new rule is she's only allowed on the couch when she's invited and I put her special dog blanket down. Time will tell!
In the evening, I undertook another hobby that's become a weekly habit – virtual cooking class with the Mammoth Track Club! 10K PanAm Games silver medalist Reid Buchanan shared his recipe for chicken tikka masala and homemade naan; I lightened up the naan a bit by cooking it in my new air fryer rather than in a pan of oil, and that all made the perfect pre-race meal! I hoped a little bit of Reid's speed would rub off on me for the Bolder Boulder 🙂
Full race report still in progress, but Monday was definitely a running-filled day… followed by a lot more lounging around. That was the general theme of this weekend, for sure, but it felt nice to do that with how hard I've been working out lately! And it definitely paid off for the virtual Bolder Boulder, too… more to come on that this week 🙂