Wow, I can't believe it's been a whole month of quarantine! I've gone to the grocery store a few times (generally once a week), but haven't seen a single human I know in a month, which is crazy. It's been just me and Sesame, and on the bright side, we are settling into quarantine life.
After a long day of work, I was excited to have a fun evening activity – a Zoom happy hour with a few of my neighbors! I have been pretty stressed about a lot of town stuff (namely, the rest of my Town Board ignoring / refusing my persistent requests to have a discussion on COVID19 and our response to it), and it felt wonderful to catch up with friends who are involved in town politics. I have honestly been wondering if I'm crazy / stupid for making this request given the negative response to it, so it was nice to have a back and forth conversation explaining my thoughts and get a lot of support for my opinions.
By the time our Zoom hangout ended, I didn't much feel like cooking. My good friend Heather had posted pics of the wings and pizza she and her husband ordered for dinner the night before. I keep having random pizza cravings, and I actually have three frozen pizzas in my freezer, but even though I'm totally willing to splurge on some pizza (compared to the mostly-healthy meals I've been eating), I haven't wanted to get a whole pizza out when it's just me here. Too tempting to eat way more than I should! But I decided to do a healthy riff on her wings, making a buffalo chicken salad for dinner. It was delicious! If you can find it in stores, I love this Bolthouse Blue Cheese Yogurt Dressing– nice and tangy, but still very low in calories. I closed the night out with some reading – that is definitely one of the activities I've really been loving on weekends, and it's a treat on Friday nights to wrap up work and know I'll have plenty of time for it.
The next morning, I started my day with a long, slow sidewalk run with Sesame. Although I have my normal routes around the neighborhood, today I meandered around trying to take some new loops and detours that would add mileage. It was a gorgeous day and I kind of wanted to run forever! For the first time, Sesame and I went up and around the Yarrow street loop that I knew would add a mile (and a bit of incline), and I was pleasantly surprised to find we didn't run into any other dogs in this part! We finished our jog in 53:29 for 5.5 miles, averaging a 9:53 pace. I was pretty happy with that! I always let Sesame set the pace on our runs (which also gives me an excuse to pretend like I haven't gotten slower, ha), and I'm pleased that she's becoming more and more focused on running at a steady pace rather than getting distracted by bunnies / birds / other dogs.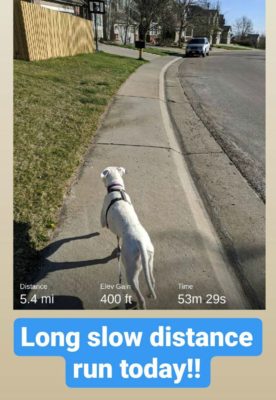 After that long run, though, Sesame was wiped out! While I made coffee and toasted the blueberry banana baked oatmeal I had made the day before, Sesame fell asleep on my feet in the kitchen. What a sweetheart! After we both had our breakfast, before I changed out of my gym clothes, I headed out to the backyard. As I mentioned, it was an absolutely beautiful spring day, but I knew that snow was coming the next morning, so this was my only chance this weekend to get some yardwork in.
I cleaned up all the dog doo I could find, then broke out the dethatching machine to try to get the dead grass out of my lawn. Sesame stayed unhappily inside, but once I was done with the electric dethatcher, I let her come join me while I raked up all the thatch. She loves being with me, but she just wanted to sleep in the grass at my feet! Someone was tired from that long run 🙂 Meanwhile, I filled an entire trash can with dead grass, and was pretty proud of my handiwork by the time I too was exhausted and done. I did a few more chores inside, and caught up with my friend Heather on the phone while I folded laundry, then it was time for a shower! Finally.
After cleaning up and having lunch (I've been making this healthy pad thai sauce a lot, adding a tablespoon of peanut butter and using it to stir fry veggies rather than with noodles), I took a bit of downtime in the afternoon to not be productive, which was lovely. (Well, not too unproductive… I still got a few things done around the house.)
Before I knew it, the afternoon was gone, and it was time for my weekly game night with some of my friends. Once again, we played Scattergories online, and it was a ton of fun! I rounded out my night making this chicken parmesan meatball recipe, which came out really delicious. Budget Bytes and Little Spice Jar have definitely become my go-to cooking blogs of quarantine; I don't think I've ever had one of their recipes come out poorly.
The next morning… it was Easter! But what an Easter – it blew in snowy and cold. I bundled up myself and Sesame, and we headed out to the trails. It was snowing hard, and I wished I had my sunglasses – not to shield my eyes from sun (it was a gray morning), but to keep the snow from blowing into my eyes! Unsurprisingly, we were the only ones out on the trails, and our usual "short" three mile loop took us 75 minutes due to all the postholing through the snow.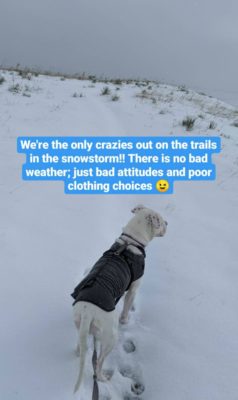 I was hustling to get us back in time for 9am Easter services, which I had arranged to watch online with my family. But I hadn't been able to reach my dad in two days (he was fine; just not responsive) to confirm, and my mom called a few minutes before to ask if we could switch to the later service instead. So, that meant I had time to make my special Easter treat of carrot cake baked oatmeal, and do a workout before church rather than after.
I decided to try the previous Sunday (4/5)'s iteration of Ally Love's "Sunday with Love" spin class. I understood this series to be Christian in music and message, and I figured Easter would be a nice time to try that. However, it turned out to be regular pop music throughout the class, and the message also wasn't very spiritual. Ally started the class by telling us that the theme would be "hope" (I take it she picks a theme each week?) and she asked other instructors for quotes about hope to share. There were a lot of good ones I wrote down:
Olivia: "Hope is being able to visualize light at the end of the tunnel even before you can see it."

Robin: "If I can see the sky, there's still hope."

Becs: "Hope is a moment in time where you allow your heart to float forward to a moment of fulfillment."

Aditi: "Refuse to fall down. If you can't refuse to fall down, refuse to stay down. No one can keep you from lifting your heart toward heaven. The one who says nothing good can come of this is not listening." (That one was actually a much longer paragraph, but those were the parts I really liked / wrote down.)
Even with those positive messages, I didn't love the class itself, which felt a bit easy. I was also rather disappointed it wasn't Christian music! The pop was good, but I had specifically chosen to do this on Easter Sunday thinking it would be a very Christian class. I would still try Sundays with Love again in the future – I am just curious whether it's always more of a "regular" class like this or if it's usually more spiritual. (Either is fine with me, but I'd like to know what to expect so I can choose when to take it based on my mood.) If you know, let me know in the comments!
I really didn't feel like doing a strength class afterward, but forced myself to do so – and did Jess Sims' 15 minute chest and back from 3/11. Solid class that was very efficient – we did pushups, chest presses, rows, rear flyes. I was glad I made myself do it!
I loved my breakfast after class, and by the time I was going to take two with watching church with my parents live, I had also gotten my good friend Heather to join us. I was so glad she did join – both because Heather is one of my best friends, and also because my dad no-showed and my mom couldn't get her phone working to watch with us. I ended up in tears on the phone with Heather after the service, and we had a really good heart-to-heart about family disappointments. Heather emphasized that it meant so much to her that I invited her to join, because she considers me like family – and that was probably the best thing she could have said to me. Friends are your chosen family!
I knew my expectations were probably set too high to try to watch church remotely with my parents, but I was still bitterly disappointed that I had been looking forward to it all week and trying my best make it work. I had told a few coworkers the day before that I had my doubts whether my parents could get the technology to work (I had sent it to them a week ahead of time to try to troubleshoot), but it still was a huge letdown for me when it didn't happen. Petty, I know! But in normal years, I so look forward to hosting friends and family for my annual Easter brunch, and this was my best attempt to try to replicate that while alone. When it didn't work out, it made me feel like even my best efforts can't fix the fact that I'm alone and isolated in lockdown… and that was really depressing.
Remembering how sad I was the previous weekend when I wasted most of the day, I tried to keep busy to take my mind off things. I didn't end up cheering up and getting into a good mood, but I was at least able to hold it together and not be a totally depressed mess. I spent the rest of the day reminding myself that it was okay to be sad – nothing about this lockdown is ideal, and there are going to be ups and downs. How lucky am I that I'm pretty happy and positive six days a week, and it's only once a week that I get sad?? I also took comfort in reminding myself that the day was almost done, and I'd surely wake up in a better mood the next morning.
I count myself really lucky to have friends to cheer me up. There was Heather in the morning; then in the afternoon, a Zoom hangout with my friends Cathryn and Elisabeth. And in the evening, my other good friend Heather and her husband Kirk each texted back and forth with me for a while, telling me how much they love our friendship and can't wait to see me again when this is all over. While at the time, that text conversation honestly made me a little more sad (by then, I was wrapped up in a book and had successfully distracted myself from my problems), the sentiment was so sweet and wonderful and definitely made me feel good about myself and my friends.
I closed out the night making Budget Bytes' one-pot cajun creamy chicken pasta… and this ended up being one of the most delicious recipes I've tried in a while! I used lentil penne as the pasta (for extra fiber and to make it more toothsome), and substituted cottage cheese for the cream cheese, to cut the fat a bit and add more protein. It was so yummy and delicious – definitely a keeper! I shared it to my neighborhood recipe group on Facebook, and two others have made it since then and had similarly raving results. Give it a try!
So… fourth weekend of quarantine wasn't quite as positive as I would have liked, but this Sunday was still better than last Saturday… so I think I'm learning. The question is, how long will we have to keep quarantining?
One thing I am acutely aware of is that even when the shelter-in-place orders are lifted… that doesn't magically make it safe to return to socializing. In some ways, that's scarier to me to have to make the decision for myself of whether an activity is worth the risk, because I know we are all itching to get out and socialize, which means everyone else is going to be throwing caution to the wind. Thus far, I've decided that getting groceries once a week is a risk I'm willing to take. But going for dinner or drinks with a friend? As much as I would love, love, love some company, I don't know when I'm going to feel the benefits outweigh the risks of doing that. (PS – Fingers crossed it's because the risk goes down, not because I develop depression and the benefits of company go up.)
It will be interesting to see how all of this unfolds over the next year. For now, hope you and your family can all stay healthy, stay safe, and stay home!