This weekend was much better than the last – it was packed! And full of food, wine, and fun with friends 🙂
I got home reasonably early on Thursday from a trip to New York… and was on the same flight as my friend Sara! It was fun to catch up walking through Denver Airport when we landed, and we ended up making plans to meet up on Friday for lunch and to catch up further.
On Friday, I knocked out a bunch of work, then drove out to Breckenridge to meet Sara for a late lunch. Crepes… mmm!
After lunch, I hit the road again, taking a bunch more work calls on my way to Minturn. Upon arriving, I knocked out a bit more work, then stopped at the grocery and headed over to Edwards to drop off my old over-the-range microwave I had sold on Facebook Marketplace. (My New Year's resolution to list one thing a week for sale is working well!) While I intended to head home after that, my friends Kirk and Heather invited me to kick off Beaver Creek Culinary Weekend with them at the "Authentically Alpine Village Apres" event at Beaver Creek Village – and it turned out to be a great one!
Three years ago, Kirk and Heather introduced me to the Grand Tasting event at Beaver Creek Culinary Weekend – a huge delicious food and wine festival. Unfortunately, the Grand Tasting event is now defunct; it's been replaced with Synesthesia, which we didn't like nearly as much (long lines for food instead of a nice atmosphere).  But the new Authentically Alpine event turned out to be a (very mini) version of the tasting – and extremely inexpensive too. For $20, you got a small tumbler you could take to various booths for unlimited samples of wine, beer, and cocktails, and you also got three tickets that could be traded for appetizer-sized bites at three food booths. Even though I only made it for the last hour, it was still well worth it!
After the event ended, I hightailed it back to Minturn – I was having Heather and Kirk over for dinner, and needed to get cooking before they came over. I was making my favorite Thai curry brussel sprout soup, paired with a baguette and some Gewurtztraminer, and while I only ended up getting about a fifteen minute head start on Heather and Kirk's arrival, that was enough for me to get it mostly together and only have a bit more chopping / simmering to do once they got to my house.
My roommate Tyson came home from work early while I was cooking, and I was really happy to finally get to hang out with him a bit as well. However, we ended up chit chatting until late – and soon it was 11pm! I was really behind on sleep and planning on using tonight to catch up, so that wasn't good. We quickly said our goodnights / goodbyes, and I finally got to bed by midnight.
I was planning to sleep late on Saturday and get up at 7am, but woke up at 5am and was stressed about work 🙁 I was totally exhausted, but also knew that I had no chance of getting back to sleep, so I grabbed my laptop and knocked out some emails for a while. Before I knew it, my time to work was gone, and it was time to get myself together to ski.
Saturday wasn't just any ski day – I was getting to meet up with my childhood friend Alexander, who I literally hadn't seen since high school! Alexander had messaged me on Facebook about planning a Vail getaway, and I told him I'd be happy to get him discounted tickets and also ski together. I was really excited to get to catch up with him!
However, when I actually got to the mountain, I quickly realized… I was exhausted. While we were down at the base getting Alexander's tickets, we were both commenting on how warm it was out. But when we headed up the mountain to ski, I found that I was freezing cold, and I couldn't seem to get warm no matter what. I skied with Alexander till 11am (and had a blast catching up with him!), but finally had to throw in the towel and part ways. I realized that it was probably my severe lack of sleep for the last few days that was keeping me from getting warm, and figured I'd go home, grab lunch, and maybe try to take a nap. I'm not really much of a napper, but I hoped that even going home and cozying up in bed for a bit might help with my body temp.
Well, by "try to take a nap", turned out I meant… "conk out hard." I had set my alarm for 2pm just in case, but it startled me awake when I was sound asleep. Wow, I had really been exhausted! I knew I needed to move fast if I wanted to get some skiing in before the lifts closed at 3:30pm, but I was definitely still sleepy and dawdling, so I didn't make it back to Lionshead until 3pm. With only 30 minutes, I skied fast and was able to just barely get two runs in, but that was better than nothing. And, especially now that the sun was out, I was warm!
I felt kind of guilty that my activity level was so low, so when I went back to my house, I simply dropped off my ski stuff and threw sneakers on over my leggings and tank top, then headed to Avon Rec Center to squeeze in a run. I had dinner plans at 6:30pm, so I had to hurry! I put my Peloton app on, chose Becs Gentry's Billie Eilish fun run, and had a great time. I really didn't know any Billie Eilish songs outside of "Bad Guy", so I was happy to get to learn more of her most popular songs. Plus, Becs' energy is always delightful!
After my run, I hightailed it back to my house for a quick shower, then hopped into the car to head to Vail. I was getting to meet up with my dear friend Blake, who was visiting Vail for ten days with her family!
Blake had made a reservation at the Swiss Chalet at the Sonnenalp, and I was excited to see her and her family. Unfortunately, Blake's mom and daughter ended up not being able to make it to dinner, but I had a lovely time enjoying amazing cheese and chocolate fondue with Blake and her dad, Michael – and I was reassured that I'd get to see Linda and Parker later in the week.
I made it to bed at a totally reasonably early 10pm on Saturday night… but then woke up at 4:45am the next day. What the heck?! I needed to sleep, and was bummed that I couldn't. Once again, I got productive with my extra time, knocking out a bunch of work emails and also doing a quick 10 minute core workout with the Peloton app, but I knew that napping wouldn't be an option on Sunday. I hoped I'd be able to catch up on sleep soon!
I headed over to Vail to ski with Blake and Michael for the morning – it was really fun to show them all around the mountain! I have really learned my way around both Vail and Beaver Creek in the last year, and it's fun to get to play tour guide for others and feel like an expert. Michael asked me if I was on the ski team with Blake at Cornell (ha!), and that delighted me that he thought I was now a good enough skier for that to be a possibility. My skiing has come a long way!
I said goodbye to Blake and Michael when they broke for lunch, and after a quick stop at Safeway to pick up a pre-bagged salad for my own lunch (when I'm in the mountains, that's often my cheap / easy / healthy go-to meal), I headed back to my house. I needed to shower, eat, and get out the door for my last event of the weekend – the Sunset Snowshoe and Supper that would close out Beaver Creek Culinary Weekend.
My Uber was a bit delayed in picking me up, so I got to the Nordic Center five minutes late; luckily, I had texted ahead to Heather and Kirk to let them know I was en route. Upon arrival, I hustled through signing waivers and getting geared up, and then we divided into groups and headed up the lifts. I had never been on a lift without skis before, and it felt weird to walk up to it… and even weirder to run off at the top. (I got yelled at for that last part… apparently you're not supposed to run, but I felt like I had to in order to stay clear of the chair! Haha.) After a brief stop at Candy Cabin to get our snowshoes strapped on, we were off!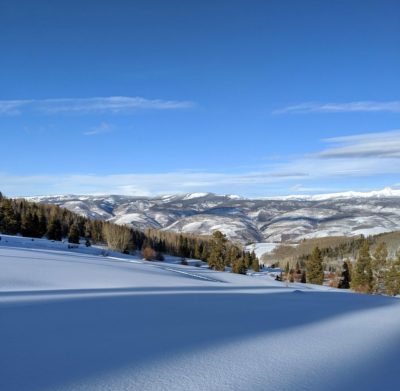 Our guide took us on a beautiful 4 mile hike through the woods of McCoy Park – an area that, next year, is being turned into beginner ski / snowboard terrain. As this was my first time snowshoeing up here, I can't say that I was as disappointed as Heather and Kirk (who snowshoe up here a lot) that lifts were being installed and this would no longer be backcountry… but as the hike went on, I started really appreciating having these trails for snowshoers and cross-country skiers only. It was so lovely and pristine!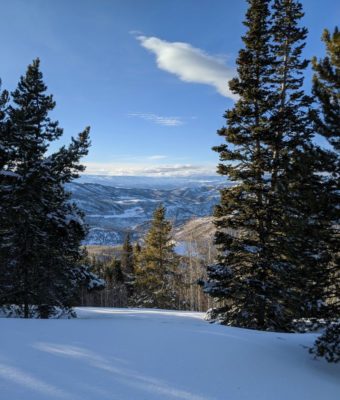 Heather and Kirk had done this snowshoe / supper the previous year, and they talked our guide into taking a longer route (that they had done last year) rather than the more direct and much easier route to Trapper's Cabin. I was thrilled! I wanted a solid workout, and honestly, snowshoeing didn't feel all that hard – I might have liked to go even longer.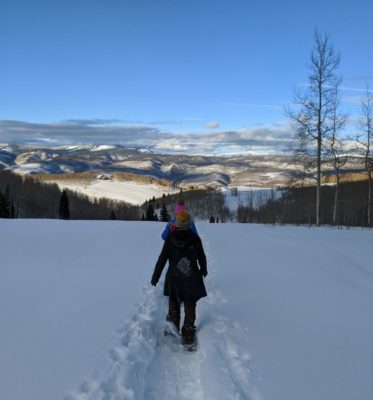 We ended up getting to Trapper's Cabin at 5:05pm (where we were supposed to get there at 5:00pm) – so that was just about perfect.
And we were greeted at the door with soft slippers and glasses of chardonnay – even more perfect! I gratefully ditched my snowpants and jacket and settled in for the special evening ahead.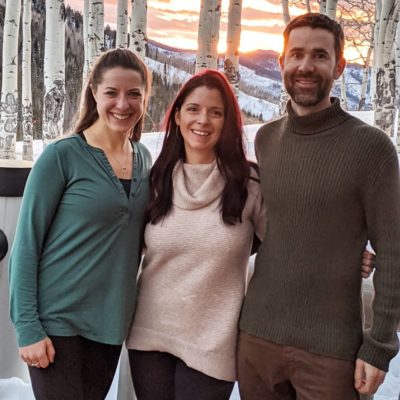 There were about 20 guests, so it was a pretty small and intimate event… yet we were being attended to by the executive chef at the Marriott, the owner of Dumol Winery, and a host of staff. The setting was lovely, and the food and drink were spectacular! Dumol is a more expensive price point than what I'd typically buy, but each wine was one of the best I've had for that varietal, and I was amazed that they managed to be so consistently excellent (vs having one or two that were far superior to the others).
We started with some passed hors d'oeuvres – spiced tuna wonton tacos with sriracha aioli and napa cabbage, and saffron arancini with truffle and balsamic gastrique. These were paired with Dumol's 2017 Chloe Chardonnay, which was oaky and buttery and complex, and everything I love in a chardonnay. I was tempted to skip the rest of the tasting and just have this chardonnay the rest of the night! However, when I asked if I might have another glass, I was turned down by the staff – which I was kind of disappointed by. Later, the Dumol rep heard me praising it, and grabbed another bottle to pour more for me and some other guests. Unfortunately, this ended up being a theme throughout the night – the staff didn't want anyone to have extra, even though the Dumol rep had a lot more bottles and was trying to get the staff to let us enjoy them. Very odd, especially given the high price point for the event!
After mingling over the apps, we settled in to the dinner tables – and then we had quite a feast ahead.
Unfortunately, as delicious as the dinner and wine were, the service was a little frustrating. As soon as everyone was done with dessert, we were hustled out of Trapper's. I was disappointed – I would have loved the opportunity to relax a bit more after dinner and get to know some of the guests who hadn't been sitting at my table. On the snowcat down the mountain, several other guests expressed the same sentiment – it would have been lovely if we could have perhaps picked a glass of our favorite wine to savor for another 30 minutes or so, rather than a strict cutoff and hustle out. I put these comments into the post-event survey, but even though I absolutely loved the food and wine pairing, I'm not sure I'd do this event again. Still! It was a lovely night with lovely friends, and I am really glad I did it this year. Good food, good wine, good friends – that's all I can ask in a weekend!
My only regret was waking up on Monday morning, and realized there was a lot of work I probably should have done on Sunday… and didn't. Work has been pretty darn stressful lately, and while this weekend was wonderful, I hated waking up feeling like I had spent the weekend escaping and now had to return to real life. And I hated feeling like "real life" is stressful 🙁
But on the flip side – it occurred to me that a lot of people feel this way most weekends. I am so grateful to have built a life where it's unusual for me to feel this way – that I genuinely love my job, and have figured out how to make a life where my nights / weekends are like most people's vacations. How lucky am I to live in Colorado, and to have this wonderful little getaway in the mountains? This might be a tough week ahead, but I'm really happy that this weekend was a break from the stress, and that it's not a once-in-a-lifetime thing but all stuff I can do (almost) anytime.