Weekend of November 16-17
This was a very short weekend for me, as I had work events in Chicago through Saturday morning. But I managed to pack a lot in!
My week of travel was crazy – six cities in six days. However, thanks to a big snowstorm in Chicago on Monday, that leg of my trip got canceled, so I headed straight to Atlanta (my Tuesday destination). Oddly enough, knocking just one city off my list and spending two nights in the same place made my week feel a lot more reasonable. (And next week, I'm traveling to Atlanta for four days straight, which seems like a downright luxuriously easy travel week… never mind that I'm flying to other side of the country. My standards are definitely low for what's an easy week!)
So on Friday, I finally headed to my last destination of the week, Chicago. (I was originally scheduled for two separate trips there.) I arrived at 4pm and dashed over to the office to catch the end of a happy hour, then headed to a dinner. All this probably doesn't sound like work, but I was there to help celebrate the job offers we'd given to MBA students from around the country, and sell them on why my firm is a great place to work. I have been here ten years (and have been largely quite happy!), so it was pretty easy for me to talk about how great my job is!
For the sell event, we enjoyed dinner at "The Apartment" at the Hoxton – a private event space that feels like you're in an apartment… that just happens to have a private chef and bartender. It was really intimate and cool! And we closed out the night with drinks at Punch Bowl Social, a bar that has tons of games (bowling, cornhole, etc). Punch Bowl Social is really popular in Denver; I had no idea that it was a chain and existed in Chicago too (and apparently a lot of other places besides). The next morning, we took the offerees to an 8:30am Soul Cycle class (it was hilarious to see some of them drag themselves to the spin class after partying all night long, seemingly not realizing the class was optional), and then to brunch at Beatnik on the River. It was a good itinerary!
Before heading to Soul Cycle, I was up early enough to do a quick ride on the Peloton at the hotel gym (I had called it a night earlier than many of our offerees), then hit the treadmill for my PT-approved 20 minute run (2 mins running @ 8:00 pace, 1 min walking). I was staying at the Kimpton Allegro, and the hotel gym was really small, but very well equipped. They even had Woodway Curve treadmills!! I was really bummed to stay off those, but didn't want to add another variable to the mix of what my calves can tolerate.
My run on the regular treadmill was fabulous and pain free. My PT has asked me to try to run at 180bpm cadence, and this week I learned how to make a BPM-specific playlist on Spotify; I now do all my runs to Billy Joel songs that are between 175 and 190 bpms. You can check out my playlist here if you want! I like running to the beat, and I love Billy Joel, so this always makes me happy 🙂 And then, a quick 10 minute cooldown walk on the Chicago streets over to Soul Cycle.
I think I went to Soul Cycle in New York once before, more than a decade ago, and didn't really like it. But hey, for a free class, I'll totally try again! Once again, I didn't love the lack of metrics, but I wasn't as bothered by it as I was years ago. (I like more precision in terms of the cadence and resistance, like Flywheel and Peloton have.) However, I still hated how we kept doing a super high cadence and then "dancing" on the bike. From what many spinning instructors have told me over the years, that is just dangerous! I will admit that I like "dancing" on the bike, but not at high cadence, and I kept either slowing the cadence down or skipping the dance moves.
The dealbreaker, though, came about halfway through the class, when the instructor told us that for the next three minutes, we should do whatever we wanted. What??? I come to a(n expensive) class because I want instruction, not for the instructor to go on a break for part of the time. So, I flipped my wrist to check out my Fitbit, thinking I'd do three rounds of 30 secs sprint / 30 secs rest… but when I did so, the instructor got back on the mic and yelled at us that no one should be checking their messages on their watches during class. A lot of people mistake my Fitbit Versa for an Apple Watch, but it is not; I was most definitely not checking my email, and was just trying to give myself some direction since the instructor wasn't doing so! I was really annoyed to be called out, especially since I was concerned that the offerees might think I was checking work email now that the instructor called it out. Blech – never going back to Soul Cycle again!
Fortunately, after the class, I had some good conversations with the offerees walking back to the hotel, and then at brunch… and then I was finally headed home to enjoy the weekend!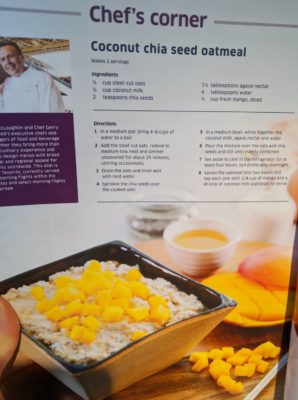 My flight was on time, which good news, because I had to really hustle once I landed. My friend Sarah was throwing her annual Friendsgiving dinner, and I had to shop for ingredients / put together a cranberry brussel sprouts salad to bring. I managed to be in and out of my house (dropping off my suitcase, changing, and putting together the salad) in only 30 minutes, which I was pretty happy about! Then after the long drive down to Highlands Ranch, I was only 40 minutes late (and we weren't sitting down for another 45 minutes) – so that was perfect.
Since I was already late to the cocktail hour part of the night, I (for once) had the willpower to avoid the alcoholic drinks during dinner and stick with seltzer. More calories saved to eat food! But then I went to town a little too much with that mindset, and definitely overate. Thanksgiving food is so good, and it tastes even better when surrounded by wonderful friends!!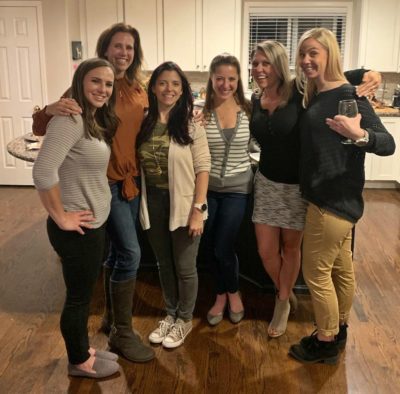 The next morning, I woke up and headed to the pool for a long 3000m swim (no breaks). But in the last dozen laps or so, I started feeling really sick to my stomach, and wondered if I might throw up. Uh oh – was I coming down with something? I hadn't even drank the night before!
I have definitely been running ragged lately, and not sleeping enough even when I purposely clear my morning to do so. While I had originally planned to hit the AMT for a "run" after my swim, and then had plans with my friend Tommy to go biking outdoors, I ditched all of that to go home and lie down on the couch. A bit of food helped me feel better, and then I closed my eyes to nap not thinking I'd actually fall asleep…
…and then the Alexa alarm I had set "just in case" went off two hours later. Wow, I had really been tired! But that nap helped a lot, and I was able to rally to catch up on some work as well as a few chores around the house, then head down to Cherry Creek for a belated birthday dinner for Tommy. I was glad I hadn't needed to bail completely on the day!
In all, this weekend was far too short; I am looking forward to getting a solid ten days at home over Thanksgiving (my mom flies in next Friday!). I'm also really disappointed that I wasn't able to get outside on my bike to practice riding clipped in! I was really looking forward to that on Sunday, and I want to not have it hanging over me. So during Thanksgiving break, it is on… hold me to it 😉