I picked up the pace on reading a bit in October, reading 8 books this month. That puts me at 67 books read in 2019. I don't think I'll meet my goal of 100 books this year, but I will probably come close – especially with some holiday time coming up! I'm looking forward to cozying up with some books 🙂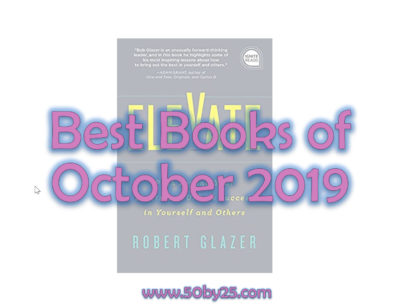 5 stars:
Elevate: Push Beyond Your Limits and Unlock Success in Yourself and Others, by Robert Glazer: I've read Robert Glazer's Friday Forward for a few years, and expected this to be a compilation of all the past Friday Forwards. (Which I was actually looking forward to, as I didn't start reading from the beginning.) Instead, I was pleasantly surprised to find this was all new material. Glazer takes the same approach as his newsletters of relating research to everyday life and developing actionable insights; however, here it felt like the research was more prominent and the personal stories secondary. It was very different than the Friday Forwards, but I still loved it! Lots of highlights in this book for me, with many points that resonated – I would highly recommend it. As a bonus: it's a pretty quick read!
4 stars:
7 Paths to Lasting Happiness: Happiness is the Ultimate Success in Life!, by Elia Gourgouris: This was written by one of our former town trustees, and it had some great lessons in it! They're were a lot of great quotes from research, and I love Elia's positive attitude and practical approach.
Christmas at Rosie Hopkins' Sweetshop, by Jenny Colgan: Such a sweet novel – I kept thinking about the characters for several days afterward and wishing there were more to read! Although I hadn't read the original Rosie Hopkins novel in some time, the characters were very well developed in this so I didn't feel like I was missing anything.
Point, Click, Love: A Novel, by Molly Shapiro: I needed something light after Rabbit Girls, and this fit the bill. It was definitely a bit dated (as novels about technology are wont to be), but I liked the very different storylines and how they came together without it feeling forced. It was interesting to see the different paths each was taking with relationships; I could really relate to both Katie and Anna.
The Turn of the Key, by Ruth Ware: I loved this book and tore through it quickly… but then the ending was a big disappointment. Although some things were resolved, it was an extremely rushed reveal / resolution, and we never found out what happened to the protagonist. This was really frustrating to have the book end on a cliffhanger without any clarity about what happened to the protagonist! I loved this book up until then, but wish the ending had been more satisfying.
3 stars:
The Rabbit Girls, by Anna Ellory: This was REALLY dark – while of course the Holocaust / concentration camps aren't a light topic, I felt that setting the present day in the early 90s with the Berlin Wall, plus the domestic abuse storyline, made it even darker than it needed to be. As another reviewer mentioned, it felt like the author tried to fit too many genres into one book. I saw the twist coming for a while, and was disappointed to find the story more depressing than uplifting, lacking some sort of hopeful message at the end.
2 stars:
The Miracle Morning: The Not-So-Obvious Secret Guaranteed to Transform Your Life: Before 8AM, by Hal Elrod: I have been meaning to read this for years, and finally suggested it for my office book club. Unfortunately, I found it really disappointing! Most of the book felt like a big sales pitch for the magic routine… and then hardly any time was actually spent discussing the routine. This book could have been 20 pages if the author had cut out all the patting himself on the back for how transformational his method is.
Finding Triathlon: How Endurance Sports Explain the World, by Scott Tinley: The title of this book sounded so promising, but the content had nothing to do with it. This was basically a book of essays by Scott Tinley on triathlons, but in each chapter, he sounded so incredibly bitter about the sport. I get it, he's burned out… but maybe don't force yourself to write a book on something you so clearly hate? There were a few passages that I thought were interesting, but for the most part, this book was a complete dud.
---
Any book recommendations for me? Follow me here on Goodreads to keep up with what I'm reading in real time.