Weekend of October 11-12
After a busy Friday of work, I was psyched for some really fun plans Friday night: dinner and a night at the theater with my friend Kelly and her family! I've gotten to know Kelly's wonderful Aunt Ann and Uncle Jim at Kelly's wedding eight years ago, and now am delighted to get to see them whenever they come to town.
Our first stop was Zolo Grill in Boulder – a Mexican restaurant right in the middle of a shopping district I often frequent, but to which I had never been. The food was great, and the company was even better! Our big group included Kelly and her husband Den; Kelly's sister and her boyfriend; Kelly and Den's daughter; Aunt Ann and Uncle Jim; and me. What a fun crew!
After dinner, we headed over to The Dairy just a few blocks away. Kelly had gotten tickets for everyone to see Tiny Beautiful Things, a play based on the best-selling book by advice columnist Cheryl Strayed. Unpopular opinion: I really hated Wild, Strayed's first book, in large part because I felt like Strayed didn't take responsibility for herself and her own problems and had a victim mentality toward her circumstances. So even when Tiny Beautiful Things was getting rave reviews, I didn't go near it.
But I was definitely glad I said yes to seeing this play, because it was fantastic! And now I even ordered the book from the library. I felt like the script wasn't too sanctimonious (or at least, the actress playing Strayed did a good job not seeing too full of herself), and this particular production was superb, with great direction, costumes, actors, and a set. If you have the opportunity to see this show wherever you live, I'd highly recommend it!
After the show, the rest of the group headed up to Pearl Street for a late night drink, but I begged off from exhaustion. (On Thursday night, I had a rough bout of insomnia and only got 3 hours of sleep, so I was still catching up!) Instead, I invited the group over for brunch at my house the next day. I've been dying to make this blueberry cheesecake French toast casserole from Little Spice Jar for months, and this sounded like a great excuse to do so!
I had most of the ingredients I needed already, but stopped at Safeway on my way home for cream cheese and blueberries, then threw the dish together before I went to bed. It only took about fifteen minutes, and it looked like it would be delicious… fingers crossed!
The next morning, I headed to Chuze as soon as I woke up, so I could hit the pool. I wanted to get a long swim in (4000m), and I wanted to focus on the bi-lateral breathing technique I've been slowly easing into. Since my pool is 25m long, that is a lot of laps (160!), but I've discovered that my Fitbit Versa counts pool laps for me, which is pretty awesome. Sometimes it can be off by one lap depending on where exactly I am when I check it (just finishing / starting a lap can be off), but as I tried to explain in my recap post last weekend, I've found I'm pretty good at counting my laps even when I zone out, since one direction is odd and the other is even. However, I broke the 4000m up into four sets of 1000m, with a one minute break in between, and that worked really well.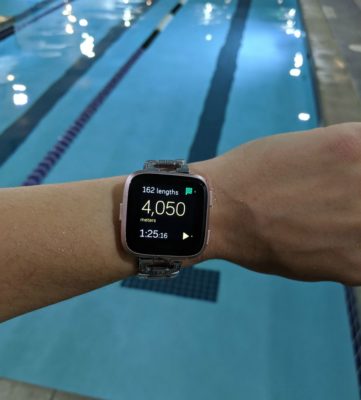 I finished up my workout with 45 minutes on the lateral trainer. While last week, I had been totally wiped out after swimming 4000m, this week, I found that a chocolate peanut butter bar eaten on the lateral trainer gave me plenty of energy to keep going. I have read a lot about nutrition being absolutely essential for long-distance triathlons, so while I tended to gloss over nutrition when it came to marathons, I'm trying to pay more attention to it now, and practice eating more solid foods while I exercise. Bonus: it's a yummy habit 😉
After the lateral trainer, I wanted to hit the hydromassage, but knew I was short on time. Instead, I beelined to Sprouts for chicken sausage, asparagus, strawberries, and orange juice, then zipped home to toss together the streusel topping and get the french toast casserole into the oven. While that was baking, I took a quick shower and cleaned up around the house, then skedaddled into the kitchen to get the chicken sausage cooking in a skillet, the strawberries sliced, and the asparagus dressed with olive oil and thyme and thrown onto a sheet pan and into the oven. I was lucky that Kelly texted me to let me know they were running a few minutes late, as I hadn't left quite enough time! But I ended up getting everything together just in the nick of time – and feeling great about settling into a big brunch 🙂
After brunch, I had a bit of time to catch up on some work emails and some chores around the house, and then threw together a quick dinner before heading downtown to meet a friend for drinks. We met up at Seven Grand, a whiskey bar in Denver that I went to a few months ago and loved, but I was disappointed to find out that they took the awesome Wonka Bar cocktail I got last time off the menu. Bummer! Still a cool vibe, though, if noisier than the last time I was there.
On Sunday morning, I planned to start my day with a long hike… but temps were in the 30s around 7am, so I thought I'd delay my start until it warmed up a bit. (The prediction for noon was 60°… welcome to Colorado, where the weather fluctuates dramatically in a day!) While cleaning up around the house, I discovered that my sneakers by the front door had literal spiderwebs growing on them… and two gigantic spiders living inside. Yuck! I used my trusty technique of dustbustering them up (then dumping the dustbuster into the toilet and flushing them) so I didn't have to get too close.
But while I wasn't freaked out by dealing with spiders, I was really upset to realize they were living in my running sneakers. It made me realize just how long it's been since I ran – exactly a full month since Ragnar Colorado! Fall is one of my favorite seasons to run, and it seems I've missed almost all of it 🙁
PT has been going reasonably well. I love my therapist (shout out to Colorado Sports PT!), and the pain in my shin has gone away, but it's tough to tell whether that's because I've stopped running or if I've actually solved my imbalance with the strength training I'm doing. In two weeks, we're going to start reintroducing impact to see how I tolerate it, and when my therapist Emily told me that, I was pretty happy. But suddenly seeing those cobwebbed running shoes made me realize just how long it's been since I've been able to run, and I'm suddenly terrified of all the fitness I've lost. As I've written about before, I was already feeling a lack of confidence in my fitness for the month before my calf flared up; now, thanks to that injury, I'm really out of shape 🙁
I also made a tactical error in not going hiking as soon as I woke up. I ended up getting distracted by emails and such, and didn't make it to Chautauqua trail head until close to noon. That meant not only did I not have time for a long hike, but I was also hiking with hordes of other people. I much prefer hiking in the early morning when I have the trail to myself! Still – I found myself passing a lot of people on the trail, which both felt good and surprised me.
I made it up in about my usual time (an hour), and then took about 40 minutes to get back down. When I run, I'm usually around 35 minutes, so I wasn't that much slower at all!
In an effort to stop myself from running, I had intentionally worn my sturdiest, most hardcore hiking boots, which are the complete opposite of trail running sneakers in their bulk and weight. The tactic did mostly work; however, I found myself hopping a little bit on the descent (it's hard to come down a steep rocky trail without any impact). But finally, I got to the little stream crossing where the steep terrain ends, and I knew I was in the clear. Seemingly no issues with my calf – yay!
Although it was now after 1pm and I hadn't eaten anything yet, I really wanted to wait till I got home and could cook rather than grabbing something unhealthy / expensive. In spite of having a few errands to run, I held out, and enjoyed a delicious homemade buffalo chicken quinoa bowl when I got home. Yum! I was glad I had waited.
Finally, I closed my weekend out with drinks downtown at Epic Brewing, followed by dinner at Cart-Driver. I hadn't been to either Epic or Cart-Driver in a long time, and both were delicious! It was a lovely and relaxing way to close out a jam-packed weekend.