Weekend of October 19-20
This weekend went by fast. I had workshops in Chicago on Friday morning, and since I had a lot of colleagues I wanted to catch up with, I decided to book an evening flight home to give myself a little bit more time there. I didn't regret the decision, and had a blast reconnecting with some people I haven't seen in months… but it did mean that I was only home for two days before I had to fly out again. C'est la vie – I just packed my schedule to make the most of it!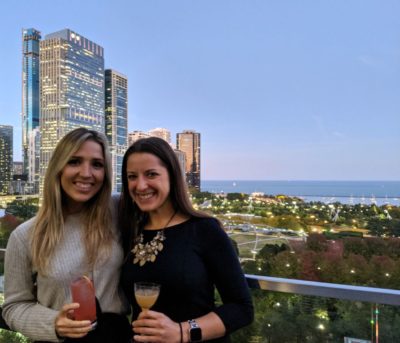 With such limited time in Colorado, I wanted to make the most of it – so as soon as I was up on Saturday, I headed for the trails.
I am so grateful that my PT has cleared me to hike! As I did the weekend before, I wore my big clunky hiking boots, both for extra ankle support and also so that I wouldn't be tempted to run. Despite the extra weight / not being as nimble as usual, I still made it to the summit of South Boulder Peak in just over two hours. I was thrilled! Again, I feel like I'm not in great shape, but this was the same speed I've been hiking South Boulder Peak all summer – yay.
It was pretty windy on the saddle, and I was cold – realized now that it's fall, I need to start bringing some kind of hat / face guard if I'm going to keep hiking! However, the summit was surprisingly a little less windy (or maybe the wind just calmed down by the time I got there).
I was a little worried I'd be cold on the way down, since I wouldn't be exerting myself nearly as much, but I was fine. And while the hiking boots kept me from actually running, I was still pretty quick in the descent of the steep part; I was only slow once I got to the Mesa Trail at the bottom, where I'd normally run at a pretty fast clip. This didn't impact my time nearly as much as I expected (I finished only about 20 minutes slower than usual), but I honestly found it kind of uncomfortable to walk the downhill rather than getting to run. Hopefully I'll be back to running soon!
After my hike, I headed home, showered, and had a quick lunch. I've been really into quinoa salad bowls for lunch lately – I chop the romaine lettuce really finely, then toss it in a bowl along with quinoa (I've been cooking big batches and freezing it), celery, tomatoes, and chickpeas, and then generously sprinkle thyme, salt, pepper, and blue cheese all over it. It honestly doesn't need any dressing, and it's both delicious and healthy! Love it.
I had to hurry with lunch, because I had a date to go hiking again – though this time, a much easier route. The Denver Rock N Roll Half Marathon was being run on Sunday, and while Nick and I wanted to go for a hike, he was running the next morning. (It seemed like everyone I knew was running it!) I picked the easy-but-beautiful Flatirons Vista trail for us, and it was lovely – such a sunny and gorgeous fall day.
After hiking, I had some chores to do at home, then headed down to Denver to meet another friend for pasta dinner before he'd be running RnR the next morning. I swear, everyone I knew was doing this race! I probably wouldn't have run it even if my calf weren't injured (I'm less interested in big races these days, I guess?) but I still enjoyed the excuse to eat an early and delicious pasta dinner 😉
On Sunday morning, while my friends were running the race, I headed to the pool. I've been reading Joe Friel's Triathlete's Training Bible, and while I think it's way too advanced for a beginner like me, it's interesting to see all the exercise science that goes into developing a comprehensive training plan. However, it did inspire me to not just do my usual swim for 2000m or 4000m straight; instead, I did five sets of 200m, where I tried to go as fast as I could for the 200m, then rested for about a minute in between sets. I finished the 5×200 in 17:41 (1:46/100m), which is much faster than I usually swim! But when I closed out the swim portion of my workout with a straight 1000m, I ended up back at my usual pace (1:58/100m). I had fun though, and I'm hoping that, like Orangetheory, interspersing some faster sets like this will eventually make me more comfortable swimming faster for longer distances too.
In general, I've found that triathlon and biking seem to both be extremely overcomplicated, with both the gear and the workouts. For beginning runners training for a marathon, I'd just have them run long on the weekend and then run "some hills" or "some intervals" during the week. But it seems that tri / bike training is extremely technical and specific, where even beginners are encouraged to figure out their Functional Threshold Power (FTP) and then do all your workouts according to your FTP zones. To me, this seems way overkill for my first tri. While I originally decided to do it with a goal of finishing (no time goal whatsoever), I'm now starting to feel good about my odds of finishing, and so I would like to see how fast I can go. But the idea of having to constantly checks my zones for every single workout just sounds exhausting and no fun – I'd rather set a time or distance goal for my workouts so I can zone out (ha, pun) during them. Am I making a huge mistake in my thinking?
Anyway, I finished my 2000m in the pool, then rinsed off and threw on shorts and a t-shirt so I could hit the gym floor. While I've normally been doing the lateral trainer as my running substitute, my glutes were really sore from my hike the day before, so instead, I went for the adaptive motion trainer, which I figured would be a little easier on my butt. Plus, probably a better simulation of running anyway! I don't feel like I got quite as good of a workout as I do on the lateral trainer, but I was tired by the end of my 45 minutes… that was a pretty solid morning workout! I finished up with some quality time in the hydromassage chair, particularly focused on my glutes.
I headed home to eat another quinoa bowl for lunch (this time I went Mexican, with black beans, salsa, and cheddar cheese), and then settled in to catch up on some work.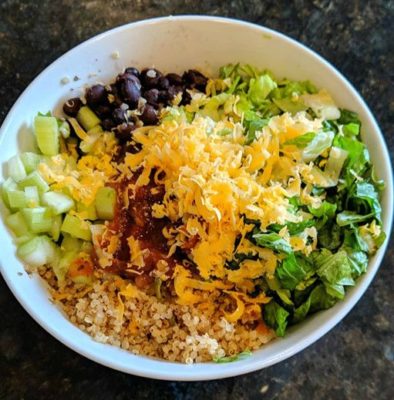 The time flew by and suddenly I realized I was behind to meet a friend downtown for drinks! I quickly texted to delay, then hopped into the shower and got ready to head downtown.
My old roommate from New York, Lisa, now lives in San Francisco with her husband Mark. She emailed me a few weeks ago to introduce me to one of Mark's cycling buddies, Tommy, who was moving to Denver. We'd been emailing back and forth for a bit, but finally made a plan to meet in person for drinks at Epic Brewing in Denver. We totally hit it off and had a lot of fun! I told Tommy about how I'm trying to get into biking / train for a triathlon, and am excited to have someone to teach me the ropes and also join me for some outdoor rides. (After I learn to clip in, which I am still kind of scared of.)
After my hike Saturday and my swim/run Sunday, though, I was beat – so I called it an early night. This was going to be a busy week of travel – I had a NYC trip Monday morning, a potential Atlanta trip Tuesday, and then I'd be off to upstate New York Thursday through Sunday for a recruiting event at Cornell and then some family time in Saratoga. Looking forward to getting on more of a regular schedule soon!