Want to stay in bed longer? Here's what I've been loving, laughing at, and getting intrigued by all week long. Now cozy up with your laptop/tablet and enjoy 🙂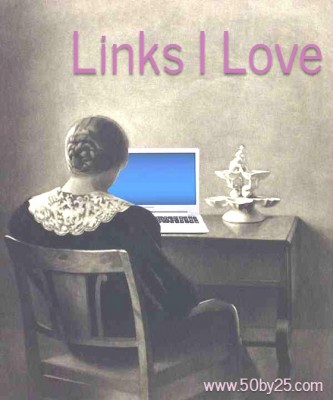 CAREER / BUSINESS
Why Working Remotely Is Becoming Mainstream. (Skift)
How to thrive as a working couple when you're undergoing a major transition. (Fast Company)
Managing When the Future Is Unclear. (Harvard Business Journal)
How to Lose a Third of a Million Dollars Without Really Trying. (Medium)
Selling the Invisible: How to Sell Your Services. (Zapier)
These gestures will improve your next presentation. (Smart Brief)
This simple trick totally transformed my fear of public speaking. (Well & Good NYC)
Why the Nordstrom NYC Flagship Is Chasing Locals. (Morning Brew)
PRODUCTIVITY / SOCIAL PSYCHOLOGY
How Not to Be Alone: Jonathan Safran Foer on the Dangers of Diminished Communication. (Cal Newport)
Returning to First Principles: Five Basics of Productivity. (Laura Stack)
4 ways to boost your adaptability quotient, the more—wait for it—adaptable cousin of IQ. (Well & Good NYC)
The Science of Breaking Out of Your Comfort Zone (and Why You Should). (Lifehacker)
An optimism doctor explains how to turn around your no good, very bad day. (Well & Good NYC)
How Taffy Brodesser-Akner Thrives on Stress. (Real Simple) Although I am kind of the opposite of the author, I loved this article.
Elizabeth Earnshaw, LMFT, CGT: "People make bids for connection all day long…". (Instagram)
HEALTH / FITNESS
3 therapists get real about what they're actually writing in their notes while you're talking. (Well & Good NYC) I have always wanted to know this!
Experts want you prioritize having friends younger than you—here's why. (Well & Good NYC)
A Positive Outlook May Be Good for Your Heart. (New York Times)
Shalane Flanagan: A Look at Her Amazing Career. (Runners World)
How lousy mobility leads to hidden weaknesses in your body. (Well & Good NYC)
Ice vs Heat vs Cryotherapy: What's Most Effective and What You Should Stop Doing!. (Run to the Finish)
How to Activate Underused Glute Muscles (Because Yours Are Probably Sleeping). (Shape Magazine) Ugh, I really need to work on mine… my PT thinks weak glutes / hips may be the cause of my calf injury.
The most hydrating thing to drink after a workout isn't water. (Well & Good NYC)
What you should know about sugar—according to a doctor. (Well & Good NYC)
The future of skin care is genderless, which is a win for everyone. (Well & Good NYC)
If a dermatologist's house was on fire, she'd save her fam and this skin-care product. (Well & Good NYC) I don't normally watch videos, but I started using a retinol a few months ago and am still trying to learn all the ins and outs of it.
TRAVEL
This is interesting: This Startup Wants U.S. Airlines to Use Buses to Replace Smaller Regional Jets. (Skift)
The Case for Copa Defecting to American. (Cranky Flier)
Southwest Will Look at Buying Jets Other Than Boeing 737s After 48-Year Run. (Skift)
How Will Airlines Handle the Return of Boeing's 737 Max 8?. (Adweek)
United has a new tool to help you make tight connections. They say it's saved 50,000 missed flights.. (Washington Post)
Always Look at One-Way Flight Options When You Book a Trip. (Lifehacker)
The Real Benefit of Early Airplane Boarding. (Travel Insider)
JetBlue launches a new – and maybe useful – carry-on bag fee trial. (Wandering Aramean)
I Just Took the World's First 20-Hour Flight. Here's What It Did to Me. (Bloomberg)
Chicago O'Hare remains the US's most connected airport. (Airport World)
Reimagining the Passenger Experience: The Importance of Building a Customer-Centric Strategy. (ICF)
MISCELLANY
Why Protecting Your Kid's Down Time Is So Important. (Lifehacker)
Teach Your Kids to 'Find a Parent' If They Get Lost. (Lifehacker)
Overcoming Financial Self-Sabotage. (The Simple Dollar)
How To Find The Best Stuff In Any Thrift Store. (Yes and Yes)
Do Wool Balls Save on Drying Costs? Our Experience After Several Months of Use. (The Simple Dollar)
The Math Behind the "Never Ending Pasta Pass". (The Simple Dollar)
Spotify Premium Users Can Get a Free Google Home Mini. (Lifehacker) I linked my accounts and my Google Home arrives Thursday!
How to Ensure Your Amazon Purchase Isn't Dangerous. (Lifehacker)
---
Like this post? Want more fun articles in real time? Follow me on Twitter or become a Facebook fan to get similar stories all week long.