Want to stay in bed longer? Here's what I've been loving, laughing at, and getting intrigued by all week long. Now cozy up with your laptop/tablet and enjoy 🙂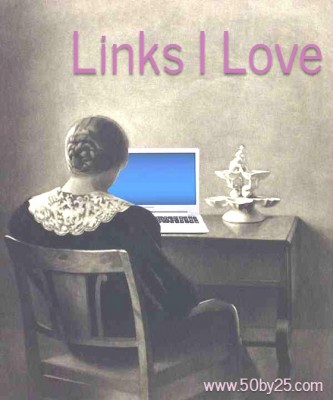 CAREER / BUSINESS
4 Tips for a Customer-Centric Rebrand. (Under 30 CEO)
Alexa's Sneaky Fine Print Could Prevent You From Suing Amazon for Anything. (Gizmodo)
What if Instagram Got Rid of Likes?. (New York Times)
PRODUCTIVITY / SOCIAL PSYCHOLOGY
If You Want to Build New Habits, Build Fewer Habits. (Lifehacker)
Can Winning the Lottery Ever Make You Happy?. (Lifehacker)
Why reaching a big goal can feel like a letdown. (Well & Good NYC)
The surprising benefits of talking to strangers. (BBC News)
How to genuinely connect with people, even if you're a serious social introvert. (Well & Good NYC)
HEALTH / FITNESS
The best way to sit at your desk for every type of work task. (Quartz)
High Doses of B Vitamins Tied to Hip Fractures in Women. (New York Times)
Adding this many more steps to your day can help you live longer. (Well & Good NYC)
Dog Owners Get More Exercise. (New York Times)
How to Prepare for a Big Race Without Losing Your Mind. (Lifehacker)
What's next after athleisure? Smart clothes (yes, really!). (Well & Good NYC)
Your Surgeon's Childhood Hobbies May Affect Your Health. (New York Times)
TRAVEL
How Hotels Are Going on a Fitness Kick. (Hotel News Now)
Explaining Hotel Star Ratings: What Do They Mean?. (Room Key)
American Airlines and Hyatt Partner to Amp Up Their Elite Loyalty Benefits. (Skift)
Lufthansa Will Adopt Dynamic Award Pricing for Its Loyalty Program. (Skift)
Delta becomes first airline to use Apple messaging app to assist passengers on the go. (Future Travel Experience)
U.S. Airlines Add Untapped International Routes in Next Stage of Growth. (Skift)
Why seaplanes are so dangerous. (Economist)
FAA and Boeing initially disagreed on severity of "catastrophic" 737 Max software glitch. (The Air Current)
Boeing May Have Software Problems Beyond the 737 Max. (Bloomberg)
Southwest Airlines grounds Boeing 737 Max until at least Oct. 1 as FAA investigates new problem. (Dallas Morning News)
With Boeing 737 Max Still Grounded, Expect Delays at U.S. Airports This Summer. (Bloomberg)
These Are The Best and Worst Airports For Finding Cheap International Flights. (Lifehacker)
Bullet Train Prepping for Tokyo Olympics Breaks Speed Record. (Bloomberg)
Olympic Tourists to Paris Will Find No Direct Airport-City Rail Link. (Bloomberg)
Travel Advisors Ready to Take One Big Step Into Space Tourism. (Skift)
Travelport Finally Goes Private This Week in $4.4 Billion Deal. (Skift)
New TripIt Updates Lets You Ask Your Smart Assistant Devices for Travel Info. (Running with Miles) Awesome! I set up my Echo to work with TripIt (which I've loved for years) and it's really convenient to check on my flights with voice commands.
Amsterdam Considers Home Rental Ban to Limit Overtourism. (Bloomberg)
Similar: How Nepal Can Address Overtourism on Mount Everest. (Bloomberg)
Do You Need a Second U.S. Passport?. (Lifehacker)
How to travel with your best friend…and not hate each other by the end of the trip. (Well & Good NYC)
MISCELLANY
What Is a Beach Read, and Why?. (Vulture)
Forget Social Media and Start a Blog in a Google Doc. (Lifehacker)
Learn the Difference Between 'If I Was' and 'If I Were'. (Lifehacker)
Enjoy Father's Day? Thank the woman who spent 62 years campaigning for it.. (National Geographic)
10 Simple Yet Life-Changing Personal Finance Strategies. (The Simple Dollar)
Finding Grocery Store Value: 10 Inexpensive Food Items That Work in a Lot of Meals. (The Simple Dollar)
The Ten Year Old Test. (The Simple Dollar)
This Is How To Make Your Kids Successful: 4 Secrets From Research. (Barking Up the Wrong Tree)
Tell Your Kid a Bedtime Story About Their Day. (Lifehacker)
It's time for everyone to accept that all parents are imperfect, flawed human beings. (Well & Good NYC)
How to Slow Down with Your Kids This Summer. (Lifehacker)
How to Create a Giant Coloring Page for Your Kid. (Lifehacker)
Send Kids to Sleepaway Camp for Free by Donating to This Charity Organization. (The Points Guy) I'm spending a week volunteering with Experience Camps again this summer (opening a new camp in Michigan!) so was thrilled to see some recognition of the organization from a blogger I follow. If you missed it, here's my recap of last summer.
---
Like this post? Want more fun articles in real time? Follow me on Twitter or become a Facebook fan to get similar stories all week long.