I've been bit by the running bug.
Last month, I was shocked when I ran the Colorado Classic 10 Miler and ran a 7:30 pace (at altitude). In spite of that big win, I was surprised again when I ran the Bolder Boulder and PRed by 90 seconds, over a time I already thought was really fast last year. And two weeks ago at Orangetheory, on a run for distance, I hit 5K in just 18:54… two whole minutes under my actual 5K race PR last fall of 20:54! I feel like my running has been really inconsistent over the past six months (particularly when I spent all summer focusing on skiing), but my speeds are showing otherwise, which is a lovely surprise. This morning, I came off a redeye flight and went into an Orangetheory strength class (my nemesis), and managed to hold speeds of 9.0/10.0/11.0, even on the inclines. And this weekend, I went out for a long trail run and ended up covering 14 miles – so some semblance of endurance is still there too!
Time to pick some race goals?!
I chatted with Amanda and Theodora this weekend about potentially signing up (and seriously training) for a marathon this fall. I haven't run a marathon in five years, but I'm starting to think I could probably PR over my 2012 Wineglass Marathon time of 3:48. The Jack Daniels VDOT running calculator estimates an equivalent sea level marathon time would be 3:22-3:24 (depending which of the above race results I use), and if I could get even half that drop from 3:48, I'd be thrilled to no end. Of course, I'd have to put some serious training in to be able to hold a 7:45 pace for a full 26.2 miles… but after doing a half marathon at 7:25 pace, it somehow seems attainable. Rather than constantly doubting my running, I'm starting to believe in myself and my ability to keep improving!
Before I get to a fall marathon though… I'm planning some much shorter races in the next few weeks. I can't wait!
First up, the Broncos 7K at Anheuser-Busch Brewery. I ran this race the last two years and loved it – it's a cool opportunity to run a unique distance, the course has stunning mountain views, and you get to finish in a biergarten. What's not to like?! You can read my race report from last year here, or my 2017 report here. I would loveeeeee to go under 30 minutes this year, but that's a 6:54 average pace, so pretty ambitious! We shall see. If you'd like to join me, you can register here – and drop me a comment or email so we can meet up in the brewery taproom / biergarten afterward.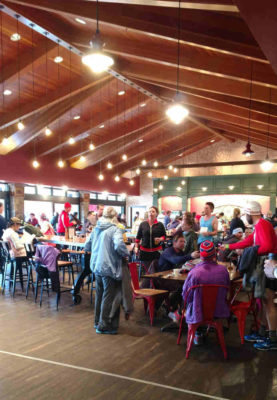 For those who want to get up to the brewery without running, I also wanted to pass along that this Friday, June 21, the Biergarten is hosting a summer solstice party to mark the longest day of the year. From 6pm-9pm, guests can celebrate the start of the season with Argentine-styled beef empanadas, Chimichurri burgers and Cerveza Patagonia, while listening to live music from Lorna's Swingset, a local jazz trio. The first fifty guests ages 21 or older at the celebration will receive a complimentary pine seedling provided by Cerveza Patagonia in support of its campaign with the National Forest Foundation (NFF) to donate one tree for each case of Cerveza Patagonia sold, with the aim of eventually achieving the NFF's goal of 50 million trees planted. Guests can take part in a variety of family-friendly games and activities, including cornhole and flower pot decorating for the little ones. And to celebrate Cerveza Patagonia's origins in the mountains of South America, there will be special guests on the property – alpacas! (Theodora, did you hear that??? Come visit!)
And while I'm plugging holiday events… I have one more on the radar in exactly two weeks. My town's Fourth of July festivities! We kick off with a one mile race (always rather nerve wracking to have to push so hard for such a short time), which is followed by a parade (which I get to ride in this year as an elected official!), and concludes with a huge free pancake breakfast in the park. I can't wait! Sign up for that race here.
How about you – any summer runs on the calendar, or fall races you're training for? I'm currently in the mood to sign up for everything, so tell me what's good 🙂
Disclaimer: The Denver Broncos Football Club provided me with a free entry to this race in exchange for featuring it on my blog. However, all opinions expressed and miles run are purely my own 🙂